Career Changes
What Britain Is Actually Doing To Help Close The Pay Gap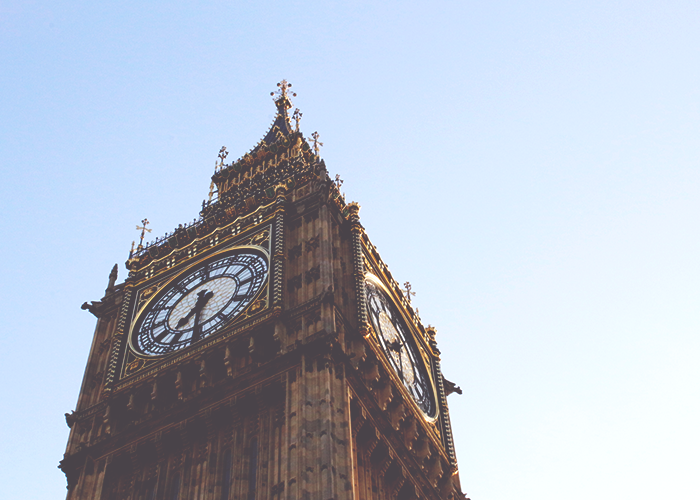 As some of you know, yesterday was Equal Pay Day, which is always a depressing reminder that women are still earning roughly $0.79 FOR EVERY DOLLAR A MAN MAKES. (I've talked about this issue before in a previous post of mine.) The day symbolizes the extra 104 days into the new year a woman would need to work to make up for what a man made in the previous year alone (to essentially account for her lower pay #daggerinheart). It's 2016 y'all, how is this still a thing?? While there were a ton of articles, posts, and bleak statistics that emerged yesterday, not all of the coverage was abysmal. CNN Money posted an article called Companies Will Be Forced To Reveal Their Gender Pay Gap, which was a positive little ray of hope. Apparently, the British government is going to start targeting bigger companies in an effort to end pay gap discrimination.
In a nutshell, the British government passed rules that will force companies to reveal just how much money they're paying men and women, revealing their gender pay and bonus gap. (Currently, only five companies have voluntarily published their gender pay gap – Tesco, Friends Life, PwC, AstraZeneca, and Genesis Housing.) The New York Times quoted Prime Minister David Cameron who said, "The disclosures will cast sunlight on the discrepancies and create the pressure we need for change, driving women's wages up."
The British government is also requiring around 8,000 companies to release information on how many women fall into each pay range. This means that we will be able to see how much men and women are getting paid, and how many women are at the top.
Check out these six top-level facts about gender pay inequality in the U.K., as well as the nuances of the ruling.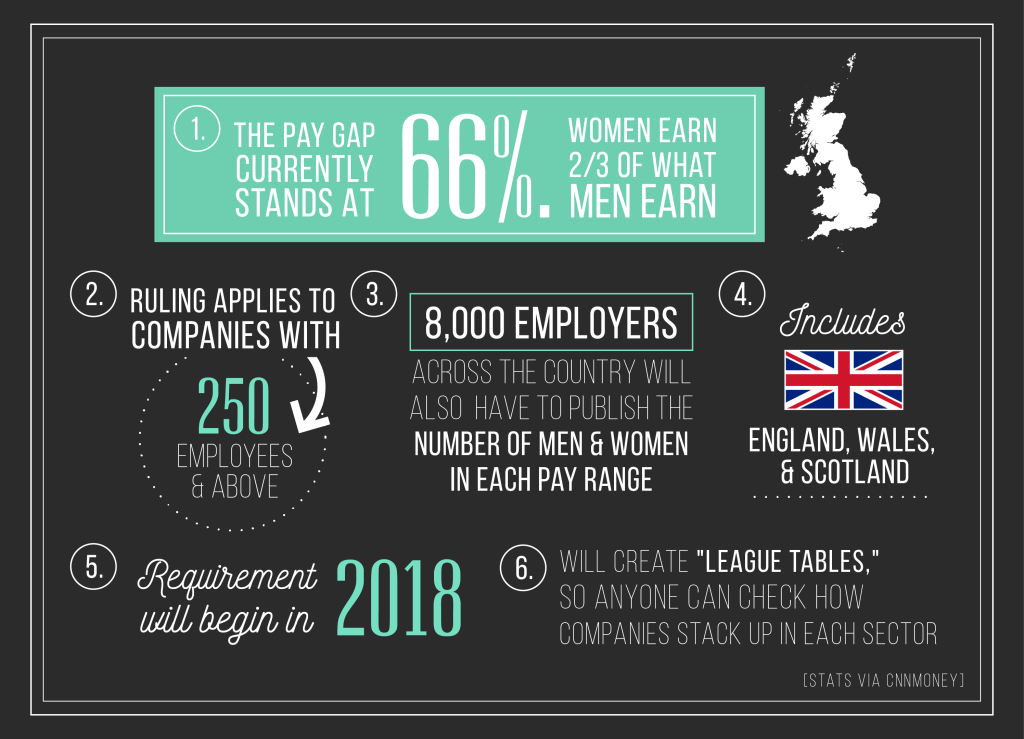 This ruling could be just what companies need in order to feel incentivized to make real changes that can be quantified and tracked. The New York Times also suggested that this transparency will be a cheaper and more effective way to combat wage inequality, saying,
"About 20 percent of large companies now train employees to recognize unconscious bias, spending billions of dollars to try to stamp out unintentional discrimination. Paying for a salary analysis is cheaper and potentially more effective. Evidence also suggests that less secrecy about pay results in greater employee loyalty and lower turnover."
Overall, these rules will provide a much-needed level of transparency that will be really useful to the public, potential employees, and the government. Companies won't have anywhere to hide after laying their facts bare. Hopefully, this ruling will act as an incentive to create fair compensation rates across the board over the next several decades. Just think about how useful this information will be for a potential job applicant — would YOU want to apply for a position at a company who allows a discriminatory pay policy to continue? Probably not.
However, this ruling has drawn some criticism, and people think it's silly that women have to wait another two years to see just how underpaid they are. Critics also feel like there should be harsher penalties put on companies. An article on the BBC quoted Frances O'Grady, the national trade union centre's general secretary, who said, "We're disappointed that firms won't have to publish their gender pay gap figures until 2018. It is a real shame that bosses won't be made to explain why pay gaps exist in their workplaces and what action they will take to narrow them."
While this is certainly not a perfect solution, I do think it's an overall positive step in the right direction. This long-standing issue is one that we can't afford to let continue on any longer, and it's going to take somewhat drastic measures to stimulate change in a real and meaningful way. Kate Green, the shadow minister for women and equality in the U.K., echoes this notion saying, "At this rate, it will be another 47 years until the gap is closed, so we haven't a moment to lose."
The good news in the article didn't stop there, and I was pumped to read that President Obama signed a presidential memorandum that would pass similar rules here in the U.S. The memorandum would require federal contractors to report wage information by gender and race, contributing to the growing demand for wage transparency. Also, a handful of other countries, including Belgium and Austria, have passed similar rules. I'm excited to see how these rulings snowball into large-scale change in the U.K. and what companies will do to ensure fair pay for all. Stay tuned!
Image via Unsplash