What Is The Financial Diet?
Welcome to The Financial Diet! We're glad you're here, and we hope you'll hang out a while. But first, a little about us.
Founded by writer Chelsea Fagan in August 2014 as a personal blog to track her budget, The Financial Diet now publishes hundreds of voices on our website, and has the largest female-focused personal finance channel on YouTube. Our mission is to get more women talking openly and honestly about money, and to give you the confidence to build a fulfilling life on any budget.
Here on our website, we publish new stories every day about everything from creative ways to grow your income, to affordable ideas for meal prep and home decor, to honest, emotional accounts of how money affects people's lives.
Over on YouTube, you can catch weekly shows that bring TFD to life:
The Financial Diet (airs Tuesdays) — Our first and longest-running show, hosted by TFD's CEO and Co-Founder Chelsea Fagan and covering a wide range of topics.
Making It Work (airs Thursdays) — An illustrated, narrative series telling real stories of how people face challenging or unusual financial situations with courage and confidence.
The Lifestyle Fix (airs Fridays) — Hosted by Tasha Cochran, a Yale-educated attorney, mother, and founder of One Big Happy Life, this show covers all the life lessons and domestic habits she learned the hard way so you don't have to.
The 3-Minute Guide (aired Jan-Dec 2018) — In this bite-size educational series, author of the popular book and blog Broke Millennial, Erin Lowry simplifies complex financial concepts.
Lastly, check out our book, The Financial Diet: The Total Beginner's Guide to Getting Good With Money. Released in January 2019, it was named one of Refinery29's best books of 2018 and has been positively reviewed by The New York Times, Elle Magazine, and many other places.
But enough about us! We'd love to connect with you on Instagram, Facebook, Twitter, and our weekly email newsletter. You can also request to join our Facebook Group to swap advice with thousands of like-minded people. And if you'd like to submit a story, please use our submissions form.
Interested in advertising on The Financial Diet? Contact annie@thefinancialdiet.com.
In The Press:
Forbes – 13 Must-Watch YouTube Channels for Making Money
Business Insider — The Financial Diet CEO Chelsea Fagan Interviews Reddit Co-Founder Alexis Ohanian
New York Times — Personal Finance for Those Who Don't Have a Clue
Elle Magazine – If You Know Nothing About Personal Finance, You Need to Read This Book
Refinery29 – The Best Books of 2018 We Can't Wait To Read This Year
Real Simple – The Most Inspiring Books for Graduates
NPR Marketplace – Helping millennials have a balanced 'Financial Diet'
Entrepreneur – 3 Steps to the Perfect 3-Minute Pitch
Huffington Post – #TotalHonestyTuesday Lets You Be Your True Self On Instagram
MEET THE TEAM
LAUREN VER HAGE

Lauren Ver Hage is an art director and graphic designer. She works to bring TFD to life, visually. Hobbies include: combining script and san serif typefaces, designing infographics, and photographing various TFD adventures.

ANNIE ATHERTON

Annie leads business development, partnerships, and marketing at TFD. Long before joining the team, she was TFD's first and biggest fan, having witnessed its inception and followed its growth into the dynamic community it is today.

HOLLY TRANTHAM

Holly is The Financial Diet's managing editor. She works to continue growing the brand that made her less afraid of facing her bank account and hopes she can do the same for someone else. She lives in upper Manhattan and tries her best not to follow dogs home.
THE TFD CONTRIBUTORS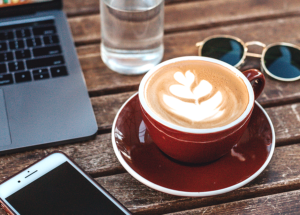 The team above is a big part of TFD, but their voices alone are not enough to drive a fascinating and diverse conversation about what it means to be good with money (and good at life). We are always looking to hear more stories, and to grow the network of TFD contributors. The more we talk to each other, the smarter we are.