In The Kitchen
Every Single Cent I've Spent On Food This Week, Documented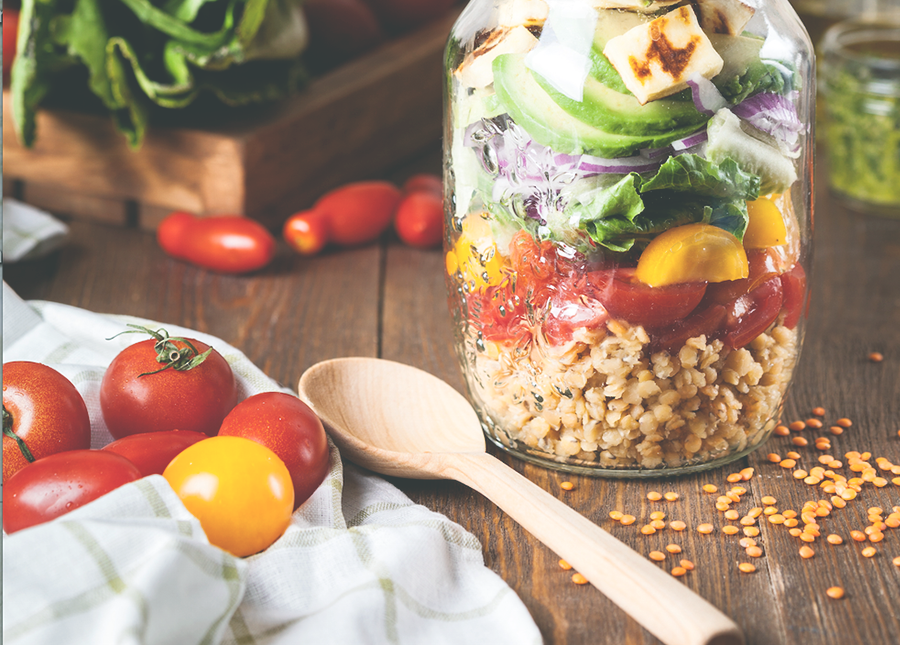 A few weeks ago, I wrote about my grocery budget, and some things I've been doing to make my food purchasing and meal prep routines a little more effective. As I mentioned in Monday's post about pantry staples (trying to keep the Premium Grocery Content going this week), it has been very rightfully pointed out on more than one occasion by people in my personal life and commenters on TFD that I don't always eat well, or eat enough. I had a few questions about how my boyfriend and I actually spend so little on groceries, and what exactly we buy and cook on our small-ish grocery budget. I also got a few questions about how often we eat out, and whether or not we factor that into our monthly food budget, or budget it separately in an "entertainment" category.
The real answer is that I do budget our dinners out separately as entertainment, but just to give a bigger picture about what I actually spend on all food — restaurant outings, alcohol, and little treats included — I decided to document every single cent I spent on food in the past week. Starting last Thursday, I began documenting. Today (Thursday, September 21st as I am writing this) I tallied everything up. Here is what I ended up with in my weekly "Money Spent On Food" diary:
Thursday 9/14:
Money spent on food:
Ice cream for us and two friends: $14.
We rotate hosting a monthly dinner party with a couple we are friends with, and this month we hosted. I didn't buy anything special for the dinner — I cooked it entirely with ingredients we already had from our grocery haul earlier in the week. We did, however, take them for ice cream after before we went bowling (which they paid for).
Meals:
Breakfast: Toast, a personal fave meal.
Lunch: Nothing — knew I was cooking a big ass dinner for our friends, so I saved my appetite.
Dinner: Salad, baked ziti with my very ~famous~ homemade turkey meatballs.
Snacks: We got free popcorn at the bowling alley — yay!
Friday 9/15:
Money spent on food:
Chinese food + two beers dinner out: $30
We usually go out (or order in) once a week for a special date night. Drew has a ridiculous schedule, so whenever we find a night where will we both be home, we'll schedule our date night. It is usually extremely affordable — this $30 date was moving towards the upper end of what we'll often spend. (Most is usually $50-60, but often it hovers around $20. We're cheap dates. Splitting a meal and having one beer each is the norm, and even when we get our own entrees, we both gravitate towards cheaper things like burgers and sandwiches.) Also important to note that we switch back and forth on who pays for our date night, since we do have separate finances.
Meals:
Breakfast: Oatmeal
 with a sliced apple
Lunch: Leftover pasta from our dinner the night before with friends.
Dinner: Chinese food @ a nice little restaurant…duh.
Snacks: None — I'm not a huge lunch person, so if I eat real substantial food midday, I probably wont snack between meals.
Saturday 9/16:
Money spent on food:
Roasted chicken to cook for dinner that night with veg from the grocery haul from the previous Tuesday. (To be fair, this was unnecessary. We had chicken breast frozen that I could have thawed, but I was dead set on having a delicious whole roasted chicken, sue me.): $5
Meals:
Breakfast: Omelettes, made by Chef Drew
Lunch: Leftovers from my Chinese food the night before
Dinner: Chicken with roasted veggies
Snacks/other: I got a free coffee (yas gift cards) while running errands. No food-snacks.
Sunday 9/17:
Money spent on food:
Two pints of our favorite ice cream flavors to bring home from a local dairy farm (which we would frequent for fresh single-scoops if it wasn't so expensive to buy ice cream that way): $10
Meals:
Breakfast: Egg and cheese sandwiches (brought to me in bed from my cute boyfriend).
Lunch: We went to the baptism of the baby I nanny and were fed a wonderful meal there.
Dinner: We snacked on some of the ice cream we bought in the evening, but we were full from our big yummy lunch and didn't eat dinner.
Snacks/other: After the ice cream, I ate a few tortilla chips that I got at Trader Joe's a week ago, but they were stale so I ended up tossing them.
Monday 9/18:
Money spent on food:
Miscellaneous groceries for the week, mostly vegetables: $35.
We also bought some beer, which is usually budgeted separately from groceries, but is still something we consume and buy at least somewhat regularly: $12.
Meals:
Breakfast: Scrambled eggs and toast.
Lunch: Leftover vegetables that I had made with our chicken on Saturday, over a tupperware full of salad.
Dinner: I made a giant pot of chicken and rice soup from the chicken and remaining veg from Saturday's dinner, so we had big delicious bowls of that. (Sidebar: yassss soup weather is coming!) 
Snacks/other: Beer!
Tuesday 9/19:
Money spent on food: 
Nothing spent on food this day, but I did buy a coffee in the morning for $1.25 from the gas station, because we drank our whole pot at home in the morning, so I couldn't fill my travel mug.
Meals:
Breakfast: Oatmeal from a big bulk container that I've had forever with pumpkin seeds on top that I bought a Trader Joe's weeks ago and still haven't worked through.
Lunch: Crackers and cheese that I packed up from home and brought with me in a tupperware. (As you can tell, I'm not a huge midday eater.)
Dinner: Leftover soup from the pot I made Monday.
Snacks/other:
Wednesday 9/20:
Money spent on food:
A bagel, $2, which I didn't even freaking eat because I put it in my bag and forgot. Womp womp.
Meals:
Breakfast: Cereal from Trader Joe's haul two weeks ago.
Lunch: Granola bar from a bulk-box I bought many weeks ago (these
are my favorite thing ever) and grab from when I don't have good leftovers to pack for lunch.
Dinner: Pizza with the TFD girls! Yay!
Snacks/other: Nothing besides the $2 bagel that I didn't even eat. Lol.
Thursday 9/21:
Money spent on food: Nothing.
Meals:
Breakfast: English muffins
from a package we bought over a month ago and froze when they were buy 1 get 2 free.
Lunch: Granola bar.
Dinner: Dinner out for Drew's father's birthday, which was not paid for by me. Weee!
Snacks/other: I ate a few crackers out of the box I bought at TJ's last week. Trader Joe's multigrain crackers are the beeeeest snack.
Total for the week: $109.25
That number feels huge to me, but considering the fact that it covered our entertainment, grocery, and alcohol budgets, it isn't too bad. We regularly spend a bit less than this — with our monthly dinner party, a birthday celebration, and our regularly scheduled date night, it felt like this week had a lot of "going out" in it. We don't usually go out and spend so much on ice cream twice per week — but we wanted to treat our friends to our favorite ice cream, and later in the week, we just wanted some more damn ice cream. (Also, it is the last week of summer — ice cream felt justified.)
Like I said, Drew and I do often go out once per week for some sort of meal together (even if it is just a quick breakfast sandwich in the morning), but this week, we went out twice together, and I went out once with the TFD squad. Only one of those three meals out was paid for by me, but it still is important to note, because we would run through our store-bought groceries a lot quicker on any regular week, and that is a super important part of understanding the full picture of our food-life. This week, we actually hardly dug into them since we were out so much. Thankfully, most everything vegetable-wise is hanging on well and will be cooked over the next few days, and anything that could be frozen to use later has been put in the freezer.
Overall, I see some areas where I'd like to improve. I'd like to cook more, and go out less — even if I'm not footing the bill (both for health reasons and the fact that I really should use up the groceries I buy), and I'd like to get to a place where I'm sending myself to work with a substantial lunch every day (I don't necessarily desire a huge meal during the day, but I find myself feeling dizzy and lethargic around noon, and definitely could fix that by eating something besides a fistful of crackers). But all in all, I think we have a system that mostly works. I eat when I'm hungry, I never feel like we're missing anything, we always shop the sales and end up with different things to enjoy, and we almost never end up spending more than our budget allows (which might be the most important part).
Mary writes every day for TFD, and tweets every day for her own personal fulfillment. Talk to her about money and life at mary@thefinancialdiet.com!
Image via Unsplash