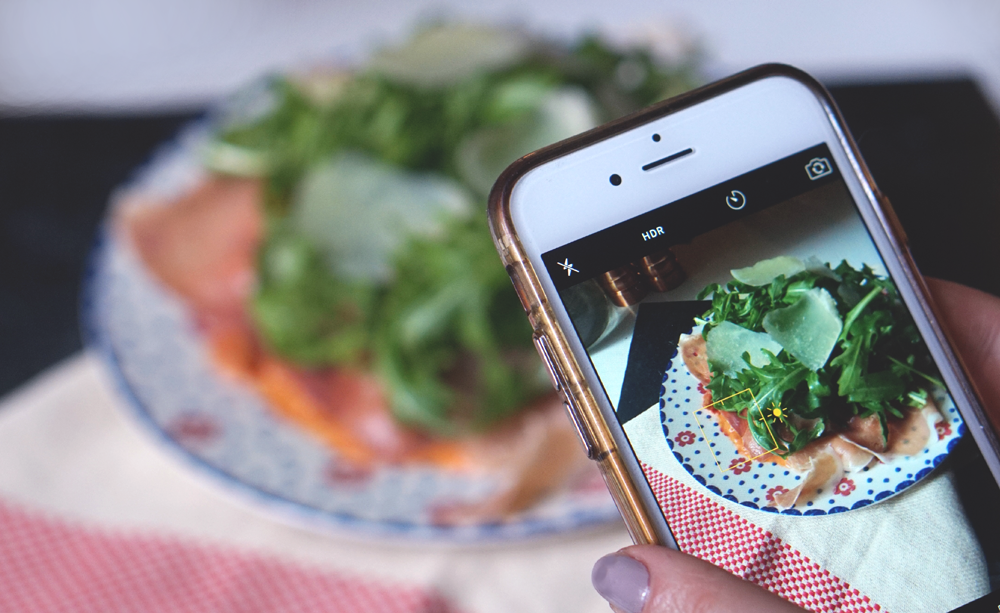 Among the many reasons I absolutely love restaurant-going, and will never give it up as part of a money-saving challenge, is "stealing my favorite recipes for home use." Some of my most beloved home dishes have come from restaurants, and it's all the more important when you no longer live in the same city (or country) as the restaurant in question. No matter how much I miss my old stomping grounds, I will have these little pieces that I can make whenever I'm feeling nostalgic, and in need of a good meal.
One of those restaurants is Al Caratello in Paris, just west of Montmartre. It's the kind of homey Italian places that serves pasta on absurdly-big plates, shaves huge curls of salty cheese over everything, and whose understated decor translates to low wine prices and an at-home feel. I make it a point to go every time I'm back, and even when I lived there, I would make my favorite dish on the menu — the Rigatoni Coppa — for myself.
After having gone on this most recent trip, I came home realizing I hadn't made it since I'd been in the States, and that that is extremely sad. I also had most of the ingredients on hand. (I usually make it with penne, but didn't have any, which is fine because any medium-to-big, ridged pasta will do. I used shells in this case.) So we had it for lunch at TFD HQ today, and at the risk of tooting my own horn, Lauren's reaction was the reaction this pasta always gets: "OMG" at the visual of it, and then "OMG" at the taste. If you need a go-to dish that looks and feels incredibly impressive (and delicious), but is painfully easy to make, this is your dish. Make it for guests, a date, or even just yourself because #YouDeserveIt.
I promise, you will not be disappointed.
Pasta With Vodka Sauce, Prosciutto & Arugula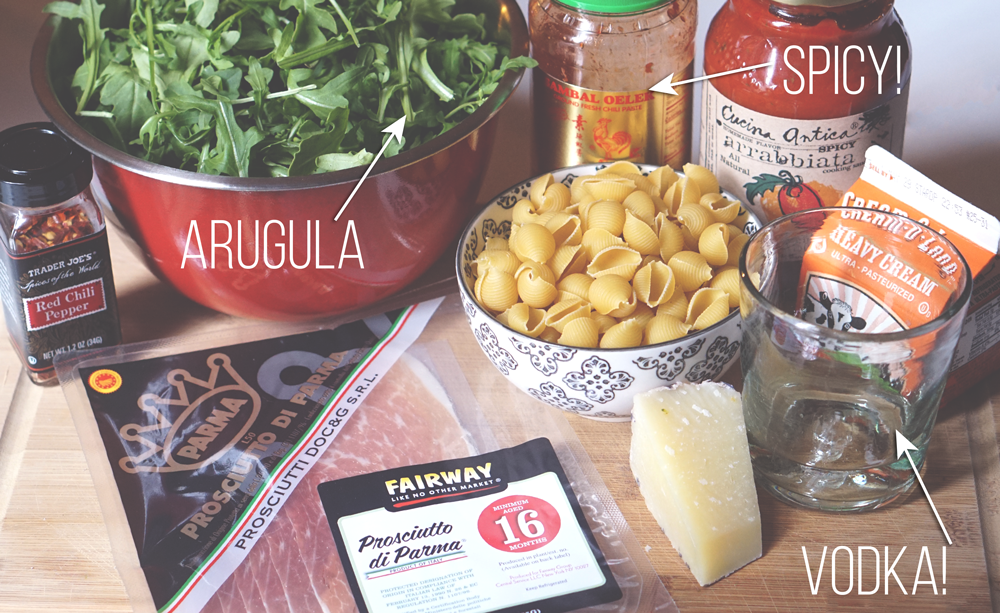 Total Prep Time: 5 Minutes
Total Cook Time: 20 Minutes
Makes: 4 small servings, or 2 large ones
You will need:
-2/3 box pasta like penne, rigatoni, or in this case, shells. Just needs to be not-small, and ridged or twisted, to absorb #DatSauce
-2 cups quality jarred arrabiata sauce (get that Ragu out of here, and out of your kitchen forever, while we're at it)
-1/2 cup vodka (any brand is fine)
-2/3 cup heavy cream
-1/2 cup pecorino or aged parmesan, grated (plus a little to slice on top of the finished product)
-1/2 teaspoon crushed red pepper
-1 tablespoon chili garlic sauce (optional, if you like it spicy, which I very much do — I think it goes really nicely with the rest of the dish)
-1 pack prosciutto, thinly sliced (need about eight super-thin slices)
-4 cups arugula
-Salt & Pep
This recipe, I promise, could not be easier:
Start by boiling your pasta in salted water until it's about a minute under how cooked you'd ultimately like it.
Meanwhile, put your red sauce in your largest pan, add your vodka, and bring to a boil for a few minutes, or until the vodka taste is completely gone, then reduce to a simmer. (Vodka serves to cut the acidity of things like tomatoes and make the sauce super-creamy.) Add your red pepper and your optional chili sauce, as well as a few cracks black pepper. Stir. (I encourage you to not salt this dish while cooking, because the cheese and prosciutto are both very salty.)
Add your cream, stir well to incorporate, then add your 1/2 cup cheese and a 1/4 cup pasta water, bring to a boil again, and then reduce to a simmer and stir until the cheese is fully melted and the sauce has a lovely, creamy consistency. (Hard cheeses like this take a bit to melt down fully.)
Once your pasta is done, simply add your pasta to the sauce along with another 1/4 cup of the pasta water, and stir it all together for 2-3 minutes to thoroughly combine, until every little pasta is soaking in its own lovely jacuzzi of vodka sauce.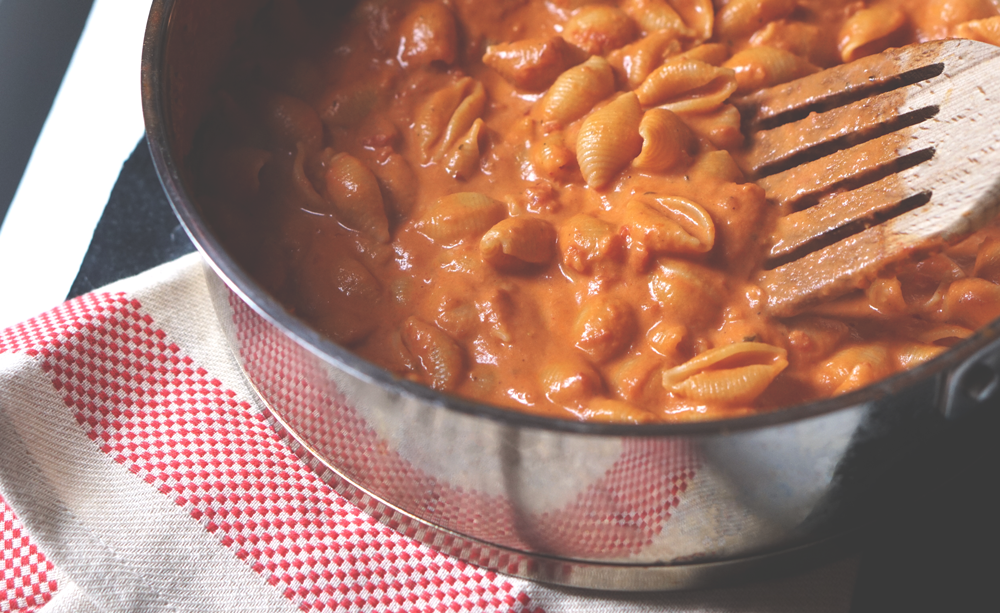 To assemble, simply layer your pasta, then your prosciutto, then your arugula, topped with the flaked cheese, as seen below: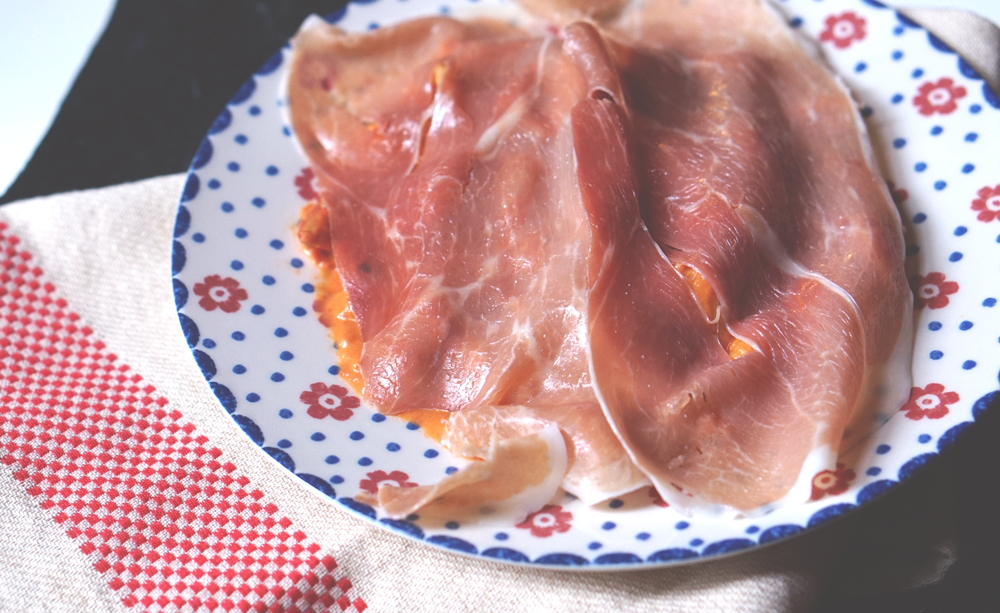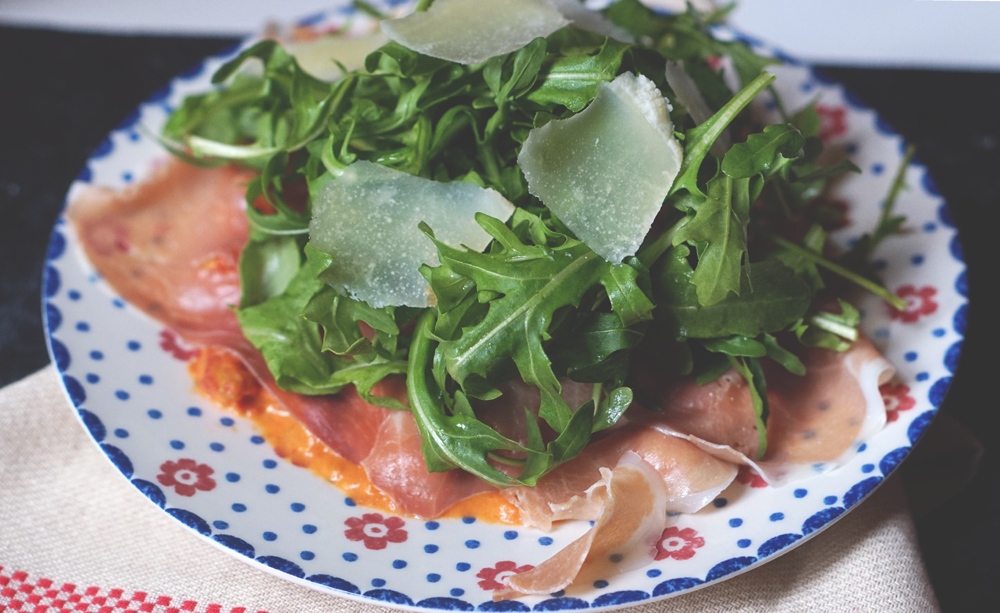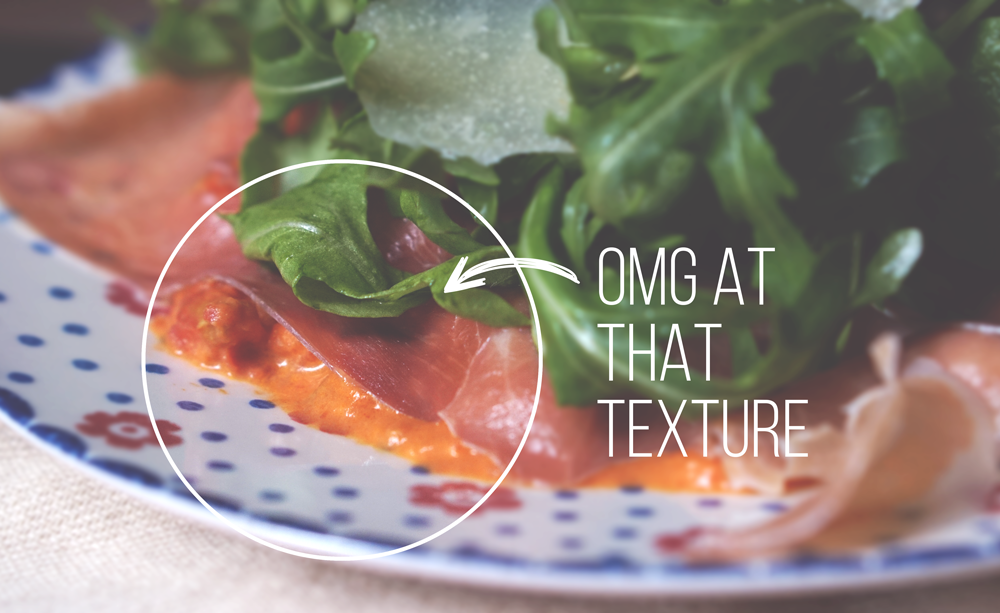 Et voilà, you're ready to serve! (And it's important to note that you eat this with a knife and fork, making sure to get a forkful of all three components with each bite.) It's a simple, delicious, utterly-impressive dish that took approximately zero work, and utilizes a good jar of red sauce to do all the hardest parts for you. Call me Semi-Homemade with Chelsea Fagan, but I am always into a dish that seems like I worked way harder on it than I did.
Enjoy!