Living
The 7 Personal Finance Articles We Loved This Week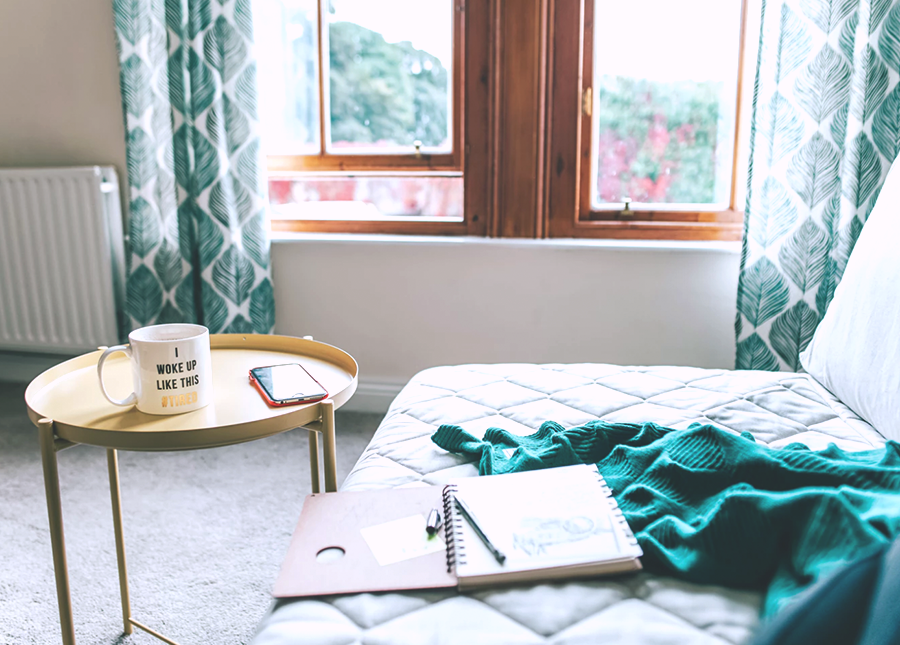 Peter and I are about to move into our second apartment together. It's always been the plan — out of necessity, because he couldn't break his old lease entirely, we moved into a different apartment in the building he already lived in a year ago, with the intention of moving someplace bigger (and in a more affordable neighborhood) once that lease was up.
We've been saving up for most of the past year so that the transition would go smoothly. And so far, it's worked; the savings covered our first month and security deposit and movers, and the rest is going towards things like new bedroom furniture and air conditioning units. I'm really proud that we made it as painless on ourselves as possible, but I also have to remind myself that we've only lived together a year — we can't possibly have completely figured out our financial lives at this point.
I loved ESI's first pick from Business Insider this month. The idea of a discretionary spending allowance is something I actually already do for myself rather than intense budgeting, and it's definitely something I could see working in the long run (for partnered and single people alike!). And I really identify with the writer's perspective; having her own discretionary spending is crucial to her feeling like an independent person. I especially loved this bit of insight:
In a 2016 essay for the New York Times, Alain de Botton suggested that a good question to ask your partner before getting married would be: "And how are you crazy?" This is how I am crazy. The reason we had to institute an allowance system was because I cannot be questioned about buying 'Jaws' T-shirts, or sneakers, or the occasional out-of-print biography going for $55, used, on Amazon. I am so wary of dependence that the merest suggestion makes me break out in hives. I have to feel that I am independent or I cannot be married, as much as I love [my partner].
(Also, love the shoutout to de Botton — I am currently reading The Course of Love and really enjoying it.) Be sure to check out the full article, and the rest of this week's list, below!
1. How a $500 monthly allowance saved our marriage – Business Insider
"When I spend $65 on a vintage 'Jaws' T-shirt in a closely watched eBay auction — closely watched by me, anyway — my marriage of 11 years hangs in the balance. At least, it used to. Once upon a time, such spending was a huge, homewrecker of an issue for us. But in September of 2010, my husband, Chris, and I adopted an allowance system. Ever since, we've granted each other $500 a month to spend however we want, no questions asked. And this is how we're still married."
2. Monetize Your Life And Get Paid To Live – Financial Panther
"For most people, the ability to earn extra money comes down to time — most people work all day, and when combined with other obligations, there are pretty much no hours left in the day to keep working. However, that hasn't been the case for me. Even though I work a full-time job, I've still found a way to consistently earn extra income every month by incorporating my side hustles into my everyday life. It's a strategy I call monetizing your life."
3. Why Saving a $100,000 is HARD! – Montana Money Adventures
"It's SO hard not to care what the critic says. I cared. A whole bunch. You want to know one of the hardest parts of growing up poor and then trying to build financial independence? Learning not to care about the critic."
4. The 10 Pillars Of FI – Choose FI
"FI isn't about deprivation, FI is about cutting back on needless expenses that cost you too much and don't add value to your life, it's about trying to reclaim most valuable thing in your life which is your time."
5. Do You Want To Have Money or Impact? – James Altucher
"Money is a tool to create impact. It allows me (sometimes) to transfer value I see in my head, to value I can create. But I can create value and impact and relevance in other ways. Money is the lowest tool. And it's never more than a tool. It's never the way, the method, and never necessary."
6. How to Think About Money – Physician on Fire
"How does one normally think about money? How should one think about money? The answer to the first question, at least for me, has typically been what money can buy. For a lot of years, money bought me stuff. When you reach that place in adulthood where you realize buying more stuff or purchasing replacement things for the perfectly acceptable things you already own is pointless, it's time to reframe the way you think about money."
7. Stupid Money Mistakes I've Made – What I Learned From Them – Making Momentum
"I'd love to parade myself around as a flawless financial knight, but wow…that couldn't be further from the truth. Authenticity and honesty would be virtues that I think a knight would respect though. So I am here to be honest, I've made some stupid money mistakes. Just plain old stupid money mistakes and decision making. Thankfully with time comes reflection and self-awareness, so I've been able to learn from these mistakes I've made with money."
Image via Unsplash