13 Ways I Save Money At Restaurants Without Embarrassing My Friends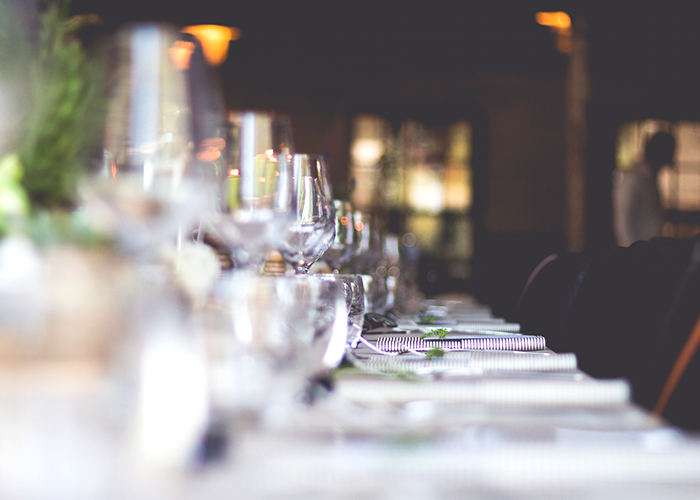 My husband, Travis, and I didn't travel or go out to eat well together for a long time. When we'd leave the city, he'd get increasingly paranoid about spending money, and for me, all inkling of a budget left my mind as I imagined all the new fun and food there was to be had. And I have too many memories of arguments with him because he refused to order his own entrée, opting to only eat the food left over by our friends.
So now we plan ahead, so he knows we have the money to spend, and I don't spend it all in one place. And we eat out — abroad and in town — so much better because of it.
Thankfully for my marriage, there are so many ways to save money at restaurants. It takes some planning, but the thought of not having to split my meal makes it all worth it.
1. Mystery Shop
If you haven't looked into mystery shopping, you're missing out on free food! This is our #1 go-to when we want a nice dinner, and we can order whatever we want — because we're not paying for it! (Well, you do have to pay for it at the time, but you get reimbursed up to a certain amount — which I've found is always plenty.) If you're interested in, I wrote a post about how to be a successful mystery shopper so you can get more and better gigs every time.
2. Restaurant.com
This website has amazing deals on restaurant gift certificates. Most of their gift certificates are $25 for $10, or $10 for $4. There is a minimum to spend at most restaurants, so take that into consideration when purchasing. It's still a great deal, though. A $25 gift certificate bought for $10, with a minimum $50 bill is still about 30% savings, if you don't go crazy.
3. Groupon
I'm a Groupon lover for life. I buy entry to races, activities, car maintenance, even my teeth cleanings on it. And I use Ebates to get cash back on my Groupon purchases. Win-Win!
I usually find restaurant deals are about half-off regular price, and while you can't use them during certain times, like happy hour, there's no minimum purchase, so you can really get the full value. And if you decide not to use your Groupon before it expires, you can transfer the amount you paid to Groupon Bucks and use them to buy another Groupon. So convenient.
4. Living Social
Essentially the same deals as Groupon, but every once in a while you'll find something they don't have. Living Social tends to give you more time to use your voucher. I saw the same deal for a restaurant on both sites and Groupon gave you 30, days while Living Social gave you 120.
5. Creative Loafing
They're known for their free weekly publication on what's going on around the city by their awesome events that spotlight local business. I like CL Deals & Loaf Deals because it highlights local restaurants. You're not going to find most of these on Groupon or Living Social, and it's half-off deals across the board (none of those 48 % or 49% off shenanigans).
Because of its transparent pricing structure and its commitment to promoting small business, Creative Loafing is my favorite on the list for restaurant deals.
6. Discounted Gift Cards
Do those websites still not have enough variety and savings for you!? There's still the option to buy discounted gift cards. That fantastic thing about using discounted gift cards is there are no restrictions on how you use them. You can go during lunch, happy hour, holidays, you can do take-out and spend as little or as much as you want. And they never expire. It's the most flexible option on the list. You can use sites like Gift Card Granny to search for gift cards.
7. Sign up for Emails
If you have a favorite restaurant (or a few), sign up for their emails. You'll usually get an initial deal for signing up, and a freebie on your birthday. You'll also get notified of promotions. Don't let yourself be tempted by their yummy food pictures if it's not in your budget. Use a free service like Unroll.me to round up your newsletters into a single email you can read, but not be distracted by every time you log into your inbox.
8. Follow Restaurants on Social Media
Businesses love to offer special deals to their followers on social media; I do it all the time in my day job. If the chain or franchise is national, you can follow your local store, and see if they're doing any local specials.
9. Look for Coupons Online
If I find myself at a big chain restaurant, I'm going to sit in the car and look for coupons on my phone before I go in. Most places accept mobile coupons, but make sure you read the fine print, because some are not so nice (I'm looking at you, IHOP).
10. Do Brunch or Lunch
Why would you just eat a meal when you can do brunch?
Dinner is a meal; brunch is an experience. And if you can't brunch, do lunch. Food eaten in the afternoon is always cheaper than in the evening. I don't know why, but hey, more room at the brunch table for me.
11. Eat an Appetizer
Some places have appetizers so big that you can eat them as a meal. This is a great option if you're traveling, or you'll be out for a while and can't take leftovers home.
12. Skip the Alcohol & Drink Water
The markup on alcohol in restaurants is insane. It's not that hard to make a good cocktail at home
. My mindset is that if I skip the adult bev with dinner, I can have it at another time. Then I have money for two outings instead of just one!
13. Take Some Home
Ask for a box early, and put in the amount you want for lunch the next day. Because I know if I see it, I eat it. And you know you're always miserable when you eat too much. So make it easier on yourself, and hide the food early.
*****
Some people think dining out is a big no-no while paying off debt, but for us, it's a necessity. And with so many ways to save money at restaurants, it's worth the extra time to pay off the loans and makes the journey sustainable.
But God forbid we pay full price.
Tell me: Do you go out to eat while paying off debt? What tricks do you use to stretch your restaurant budget?
Jen writes about her and her husband's journey to pay off $86,000 of debt in less than 2 years on her website, Saving with Spunk. Follow her on Twitter here!
Image via Unsplash