14 Solutions For Your Bad Mood (That Don't Cost A Dollar)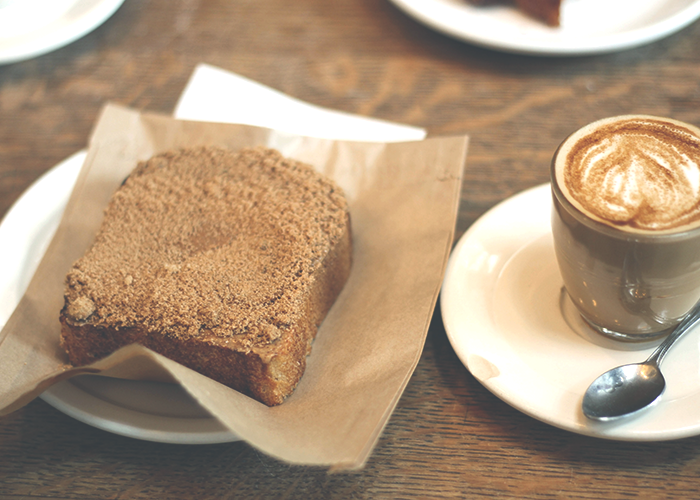 1. Listen to a podcast on your morning commute. I am always in a bad mood when I'm stuck in traffic, or stuck on a subway; both things make me anxious and frustrated. But when I was in New York, I started listening to The West Wing Weekly podcast, and it really did lift my mood, or at the very least, took my mind off the halted subway car.
2. Start a free (digital) game with your friends. For example, I'm participating in a Bachelorette fantasy draft with a bunch of my friends. It doesn't cost anything, and it's not a time commitment, it's just a little treat — something we can each look forward to and get competitive about just for shits and giggles. Hop on the Fantasy baseball bandwagon, or make/reactive your Words With Friends account.
3. Make yourself a fancy coffee before leaving for work. We've done an article on chic at-home coffee drinks, if you're looking for inspiration. If you're already making a morning coffee, why not spruce it up with a bit of chocolate syrup, or even make fancy iced coffee by making simple syrup and coffee ice cubes?
4. Schedule a 15-minute break with one of your favorite coworkers. It will force you to actually take a break if you've already made plans to see someone else. Instead of going out for yet another coffee, just meet in the cafeteria and chat (okay, gossip) for a few minutes, or even go visit another friend who works on a different floor. As long as you get the hell away from your computer screen, you're on the right track.
5. Start planning a trip with your friends or S.O. It doesn't need to be a trip that is happening soon. And it shouldn't make you feel bad about the fact that you don't really have the money to spend on the trip right now, because planning for it will encourage you to start saving. Pick a date in the future, a destination (it can be really close or farther away, depending on your price range), and then make a plan to start saving together.
6. Make yourself a little inspo board. Or do any arts and crafts project with stuff you might have around your house. Maybe you finally want to hang the art work that has been sitting in the back of your closet, or maybe you want to dry the flowers that are dying on your dining room table as a cute bathroom potpurri-type thing. No time like the present to get on Pinterest.
7. Puppysit. A few months ago, my roommate looked after two insanely adorable puppies, and it was the perfect in-a-funk remedy. Not only was it free, but it provided SO MUCH JOY to my roommate, me, and three friends we had over to share in the puppy glory.
8. Make something sweet on a random Tuesday night. Sugar really does put me in a better mood, and so does sharing food with other people. If you're trying to not spend on pricey baked goods at that one bakery that always looks delicious, try scrounging around your house and seeing what you can make with the ingredients you already have. (A few weeks ago, I made puppy chow/muddy buddies, because I had Chex cereal and peanut butter, and I found powdered sugar and chocolate in Chelsea's cupboard.) I can't even explain how happy it made me.
9. Dress yourself up a little to go for a walk in the park. (Preferably, a dog park.) I often find if I've been hanging around my house in sweatpants for too long, it makes me feel so much better just to do my hair, put on some nicer clothes (pretty much any non-sweatpant attire), and get outside. Vitamin D can do you a lot of good. So can watching other people's dogs run around a park.
10. Call a relative or a close friend you don't often get to catch up with. It's more mood-boasting than you think, because you'll be excited that you actually made the effort to see how your long-distance friend or favorite cousin is doing. It'll also make you tell them how you're doing, which might help you realize you're doing better than you think.
11. Bring a book to read on your lunch hour. Or better yet, start an at-work book club once a week during lunch. (And make everyone get the book at the library, of course.) Even if you're just reading a chapter a week, it will motivate you to look at something non-work-related during the day.
12. Bring a couple of your favorite at-home decorations into the office to spruce up your workspace. If things around you look drab, it's bound to bring down your mood. Bring in a couple of framed pictures, maybe a fake flower you have at home, or a jar of mints; anything you have lying around that you think might brighten up your work space. Your desk doesn't need to look like a page out of Country Living, but adding a personal touch can go a long way.
13. Soak your feet in the tub after a long day at work. It really elevates a Monday night. Throw in some scented oil, or massage some nice lotion into your feet when you're done. You don't need to do your nails to give yourself that ~fancy pedicure treatment~. (You can if you want, but sometimes I'm too lazy to paint and dry my toes before bed.)
14. Go for a run. I have a hard time accepting that this is a mood-boosting activity, because I want to believe that swaddling myself in a blanket while eating a bag of tortilla chips and watching a season of Friends will take me out of a funk. But as Reese Witherspoon once explained to us, exercise gives you endorphins, and endorphins make you happy. It's one of the original bad mood remedies, and putting your sneakers on and running around a block doesn't cost a thing.
Image via Unsplash