3 Unexpected Ways My Life Changed When I Cut Out Alcohol For A Month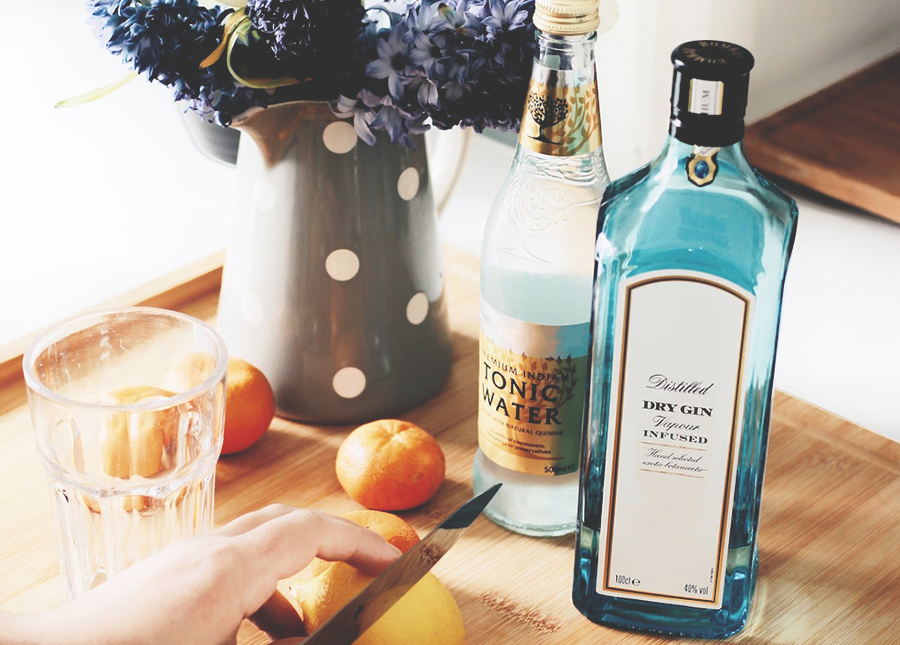 This year, I decided to participate in Dryuary in solidarity with my dad and sister. For those of you who haven't heard of it, Dryuary is a campaign sponsored by Moderation Management, a behavioral change program and national support network based in St. Louis, Missouri. For the entire month of January, participants abstain from alcohol while being encouraged in their efforts by daily emails from the Dryuary website written by former Dryuary participants and health and wellness experts. The ultimate goal of Dryuary isn't to treat or cure people with existing alcohol-dependency issues, but rather to inspire them to reevaluate their relationship with alcohol and give their bodies a well-deserved break from the toxic and damaging effects of the ever-popular liquid courage.
I'll admit, I've tried to participate in Dryuary once before and "failed": last year, I successfully completed two weeks alcohol-free, but then scratched that progress by attending and delighting in the annual holiday party held by the wine store I was working for at the time. I wasn't about to miss out on decade-old bottles of fine, British Columbian wine, let me tell you!
This year, however, after several weeks of indulgent family fun over the holidays, I was that much more motivated to not only attempt but actually complete Dryuary. And somehow, despite intermittent cravings, I managed to go all 31 days of January without consuming a single drop of alcohol (*pats self on back*). More surprisingly, however, the benefits of my actions were more than just financial in nature. The following are some of the areas of my life that were profoundly affected by my going dry:
1. My social life.
During my six-and-a-half years of postsecondary education, my "social" budget (which generally encompassed eating out, going for drinks or coffee, and attending concerts or other social events and the like) ranged between $250-$300 per month. During the first month of 2018, the grand total of my "social" expenses amounted to exactly $109.32. Of course, part of my overall frugality of this past month had to do with the fact that I was unemployed, but nevertheless, there's no denying that cutting out alcohol from your lifestyle makes a huge difference in your bank account.
What's more, I was also surprised to discover that abstaining from alcohol in social situations wasn't the hardest part of the Dryuary challenge for me. It was actually quite easy; it became a bit like a game to try and figure out what fun beverage I was going to treat myself to instead. For instance, one time I went on a date at this local bar and opted for a non-alcoholic ginger beer while my date drank beer. Another night, my friends came over and we made a home-cooked meal and drank sparkling water and lime. And one Friday night when I was really craving a drink, I raided my parents' alcohol and cocktail supplies cabinet and fashioned a concoction (in a whiskey glass and all) of ginger beer and cranberry juice. In the end, not drinking in social situations proved to be a non-issue for me.
2. My mental health.
I have suffered from varying levels of anxiety for much of my adult life, but this month, I found that stressful situations didn't seem to phase me as much as they have in the past, and I was a lot less quick to feel anxious or panicked such situations. I also found that my overall sense of presence and awareness was significantly enhanced. I felt like I was able to communicate and listen better and more effectively in my social interactions, and I was able to experience things like joy and happiness more deeply. In addition, my overall energy levels were higher, as I wasn't subjected to the occasional sluggishness or lethargy that often result from over-consumption (or even moderate consumption) of alcohol, and I had fewer interrupted or restless nights of sleep.
3. My relationship with alcohol.
Probably the most interesting result of this Dryuary challenge was the realization that the only real times I really craved alcohol were when I was anxious or upset about something. Being the only sober one amongst others who were drinking, as I previously mentioned, wasn't much of an issue; coming home at the end of a particularly stressful or frustrating day, on the other hand, was a bit trickier to deal with. In those moments of longing for that one glass of red wine or that one bottle of craft beer, my water bottle or my tea mug were my most trusted friends. Ultimately, those moments were quite the wake-up call that has since inspired me to be more mindful of and careful about the circumstances under which I choose to drink alcohol. To that effect, Dryuary was a blessedly mind-opening and (literally) sobering experience for me, and I'm looking forward to seeing if I can pull it off again next year.
Raya Polyak holds an M.A. in Hispanic Studies from the University of British Columbia and recently relocated back to Seattle, Washington to start her professional career. She enjoys travel, reading, wine, and tracking her finances on meticulously organized Excel spreadsheets.
Image via Unsplash