3 Wedding Beauty Prep Swaps That Are Saving Me Hundreds Of Dollars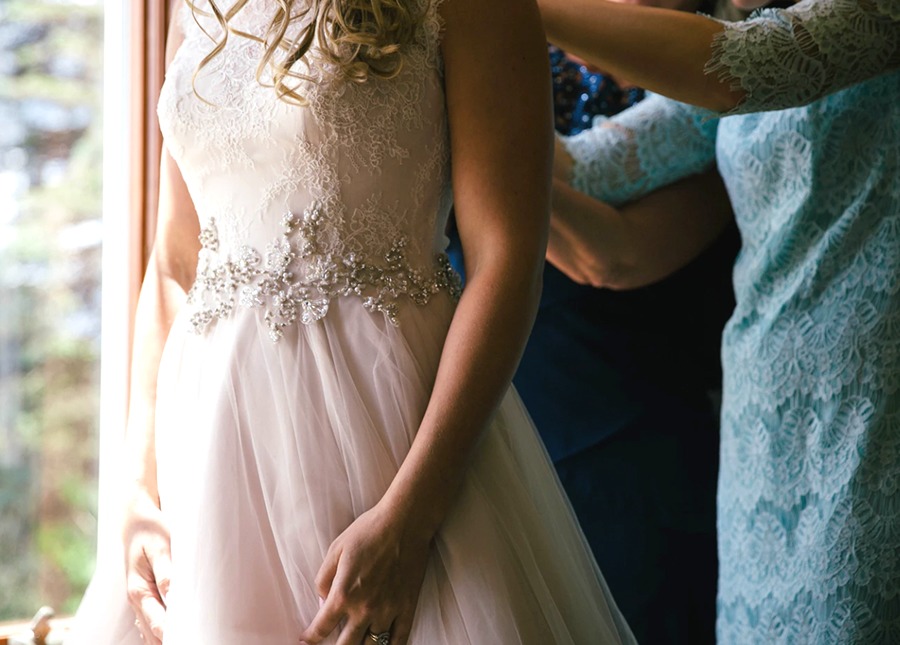 My fiance and I got engaged almost four years ago and only seriously started wedding-planning in August of this year (I'm sort of the laziest wedding planner ever). Immediately upon choosing our date of November 30, I started to feel the pressure of becoming what I like to refer as "wedding ready." What bride doesn't want to look amazing on their wedding day, amirite? I knew I wanted to look as flawless as possible from head to toe, mainly because those photographs last forever, but also because there is a certain elation that comes with feeling your very best on such a special day. I wanted to make every effort to feel that way. So, as one does, I Googled every article I could find dispensing advice on how to become wedding ready.
Some might say this is silly, but I've been looking at this process as a time in my life where I get to concentrate just a little bit more on my beauty routine. That being said, it is an indulgence that can easily break the bank. And, obviously, getting wedding ready is not a justification for going broke. To keep that from happening, here are some things I'm doing to get wedding ready on a budget:
Face
Wedding Industry Recommendation, 4-5 months before: Facials, average cost $100.00 per session
My Way to Save: Oil or serum of your choice + using your hands (free!) for facial massage
Many bridal magazines I've read will tell brides to start getting regular facials (about once monthly) beginning around four or five months prior to their wedding in order for their face to be in tippity top shape. But who has the money for that?! I have had one facial in my life — it was $85 (plus tip) for 30 minutes. Yes, it made my skin feel clear and fresh, but am I really going to spend upwards of $400.00 on facials alone for my wedding beauty prep? I think not. I had to figure out some other way to ensure my face looks extra smooth and supple. Enter facial massage.
Okay, I know this may sound weird, but facial massage is really where it's at. I first learned about it here. Basically, you take any oil or serum that works for your skin type (I use TruSkin Naturals Vitamin C serum that I purchase for $19.99 off Amazon) and you follow the instructions in the video to use your hands to massage the oil/serum into your face. Facial massage gives your face a natural lift, increases circulation and boosts collagen production, and helps prevent fine lines and wrinkles. It also helps your other skincare products absorb better. I have integrated facial massage into my skincare routine every day since I discovered it, and I can't tell you how many people have complimented my skin and asked me what I'm doing differently. Facial massage is a game changer.
Teeth
Wedding Industry Recommendation, three months before: Professional teeth whitening, average cost $500 per session
My Way to Save: Cut out all coffee and red wine (free!) three months before
Not even kidding. Cutting out coffee and red wine has done WONDERS for the whiteness of my teeth. I fell into this tip accidentally because of a classic case of food poisoning a few months ago. At the time I had been wanting to give up coffee for a while to see if the frequency of my migraines would decrease, and since I had already gone through the caffeine withdrawals while suffering from food poisoning, I decided to just keep going coffee free. When a few weeks later a friend asked me if I had whitened my teeth, it all clicked. Since then, I have also given up red wine. My teeth have honestly never looked whiter. It is shocking how badly these two liquids can stain your teeth. When you stop drinking coffee and red wine, your standard everyday teeth brushing can much more easily wipe away the stains and you will see your teeth sparkle a lot more. If you are looking to whiten your smile for all those wedding photos you'll be taking, I strongly recommend any bride to cut out coffee and red wine. For a little extra brightness, pop in a Crest Whitestrip the night before and you're good to go!
Hair
Wedding Industry Recommendation, one month before: Invest in a Keratin Treatment, average cost $300-$800
My Way to Save: Marine Collagen Peptides, $40.85 for 17-ounce container on Amazon
Many bridal articles recommend a professional keratin treatment for brides with unruly or naturally frizzy hair. I have very long, thick hair that is always quite frizzy after washing and is often super tangly. For my upcoming wedding, no matter how I decide to style my hair, I want it to look healthy and, dare I say, luscious. While a keratin treatment may have my locks looking fresh and smooth, I cannot justify the price tag.
So, I started to look into other options. A friend of mine recommended I buy a container of marine collagen peptides to start ingesting daily — the collagen is a tasteless powder that can easily mix into smoothies, soups, oatmeal, etc. Intrigued, I began to research the benefits of collagen, and was surprised to find there are many — namely, gorgeous hair. Collagen gives elasticity, strength and flexibility to the connective tissues of the hair, which allows it to flourish and look healthier. I have been drinking a collagen smoothie every day for the past four months and I can say without a doubt it has benefited my hair. My hair feels smoother, less frizzy, stronger, and has even grown longer! I am now confident that my hair will be looking damn near flawless during all of those wedding week events and the big day.
A couple more tips to get wedding ready on a budget:
Skip the booze, sugar, and salt
Doing this obviously costs you nothing (in fact, not buying a round of drinks at happy hour will keep money in your pocket) and is so, so important for wedding photos. The wedding industry pushes all kinds of diets on brides and will advise you to subscribe to an expensive meal delivery service, or to go on a pricey juice cleanse — and if you can do that then that's great for you! – but sometimes the simplest (and cheapest!) option really can work the best. Alcohol, sugar, and salt all contribute to your face and body bloating, which no bride wants on her wedding day. They are also all dehydrating, which can cause the skin to look sallow and dull. Getting wedding ready is a perfect time to cut the alcohol, sweets, and salt because not only will it debloat you and make everything feel "tighter," if that's something you're interested in, but you will also receive a massive uptick in your energy levels. Don't get me wrong — I fully intend on going back to my beloved chilled glass of sauvignon blanc and sweet treats after the wedding, but for now, I'm skipping happy hours.
Get an acupuncture mat for relaxation
Everyone knows that wedding planning is extremely stressful, whether you're having 20 guests or 200 (for the record, we are keeping it small-ish at 55 guests). The whole process can get overwhelming fast. I would love to get regular massages to decompress, but those are out of my budget. While looking for an alternative, I discovered acupressure mats online. An acupressure mat is a mat (and pillow) that is covered in a bed of "nails," or plastic pointed pressure points. The idea is to lay flat on your back on the mat, and the pressure points are supposed to help those who suffer from back and neck pain. I also read that lying on an acupressure mat can be very therapeutic, so I had to give it a try. I ordered one off of Amazon for only $22.90 and let me tell you, it is worth every penny. I like to lay on it for about 30 minutes while I'm reading or Netflix-ing. Something about the needles makes your whole body feel like it's doing one big exhale from life. It almost makes you relaxed enough to forget how much money you're spending on your wedding (almost).
*****
And there you have it! Follow these simple, budget-friendly tips for a full-body refresh that will have you feeling like (but not spending!) a million bucks on the day of your wedding.
Katherine Cerchione is a writer based in South Florida. You can check out more of her work here and her tweets here.
Image via Unsplash