4 Ways I Ended Up Saving Money Going To Graduate School Abroad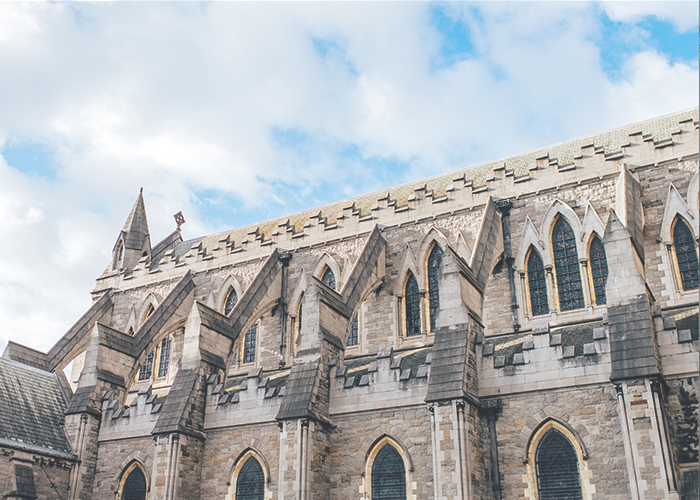 During my senior year of college, I was grappling with the same decision that many other soon-to-be-graduates deal with: What am I going to do now? I knew only one thing for certain — I desperately wanted to travel, but I couldn't just take off on a whirlwind backpacking trip. I needed a way to combine travel with working and building my resume, so that when I came home, I would be prepared to find a job instead of mooching off my parents. I considered teaching English somewhere in Asia, or applying for a work visa in Australia, but I wasn't sure if either would be the right fit for me. I had originally written off the idea of going to grad school — until I realized I might be able to earn my degree abroad.
In the spring semester of my junior year, I had studied abroad in Ireland and fell in love with the country. The idea of going back took root in my mind, and I couldn't shake it. Finally, I went to my advisor and asked what I should do. She encouraged me to follow my heart — and it led me back to Dublin. I graduated from college in May 2016 with my degree in English, and in September 2016, I began working towards my MA in Media and International Conflict at the same university where I had studied abroad.
After I moved, I was nervous about handling my finances completely on my own. My parents told me long before I moved that they would no longer be able to help me with any of my expenses, and while being financially independent for the first time felt very mature and exciting, it was also intimidating. I was scared that moving back to Dublin for grad school would ruin my finances. Luckily, with scholarships, a small loan, and two part-time jobs that worked around my course schedule, I was able to make it work.
Nearly a year later, I can definitely say that I feel like I made the right decision for my education, my personal growth, and my budget. By earning my MA abroad instead of back home in the U.S., I was able to save money in a few ways.
1. There are special scholarships for international students.
Universities in Europe try to attract students from other countries, because it brings in more money and boosts their reputations. My university automatically gives a 3,000€  ($3,357.15 USD) scholarship to any international student who studied abroad there and returned for grad school. However, many programs here also offer other scholarships for international students. I took advantage of this, and applied for more, and I ended up getting half of my tuition funded by a big scholarship. Some countries, like Germany, even offer free tuition to international students.
2. My program is only one year.
The vast majority of grad programs in the US are two years long. However, many grad programs in Europe are only one year. Earning my degree in half the time is a huge perk. By earning my MA in one year, I only spend one year paying tuition and fees, and I will be able to start looking for full-time work sooner. Spending two years in a grad program would have been double the cost, meaning I would be out of the workforce for an extra year.
3. The cost of living is cheaper.
While Dublin has a higher cost of living than many other cities in Europe, living here as a student is much cheaper than living in a major city in the states. I pay 475€ ($531.55 USD) per month in rent to live in a nice townhouse that is a short walk from both the city center and my university, and since Dublin residents do not pay water charges, my only utility bills have been WiFi and electricity. When I hear what some of my friends living in New York, D.C., and Boston pay in rent, I feel very lucky. I also do not need to own a car, because I have access to an affordable public transport system. By shopping at discount grocery stores and limiting nights out at the pubs, I can easily stick to my monthly budget. (Many cities in mainland Europe are even cheaper for students.)
4. I was able to travel on a tight budget.
I know that I'm very privileged to have an American passport and the funds to put it to good use, and sometimes no matter how frugal a person is, travel just isn't possible. But moving to Europe made it much easier to travel to other cities without spending a ton of money. Between budget airlines like Ryanair and cheap hostels to stay in every city, I was able to adjust my budget to include more weekend getaways than I would have been able to back in the states. Managing studying, working, and traveling whenever I could has been quite the balancing act, but moving abroad made it all possible.
*****
Looking back on the past year, I'm very proud of my decision to go to grad school abroad. While there have been some extra expenses, like registering with immigration, overall, I spend much less living and studying in Dublin than I would have if I chose a similar program in an American city. I would encourage any Americans who want to go to graduate school, but don't want to fork over the high tuition costs to check out programs in Europe — you may be able to earn the same degree for a much lower price.
Jane Harkness is an American student living in Dublin. When she's not working on her thesis, she's writing at janeharknesswrites.com.
Image via Unsplash