5 Questions To Ask Yourself Before You Start Seeing Your Friends Again Post-Pandemic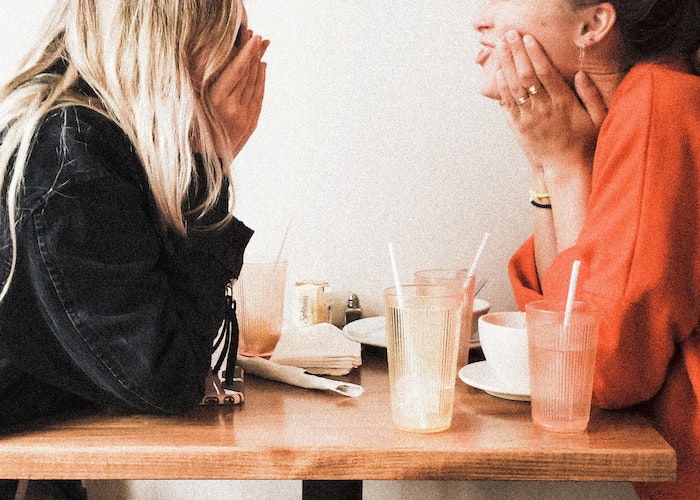 Growing up, I always wanted to have a lot of friends. When I was little, my Barbie dolls — all tanned, skinny and perpetually over (or under) dressed — would host lavish parties and get-togethers. They'd vacation in the sand of my mom's garden, sunning and partying and making out with the random G.I. Joe that had made its way into my toy chest. By the time I was in fifth grade, I had traded out books like Goosebumps and Bridge to Terabithia for Gossip Girl and anything Judy Bloom.
Despite being a plump (my great-grandmother's words, not mine) tween who wore black, velvet pants in the summer and had approximately one friend, I poured over stories where pretty girls with shiny hair surrounded themselves with other pretty girls who also had shiny hair. They all shopped and partied and made out with popular boys. My hair was lanky and constantly knotted. My braces were turquoise. And I had never had a full-on conversation with a boy, let alone gotten close enough to kiss one.
As I graduated elementary and entered middle school, things didn't get much easier. I was at a new school — a school where a lot of the other kids already knew each other — and fit in even less than I did before. My lunchtime ritual, which started the first day of school and lasted close to a year, involved buying two slices of pizza, walking to my locker where I scarfed them down while pretending to look for a book, then heading to the library to read more stories about pretty girls. More stories about the life I dreamed of.
And then, as if by fate, I discovered dance. In an attempt to help me find some way to connect with other kids, my mom signed me up for summer camp. Not only did I have a quick mind and affinity for picking up steps and staying on beat, but I found that making connections, while dancing in front of a mirror, was effortless.
And just like that, I had friends.
I started going to dance competitions where I learned makeup tricks and figured out how to apply false lashes before they became mainstream. I poured over fashion magazines with the girls I met in jazz class and had sleepovers where we all giggled about the one boy at our studio. A boy who later became my first kiss.
From there, it was like a match was lit inside of me. I got my braces off. I highlighted my hair. And suddenly I had confidence, not just while dancing, but outside of the classroom as well. As I headed into high school, I started speaking up more, laughing louder, and striking up conversations with people passing in the hallway. I was finally making friends — and a lot of them — without really trying. As I left high school and entered college, I joined a sorority and spent my days surrounded by girls with shiny hair, attending invitation-only parties, and making out with popular boys.
I had made it.
Except, you know, I hadn't. Most of my friendships were superficial and based solely upon Greek letters and alcohol. Despite making a few genuine connections, most of my energy was spent on people I didn't really care about, doing stuff I didn't really enjoy. As an introvert, I found the constant events and chatter physically and mentally exhausting, but I couldn't stop. What if they forgot about me? I'd think, as I curled my hair, added some glitter eye-shadow, and took a shot of Fireball, wishing I could just curl up on the couch to read a book about pretty girls with pretty hair instead of trying to live it. I'd love to say that stopped after I graduated, got a job, and became an ~adult,~ but that's not exactly the case.
In the day of social media and clout, surrounding yourself with pretty people who wear pretty clothes and attend pretty parties seems to be the mecca of having "made it." The more time you spend at illustrious events, the more money you waste on trendy clothes, and the more influential people you surround yourself with, the more followers you get, the more friendships you have, and the happier you are.
Right?
As much as I knew deep down that wasn't the case, that didn't stop me from falling victim to the cycle time and time again. I'd mindlessly accept invitations to parties or dinners or events I couldn't afford with people I didn't have much in common with, just because they were there. I'd spend hours looking for the right outfit, convincing myself I couldn't wear the same thing twice (there would be pictures taken, after all). We'd gossip and drink too much and take photos for Instagram, flashing our bleached teeth and insisting everyone FaceTuned it before posting. I didn't talk about how badly my family was doing. How much I was struggling financially. Or how desperate I was for a real connection. Instead, we'd talk shit about the one friend who couldn't make it, and I laugh and laugh and secretly wonder what they said about me when I wasn't there.
I hadn't realized how exhausted I truly was until the pandemic first made waves in my social circle back in March of 2020. At first, fear gripped me — not only for the health and safety of my family but for my "relationships" as well. While a few of my friendships were deep and sincere, most of them were merely surface. They weren't people I could call to catch up with or actually talk about what was going on. They were bodies I'd snap selfies at brunch with. They were people whose last names I couldn't spell but handles I had memorized.
At first, we tried to make it work. In the first few weeks of stay-at-home orders, everyone in the nation seemed to discover Zoom for the first time, and people from all walks of life wanted to do virtual happy hours and dinners and game nights. Just as I was finally relaxing, finally giving my mind and body the much needed alone time it craved for so long, past friendships were sending invitations to my calendar with notes like, "You can't bail since you have nowhere to go" and "What else are you gonna do? Lol." After weeks of full virtual schedules, I finally broke down. I finally realized, after over twenty years of aching for popularity, that those relationships and friendships weren't actually fostering me. They were hurting me.
That's not to say every single friendship you have needs to be deep and emotional and sacred. Sometimes hanging out with people who just want to chat over mimosas is a blast. But after years of those types of relationships filling up all my time, taking a step back from it all in 2020 gave me the clarity to see: That's not what I want anymore. Maybe I never actually wanted it in the first place.
While I didn't do a mass breakup and tell everyone off, I have been much more selective in how I'm spending my time and energy. The relationships I care about fostering — those that I want to last through 2021 and beyond — are the ones I concentrate on now. They're the people I'll schedule calls or virtual get-togethers with. The ones I'll text back to catch up on our lives instead of just gossip. The rest? They'll either fizzle out as the pandemic continues, or they'll be there waiting for me when the world is healed. Either way, I'm fine.
If you're trying to figure out if a 'friendship cleanse' is for you, consider trying these tactics:
Evaluate how you feel before talking/hanging out. Are you excited or (secretly) dreading it?
Then evaluate how you feel after spending time together (whether virtually or in-person). Are you energized? Depleted? Anxious? Happy?
Test out your boundaries. See how the person responds to you not accepting an invitation or stopping a discussion that feels off. Do they respect your choice or try to push things?
Think about your history. Why are you friends in the first place? What initially drew you to them?
Picture your life in five years. Whether it's advancing in a career, having a family, or going back to school, how do they fit? Do you see them being a part of future changes?
As an introvert in her late twenties, I now look back on my journey to find "friends" and experience popularity with feelings of humor and shame. While having mindless, sometimes reckless fun when I was young felt like a rite of passage, so much of my energy was spent in ways I didn't actually like. 2020 made me reevaluate my relationships and gave me the chance to actually foster the friendship that matters most: The one with myself.
While I'm sure you'll occasionally catch me brunching and 'gramming when the world is healed, I've definitely come to terms with my needs. Moving forward, I'll have a much easier time saying "no" and listening to what I actually want as opposed to what I think I should want. And if anyone has a problem with that, then odds are they were never my friends in the first place. From here on out, there's a greater chance you'll find me reading about popular girls than trying to live as one. And honestly? That sounds like something the real me would enjoy a hell of a lot more.
Rachel Varina is a social media, digital marketing, and editorial expert living in sunny Tampa, Florida. When she's not creating content or collaborating with brands, you can catch her devouring thriller novels and supporting pineapple in the great pizza debate with her husband and two rescue pups by her side. You can find her on Twitter and Instagram.
Image via Unsplash