5 Ways Being A Full-time Freelancer During COVID Helped My Career — 3 Ways It Sucked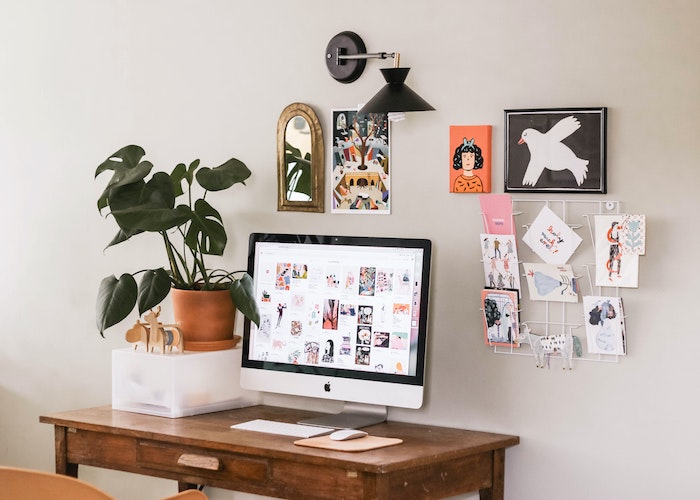 The draws to a freelance lifestyle clearly align with what many millennials and Gen-Z workers are searching for in the digital age. Flexibility, freedom, and the ability to work remotely are all popular reasons why this career choice is cited as more and more appealing. In fact, 70% of people who answered a survey by FlexJobs said they chose to freelance in order to attain a healthy work-life balance. 
COVID-19 has increased the need for freelancers, too. According to Forbes and research from the freelance company Upwork, 47% of hiring managers are now more likely to hire independent workers than they were before the pandemic. Findings from Upwork's study also predicted that the number of remote workers will nearly double by 2025. 
I've been freelancing in some capacity for about four years now. It's been a rollercoaster, but definitely never boring. Read on for my honest opinion about this career choice. 
How It Started
My freelance journey began quite naturally. After graduating from journalism school in 2016, I was armed with a toolbox of new professional skills and eager to use them. I kickstarted my career by freelancing and was able to live abroad while also continuing to practice my craft. After a few years of juggling a teaching job and gig writing, I continued to freelance when I returned to Canada (and taught English online to help pay the bills). Journalism jobs are scarce, and freelancing became the only way I could continue advancing my career without switching to a new field. 

How It's Going 
Fast-forward to 2020, when I got laid off from my first ~big girl~ full-time job at a marketing firm. Left without much of a choice, I turned to freelance writing again for a source of income. While I didn't plan for it, last year was the first time I tried my hand at seriously freelancing full time. I couldn't take advantage of many perks that usually come with the gig, like working at coffee shops and traveling on the job. But freelancing still revealed some positives unique to last year, as well as lessons learned that I'll take with me throughout my career. 
Here's a look into what it was like freelancing during a very unstable year.
Pros
Flexibility took on a new meaning

: While it's always great to have flexibility, it was particularly welcomed throughout such a depressing period of time. Some days were spent working for 12 hours to meet deadlines, and others consisted of just a few emails. When I needed the time to rest, I took it

—

and I'm very grateful for that option.
Control in a world of layoffs

: Being self-employed gave me a sense of agency and security amidst the economic devastation of COVID-19. While I didn't necessarily have job security in the traditional sense, I also worked for a variety of employers meaning that my income wasn't dependent on a single company. If one contract went under, at least I'd have a few other gigs on the go. 
The shutdown allowed me to live cheaply

: This career shift didn't elevate my salary

—

in fact, I took a significant pay cut compared to what I was earning at my previous full-time job. However, living with less travel and social plans meant it was easier to get by on a lower income. And thankfully, I was also supported in part by government assistance during this process. 
Created discipline in other areas of my life:

It's no secret that being a freelancer requires a ton of self-discipline and willpower. While money is always a motive (especially when bills need to be paid), without a set hourly schedule or any place to be, it can be easy to lack discipline or lose whichever little of it you had. However, mastering a routine and schedule for freelancing helped immensely, and the discipline spills into other areas of your life.
Made me a better business person and entrepreneur:

One of the biggest pros about freelancing, is the ability to be your own boss. While you do work for someone else, you technically answer only (or mostly) to yourself. Of course, this can be both a good and bad thing, depending on the person. However, you get to work and see both sides of the spectrum, as an employee and a contractor. Freelancing is a good business intro to going from employee to employer. From the discipline, you learn, to the management of yourself (which you can use to help manage others later), to just the overall motivation to want to grow and one day work on your own time and schedule, freelancing, especially during a pandemic, gave major insight on entrepreneurship. 
Cons
Unpredictable payment cycles:

One of the most unstable aspects of freelancing is cash flow. If you're used to being paid consistently every two weeks like I was, this can be a really big adjustment because payments are often sporadic and can take weeks (or even months) to come through. Being a freelancer means operating as a business, and that requires strict budgeting. It's certainly doable but can be very stressful. 
No insurance benefits:

Being laid off meant losing my insurance plan, which was especially concerning during a pandemic. Like any self-employed person, I was now responsible for my own benefits. This is an extra cost, and certainly a downfall, but it's also a cost factor that I incorporate into my rates. 
Unpaid work:

Working as a freelancer involves a fair amount of unpaid work, especially at the beginning. This includes pitches, research, networking, emails, updating your website and LinkedIn

—

to name a few. All of this work can feel taxing and difficult, especially when you don't have any money to show for it. This, and the unpredictable cash flow, are some big reasons why freelancers should really have savings in the bank before taking the plunge, if possible. 
Looking To The Future
After almost a year, I'm getting to the point where I can support myself independently through freelancing. I've been able to get some stable, ongoing work which helps lessen the unpaid efforts and also means more regular payments. Clients are starting to come to me, thanks to the labor I put into updating my professional online presence. Referrals and word of mouth have also brought me work, which has taught me the importance of doing my best on every single project, no matter what it is or who it's for.
To be honest, I'm not sure if I'll continue to freelance full-time forever; I'll admit, having a full-time job provides a sense of stability that I miss. But being able to find work on my own terms, maintain a flexible schedule and continue to build my career after being laid off is certainly a blessing. 
Ashley is a freelance writer and on-going contributor at TFD based in Toronto. An avid traveler, she recently returned home to Canada after two years living abroad in Vietnam and Japan. She loves to read, try new things in the kitchen, and get outside. You can learn more about her work here and can follow her adventures on Instagram @ashley_corb.
Image via Unsplash