6 Things That Have Done Way More For Me Than My College Degree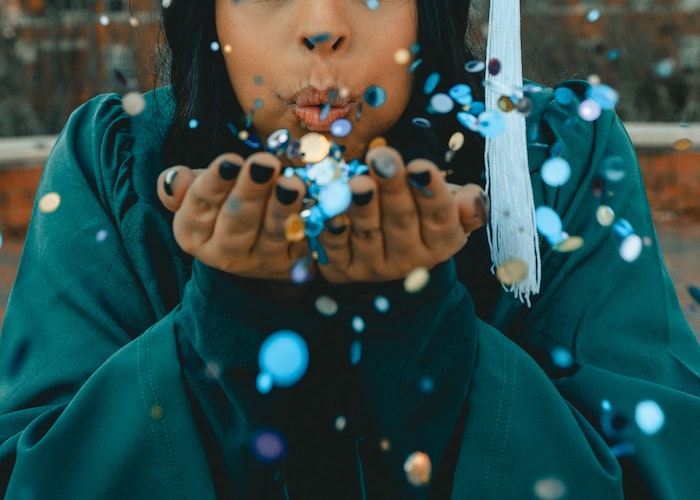 Like so many, I grew up not really knowing there was an option other than going to college. I was under the spell — cast by Boomer parents — that obtaining a Bachelor's degree would help me secure a good job, lead to more money, and prepare me for my industry of choice. (Spoiler alert: I would leave said industry three years after graduation after a quarter-life crisis.) 
Now at 30, I'm a recruiter and career coach. Between candidates and clients, I constantly find myself in the company of professionals who feel ashamed of the college they went to or have not gone to college at all. I understand the insecurity; we were raised on "bootstrapping" and conditioned to collect status symbols and approving nods of neighbors we don't even like. And while many trades and fields require a degree or advanced certificate for good reasons, most of us obtained a degree to stay somewhat relevant in an oversaturated candidate pool. 
My college experience gave me plenty of things: my worst Facebook photos, a physical aversion to vodka, and a sacred place in my heart for Kesha. But here's the truth: I attribute many things to my career advancement over the last decade, and my Bachelor's degree in journalism is much further down the list. 
Here are the six things I have found more valuable in my career than a college degree.
My first minimum wage job 
My first job was working at a local movie theater, making $7.25/hour. It was between a Cold Stone and Waffle House, and it remains one of the few places in my hometown I think of fondly. Being outgoing, I was usually scheduled to work the concession stands. Over time, I had "regulars" who chose to wait in my line. Without being explicitly told, I learned the value of client experience and developing relationships with customers. I developed a sense of confidence in an otherwise unfamiliar territory; the natural strengths I identified at that job launched me toward a career in servant leadership and connectedness.
Internships — the good ones and the bad ones 
I had internships, paid and unpaid, in college and after college. Regardless of whether the internships were positive or negative, they were impactful. One experience solidified that I — a journalism major — didn't like technical writing and research. Another experience allowed me to work with the human resources team, a team I would later shadow after a recruiter's role piqued my interest. 
Beyond anecdotal experiences, internships lend an experience that textbooks and professors rarely can: they introduce you to industry politics, give you a taste of life 'at the bottom', and ultimately help you determine if you want to make a profit from your passion.
Podcasts and audiobooks
When I set out to evolve my freelancing side hustle into a bonafide business, I never considered getting my MBA. But I did reach for business podcasts, Youtube videos, and books. The most helpful podcasts have been the ones geared to entrepreneurs and small teams. I've been able to be brought up to speed on recent trends in search engine optimization, marketing, and content creation from taking a backseat and listening. 
Book clubs
If there was something I did enjoy about my college courses and classes, it was the group discussions. I may hate conflict, but I love a healthy debate over literature interpretation and self-expression. I will be the first to admit that I don't read nearly as often as I once did, but I try to attend book clubs when and where I can. The last book that profoundly affected me was Hood Feminism, picked by a book club. Author Mikki Kendall influenced my evolved ideology surrounding intersectional feminism and gun violence. 
College introduced me to empowering professors, and I carry lessons learned in lecture halls with me today. But I also felt like I wasn't as free to take elective classes or courses that didn't fit into my major or required credits. But I have been grateful for the opportunity to explore fascinating topics in my personal life through book clubs and open discussions.
Failing regularly at work
As children, we're conditioned to memorize facts and regurgitate them during an exam. In college, we're conditioned to memorize facts and discuss ideas before regurgitating them during an exam. But at work, we're essentially expected to ace an exam (hit success metrics), but no one gives us the facts, ideas, (training), or time (work/life balance) to prepare — and oh yeah, our livelihood and healthcare depends on us acing the exam.
Post-graduate life was a culture shock. 
But I learned to read, not skim, emails…after I missed an important detail for an important team project and got called out by a senior manager.
I learned to garner buy-in from existing stakeholders when implementing changes…after getting real-time pushback from a leader on the defense. 
I learned to advocate for myself always…after being backstabbed many, many times.
Having a mentor/sponsor 
If you weren't pressured into obtaining a degree, there's a chance that you pursued higher education because you were told you could ask for more money during negotiations. But here's the catch: you first have to learn to ask for anything in a negotiation. My dad coached me through my first offer letter, but my boss-turned-mentor helped me with my second. He taught me that "the first person to speak loses" and that "it's a yes until it's a no." I learned more about negotiating over time, but without that relationship, I wouldn't have mastered the fundamentals of self-advocacy or seen the money I had when he coached me.
Jazmine has been a contributing writer for The Financial Diet since 2015. While her spending habits have changed over the years, her advocacy work surrounding social change and mental health has not. She hopes her writing and activism can empower all women to occupy their space at work — and everywhere else. Outside of TFD, Jaz (as she likes to be called) is a career coach, full-time writer, and a plant + dog mom residing in Dallas, Texas. She spends her "fun money" on trips to Trader Joe's, throw pillows, and white wine. You can follow her Target shopping adventures here, and learn more about her at JazmineReedClark.com.
Image via Unsplash