Work/Life Balance
6 Unique Ways I Use My Weekly Planner To Stay Grounded, Mindful, & Happy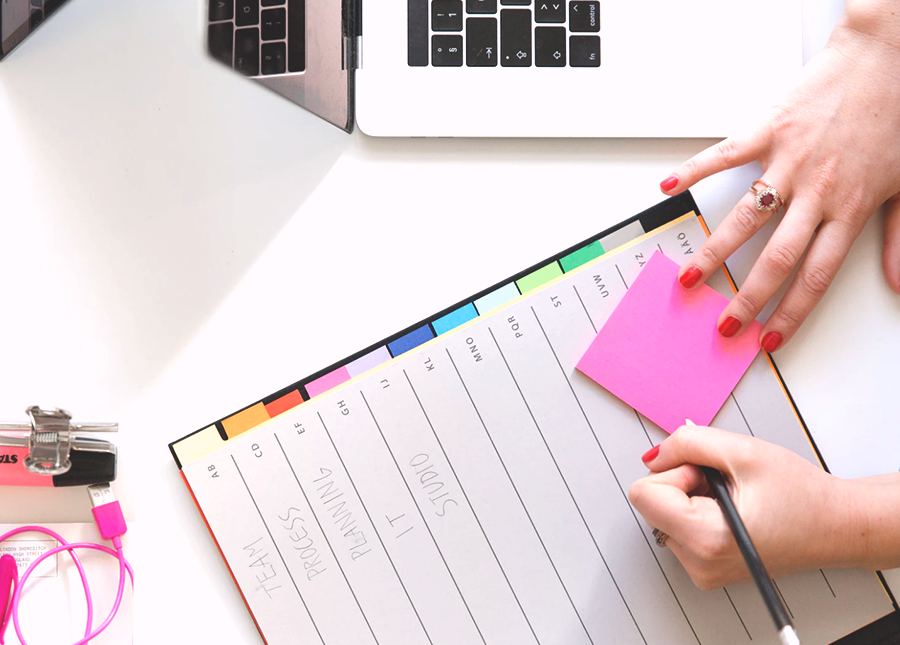 I can talk for days on end about the apps that make my life better, but I still rely on a paper agenda book year after year. I've been slowly converting everyone in my office to do the same. Back in middle school, one of my teachers put "agenda book" on the list of required school supplies for the year. This was a life-changing event for me — in fact, I have used a planner every year since. This probably comes as no surprise, but I let my freak-flag fly when it comes to my planners. They give me ammo when discussing my salary, reminders to be thankful, goal tracking, and even a ruler in a pinch.
The Book
I rely on this Moleskine planner every year. The "large" is really roughly half the size of a standard piece of paper, and the pages are split into sections.
The front is comprised of tools and references materials (think world maps complete with timezones, address book pages, a ruler, conversion charts for measurements…).
The middle has a page for every week on the left and lined notepaper on the right.
The back is more blank notepaper.
There's a handy pocket in the back, filled with stickers for important dates, in case that's your thing.
As a pro-tip, I get the 18-month version because it's the same price as 12 months, and I can use the extra pages as notepaper!
1. Day-to-Day To-Do List
Okay, let's get the obvious out of the way. I use the planner to manage my schedule and tasks. I do this on the weekly planner side (left-hand pages). Every afternoon, I'll list out the appointments I have the following day on the left side of the page, and projects or tasks on the right. Then, as I run through each, I'll either check the meetings off or fill in the box associated with the task item, which can feel very gratifying after a grueling project. And sure, we all have digital calendars, but I've had one too many problems with access to the internet in a pinch, or issues with my computer at work. Having a hard copy means you're never missing a beat.
2. Goals
At the top of each week's planner page, there's a small section I use for my weekly goals. This can be anything from targets you want to hit at work to personal goals, like finishing another three chapters or starting a new side hustle.
3. Repetitive Daily Tasks
Now let's get to the lined notepaper for each week on the right-hand page. Bullet journaling may be trendy these days, but it really helps to track progress for the things I know I need to do every day. Maybe this is something that needs to happen at the start of every day at work — for me, reviewing resumes for every role I'm working on, but maybe it's clearing your support tickets backlog or inbox, or maybe it's just your mindfulness practice, or a reminder to put $5 into your savings account each day. Whatever it is, take a moment to acknowledge the day's contribution towards that project.
4. Gratitudes
Something I picked up from my last startup was the weekly habit of being grateful. They ran what they called "Gratitude Fridays," in which the team would sit in a circle and each person would share two things for which they were grateful: one personal, one professional. I found myself sharing the same two things again and again, so I decided to write down the things that I was grateful for as the week went on. There's now a permanent slot in my weekly notes page for these, filled with scribbles about my family, friends, co-workers, and anything else that stands out throughout the week.
It doesn't have to be anything big, but anything that puts a smile on your face or makes an impact is fair game. Taking the time to write these is a great mindfulness practice, and a boost to your mental health. And if you're ever feeling a bit down, take a look at these and remember how much you have to be grateful for.
5. Wins
I've mentioned the importance of tracking wins when it comes to negotiating higher pay. Sure, you could go through the task items from each day, but instead, write the big-ticket projects and wins right next to the gratitude section. Again, it's an opportunity to acknowledge that you've moved the needle. Plus, if ever you feel a bout of Impostor Syndrome, leaf through and see the tangible things that were actually accomplished, and keep that syndrome at bay.
6. Compliments
Receiving feedback is always a mixed bag, and yes – it's important to sift through it and find things you can improve upon. But human nature forces us to hold onto the constructive feedback and let the positive feedback fall by the wayside. Just like the weekly wins, there's an opportunity to hold onto these moments in your mind. I use the note pages at the back of my planner to write down compliments that I want to keep in mind, and who shared them. This is as much about acknowledging your own awesomeness as theirs, and the relationship you're building with them.
*****
Yes, digital calendars are awesome, but sometimes it's good for the soul to physically write the good things out. Stay organized, and stay mindful my friends!
Tis is a 20-something recruiter, startup enthusiast, finance blogger, and proud feminist-slash-crazy cat lady. Find her on Twitter or check out the blog for lifehacks and musings on personal finance, professional growth, and enjoying the journey to early retirement.
Image via Unsplash