7 Budget-Friendly Ways To Make Your Outdoor Space Feel Like You're On Vacation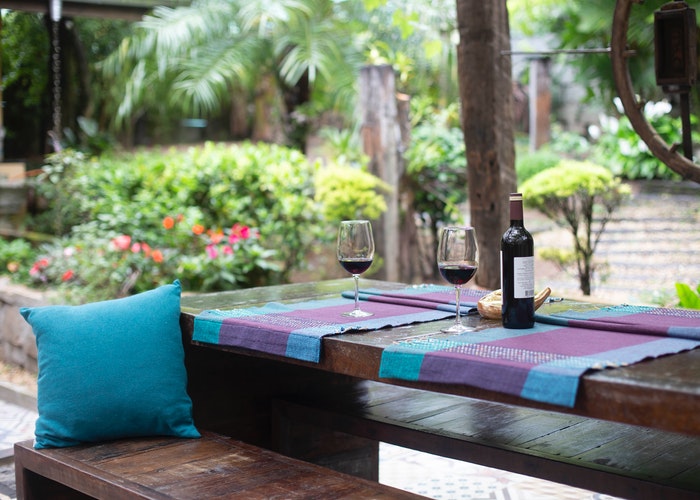 For some reason, when you tack on "outdoor" or "patio" to any kind of furniture or decor you're searching for, the prices usually double, if not quadruple. I recently invested in a little cash into my backyard (which was basically just a barren deck, concrete, and a bed of chips that the dog uses to go potty), and it was difficult to revamp the space with the budget I gave myself. Maybe it's because weather-proof material is more expensive, or maybe outdoor design just gets a heftier price tag because it's considered a luxury to have (like when a venue suddenly goes from $1,000 to $10,000 just because it's for a wedding). I feel like, no matter what your outdoor space looks like (even if it's just a balcony or small porch), you should be able to carve out a little room that makes you feel relaxed and soothed.
Because during times like these, we deserve to feel relaxed and soothed sometimes. Here are a few items you can purchase to give yourself a small 'lil oasis. 
I just hung up some battery-powered fairy string lights that completely transformed my backyard. I love these leaf-shaped ones from Target — they're dainty, feel a little more special than your standard globe or holiday lights, and because they're battery-powered, you don't need to worry about needing an electricity source. Whenever I want to light up my yard, I just press a button. (The only downside is that you'll need to eventually replace the batteries.) 
My need to float in a pool consumes me on a daily basis, considering it's been quite the furnace here in LA. But since that won't be happening for a long time, and since I don't have thousands of dollars (or space) to invest in an actual pool, an inflatable one will do just fine for now. 
A hammock is definitely an investment, and the nicer you go, the more money you'll have to pay, but cheaper options do exist, like this hammock with a stand from Amazon. If you have access to two trees or poles and can get by with just a hammock and some rope, this pretty white cotton rope option is a bit cheaper ($63.99). I've spent a handful of summer evenings reading in my hammock after dinner and I don't even miss hotels and tropical getaways one bit (LOL, that's a lie, but if you believe hard enough, anything is possible).
Okay, so you could technically build yourself a garden if you have the space. You just need wood, soil, and seeds, and it'll be much cheaper. However, many of us don't have space and need to get creative. This 4-foot-deep garden bed is elevated, so you really only need four feet of room. A more budget-friendly option is getting yourself gallon garden boxes, which are only $21.99 — just not as aesthetically pleasing. Either way, having plant life in your outdoor space can make you feel more relaxed, and if you love growing your own food, you can even take plant parenthood to the next level.
Like I said, anything made for the outdoors is ridiculously expensive. Even if you select the "low-to-high prices" from the menu, a table with chairs or benches will set you back a minimum of $300. Unless you purchase used, this is just the way it is, and I've yet to find a way around it (and I've been searching for patio furniture for about a year — and yes, I've waited for sales). With that said, if you have a little bit of space, you can get yourself an outdoor rug and some pillows (I'll get to those in a second) you can sit on when you want to have yourself a sweet summer picnic, or just a spot to read.
You don't need to get too fancy with these pillows, because they might get rained on, and you'll be using them as chairs, anyway. These plain navy blue outdoor pillows from Amazon will do the trick if you just need a soft surface to sit on.
Another option, especially if you're working with a small space, is getting yourself a small table and chair set. This one from IKEA is under $50, and perfect for one or two people. Its design is ideal for balconies, especially since it easily folds up. Other options for seating includes no-frill beach chairs (IKEA also has a cute option for $12.99) or an outdoor-friendly bean bag chair ($25 on Amazon).
You might not have a lot to work with when it comes to your outdoor space, but it's totally possible to create a calming setup you'll look forward to using. Play some music from your phone (just be courteous to your neighbors), make yourself a cold adult beverage, and set up a little area that's purely designated for some R&R. Vacation, shmacation. 
Gina Vaynshteyn is an editor and writer who lives in LA. You can find more of her words on Refinery29, Apartment Therapy, HelloGiggles, Distractify, and others. If you wanna, you can follow her on Instagram or Twitter.
Image via Pexels
Like this story? Follow The Financial Diet on Facebook, Instagram, and Twitter for daily tips and inspiration, and sign up for our email newsletter here.