A Career Stylist On 8 Things You Need To Build The Perfect Capsule Work Wardrobe (With What You Already Own)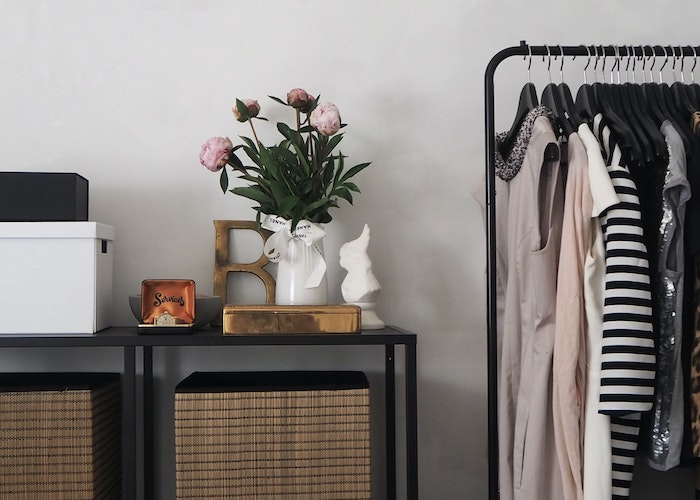 In light of TFD's upcoming Spring Refresh, we're spotlighting a few of our amazing panelists and tapping into some of their expertise on how to better apply their tips to our everyday lives. Today, we're featuring Nkechi, CEO of Corporate Curly; a career-centric blog that focuses on sharing unconventional workwear fashion for the office, while displaying natural hairstyles for the professional workspace. Through her site, Nkechi lends her professional expertise, many of which is inspired through her own personal experiences.
Ultimately, Nkechi's goal is to push the boundaries on corporate fashion, hairstyles, and inclusion in the workplace.
Check out her interview below.
1. Your bio says you're an "HR Professional who is pushing the bounds on corporate fashion and hairstyles." For those who may not understand the significance (and necessity) of redefining the narrative of "professional hair," as it pertains to women of color and their natural texture, please elaborate on why this matters, especially in 2021?
There's an absolute need to redefine what professionalism looks like when it comes to natural hair and personal style too. For so many years, and till this day Corporate America was and is dominated by men, and people who don't necessarily look like me. So my physical characteristics have never really been included in the idea of professionalism. For example, when Corporate America came to be in the late 1700s, the idea of professionalism was crafted by those who held power in corporate spaces at the time, which were white men. So a woman who wears bright colors and has a huge afro, was never constructed in the concept of professionalism. However, as this country's representation shifts, and Corporate America's landscape and workforce evolve. I also believe that the idea and "norms" of professionalism MUST shift with the changing times as well.

2. Can you recall a specific and/or defining moment in your own career and experiences that inspired you to start your company and help others?
Yes – a defining moment for me, in particular, was when I was interviewing for my first job after grad school. I would talk to my friends about the interview process, and a topic of conversation that came up quite frequently was how we'd wear our hair for the interview. At the time, I realized that we were spending an enormous amount of time focused on our hair, when I thought we should spend our time focused on practicing for the interview.  I didn't understand why naturally coily and curly textures in professional settings was such a topic of discussion. It also boggled me that even when groomed, I could be turned down for opportunities simply because of how my hair naturally grows out of my head. Because of this, I knew I had to begin to share more of my experience, dispel some of the myths associated with natural hair, and also provide an avenue of inspiration for women with curly and coily hair who were looking to embrace their natural texture in professional settings.
3. So for those who may not know, you're somewhat of a 'Jane Of All Trades,' as your company, Corporate Curly, offers a number of services, including: Career Coaching, Professional Wardrobe Styling and Resume Reviewing. Could you explain the importance of each of these services, and how they all play into each other?
That's such a nice compliment! When I started Corporate Curly, I had only a few years of corporate professional experience. So naturally, I was more focused on providing hair tips because that was the value that I wanted to bring through my brand. However, as I gained more professional experience and learned more by working at various organizations, I was able to contribute more to the women who follow me. I was sharing more career tips and I began to share more about style and professional attire. So my brand evolved with my growth.
When I decided to launch my professional services, which launches on Arpil 1ST,  I really wanted to provide an avenue for women to level up (for lack of better terms) in every aspect of their professional career.
My services play off of one another first when it comes to obtaining a job and getting your foot in the door through resume review. With my experience in HR, I am able to provide a different perspective that others may not be aware of when crafting their resume and looking for a job. My career coaching services are particularly for professionals aiming to get into the HR field. For me, getting into this field was difficult since I didn't have a formal degree before obtaining my master's, so I really want to help those who are looking to get into and propel their career based on the things that I've learned on my journey. Finally, personal style in my opinion is critical to many jobs. Before you open your mouth at work, people see who you are, and that speaks volumes. I genuinely think that everyone has a personal style that can be catered to the professional setting that they work in. My goal has been to help women discover what that is and what that means for them, because I strongly believe that dressing professionally does not have to be cookie-cutter! So my services aim to help women get the job, keep the job, and look great and confident while doing the job!
4. You recently mirrored Meghan Markle speaking on her unjust experiences at the hands of the Royal Family, to the real-life experiences of many WOC in toxic workspaces. What are some other examples of toxic treatment you've witnessed, and you hope to help change through C.C.?
A common theme that I hear women of color speak about is their struggle with experiencing microaggressions, imposters syndrome, fitting in with a team very different from them, or being the "only one" in a work setting. When communicating with different women over social media, their experiences vary drastically however, these are the recurring themes that I've heard. Ultimately, I've found that women of color in these spaces find themselves in situations where they're faced with proving their worth and capabilities even more so than their peers who don't look like them.
So how I aim to help women in these tough situations is by providing examples and honest points of advice that they could practically use to work through these real scenarios. My hope is that my platform is a positive space for women and women of color can turn to when they need the advice to navigate through these work situations.
5. We must ask: If you were to build a capsule wardrobe for work clothes, which pieces would it include?
This is a great question! I will be honest and say that I've made a ton of wardrobe mistakes throughout my 20s, which I'm working to fix and evolve. Fashion used to be so quick and easy for me. However, I've transitioned to a mindset of investment in quality pieces. If I don't absolutely LOVE what I'm about to add to my wardrobe, I don't get it. I don't have enough space to hoard mediocre pieces that I kind of like. So now I think about the long-term use of the piece and the amount of wear that I'd get out of pieces that I add to my wardrobe. I think to myself, would I love this piece in 5 years, and how many other items could I style it with?
The pieces that I would include in my capsule workwear wardrobe include:
Quality trench coat
Quality longline coat
3 quality pairs of flats: black, brown/nude, and beige
2 quality pairs of heels: 1 black and 1 brown/nude
2 quality  midi skirts
3 quality trousers
5 quality tops
2 belts
1 neutral tone work bag
6. Name 3 things people *need* on their resumes in 2021, and 2 that they don't (like, do your extracurriculars from college really matter?).
This is a great question because I believe the answer varies depending on the amount of experience that you have and the type of role and industry that you are applying for.
However, three things that are a necessity on most if any resume include: 
 Name
Relevant and applicable experience/education
Contact information (phone and email)
Two things that you don't need include the following:
Really old experience that's not applicable to the job that you're applying for
Your full address – your zip code is enough
For more tips from Nkechi and our other featured panelists, tune into our Spring Refresh, Sunday, April 11! Get your tickets here!
Image via Unsplash