9 Chic Home Upgrades That Look Way More Expensive Than They Are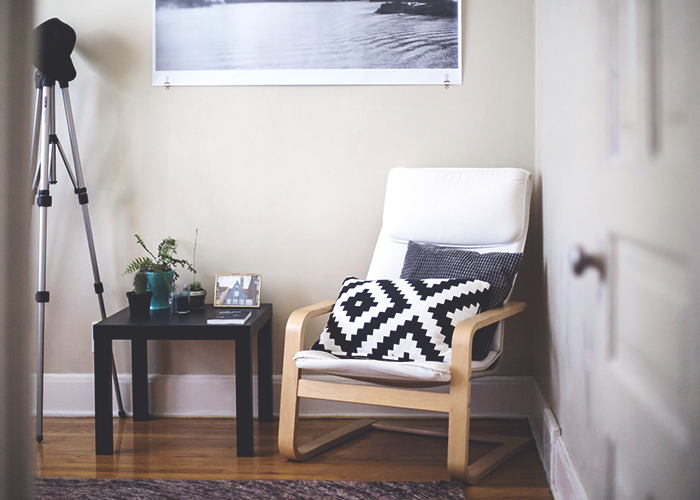 It's that moment when the storm has calmed. The movers have left, your furniture has been arranged, and you look around your new place…and see emptiness. Absolute emptiness. Because while your stuff seemed to overflow at the apartment you shared with your college roommate, you now notice how sparse your new place looks. Oy vey.
Don't worry — I've been there, too. When I bought my home, all I brought over from my previous apartment was my mismatched bedroom furniture, and I went into a tizzy trying to figure out how I was going to furnish everything and not completely deplete my bank account. (I mean, let's be honest, my down payment had already done a pretty good job of that.)
But then I realized that Rome wasn't built in a day, and my home wouldn't be, either. If I wanted the feel I was going for (within the budget I had set), I knew it was going to take some time to pull it all together. And that's when I got creative.
Pinterest is a haven for all things DIY, and your girl used that to her advantage. I've DIY-ed wall art prints, a wood panel headboard, hanging planters, bar signs…you name it. It's saved me TONS, and I'll admit, while it took some time, I love how it's all come together over the past four years.
If you're on a budget and in need of some ideas to make your place look luxe on a dime, I've got 10 great ideas to help you do just that. And yes, they are actually fairly easy to do, and don't require 10,000 different tools that you won't ever use again. Who's ready for their place to look like West Elm threw up all over it?
1. Use "Marble"
Marble itself is expensive. Lookalike contact paper
is not. Outfit side tables, a coffee table, or trays with it, and you'll have people wondering how you could afford something so sleek. Find a tutorial here.
2. Upgrade Your Lighting
It's amazing how something you never noticed as a child all of a sudden comes front & center as an adult. How many times have you watched HGTV and your eyes were automatically drawn to the chandelier over the dining room table and not the table itself? Yeah, me too.
Large-patterned lampshades scream "13 year-old's bedroom," so make sure to stick with monochromatic
colors (get cheap ones from Target) or those with a small/sleek pattern. In addition, if you can't afford a $400 chandelier (and, yes, they all seem to cost at least that much), update or create your own for a little more "wow" factor. There are tons of simple tutorials out there, like this one.
3. Gold Accents
If you've been hiding under a rock for 10 years, then let me fill you in: gold is back and better than ever. You can easily use gold spray paint
to instantly add glam to anything, and it's so cheap to do. Focus on finding shapes of items you want (i.e. an elephant or cube) and a simple coat of spray paint can transform it from "Grandma's living room" to "chic table décor." Or add it as an accent to corners of frames, legs of side tables, etc.
I couldn't narrow it down to just one project, so check out this Pinterest search for everything you can upgrade with this one trick.
4. Choose Simple Wall Art
The luxe look requires simple wall art, so take your painting party pieces elsewhere. Like your niece's bedroom. She'll love it.
Look for abstract pieces or short quotes to hang on your wall in order to make your place look more expensive. You can find a lot of free prints here or scour Etsy for cheap ones. I found this one for only $5 — all you have to do is print and frame it yourself.
Or better yet, recreate it — I sometimes find high-end inspiration and DIY it myself using card stock paper from Michael's and frames I've created from wood & stain I got at Lowe's.
5. Raise Your Curtains
Um, proof is in the pudding. Raise those curtains, ladies.
6. Substitute Open Shelving For Cabinets
Open shelving
is IN right now, and can be a major upgrade to a bathroom or kitchen. However, I have one caveat to this: don't install open shelving if you're going to put ugly crap on it, or not keep it organized. You will have defeated the purpose of putting them up in the first place AND wasted your money, and you know I don't like lose-lose situations.
7. Use Mercury Glass
Paint is every DIY-ers best friend, and this is no exception.
Go to Goodwill, find some cheap vases
or jars, and follow these instructions to create some bomb décor. Fill it up with flowers you get for 40% off at Michael's (use the coupons people — they have them every week!), and you'll have a gorgeous dining room centerpiece in no time.
8. Create A Wood Panel Wall
I created a wood panel headboard a couple of years ago, and no joke, it's the first thing people comment on when they go through my house. Not my bathroom remodel, not my new kitchen (both of which were a pretty penny)…no, my less than $70 headboard.
If you want to class up a blah area of your home, I highly suggest you install one of these babies. If you want a more luxe look, make sure to go with a lighter stain. This will keep your place nice and bright, which is what luxe is all about.
9. And Finally: DIY The S#!% Out Of Everything
The best way to get your place looking luxe for less is to get creative and DIY as much as you can. Most of the high-end items you see plastered all over the web can be recreated for much less, as long as you're willing to put a little elbow grease into it.
Also be aware that there are some things you may not want to DIY, and that's okay. Make sure you're building those costs into your budget, and as long as you're within those limits, I give you full permission to spend away.
Or just add those items to your Christmas list. That's what I usually do.
Remember, it's a marathon and not a sprint, so don't feel like your home has to be Joanna Gaines-worthy in a matter of a month. Going slow, being selective, and spending time finding and crafting pieces that you love will eventually lead you to owning a home you'll love to call yours.
Brittney is a CPA in Indianapolis who loves any & all carbs and in her spare time runs the blog Britt & the Benjamins, which is focused on helping people, especially women, achieve financial independence and kill it in their careers.
Image via Unsplash