9 Pantry Staples That Are Stupid-Easy (& Cheap) To Make At Home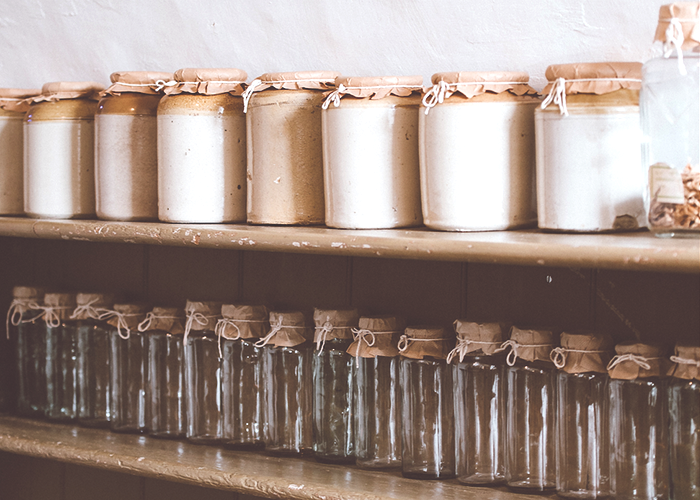 Last week, I wrote a post the recipes that helped me learn to cook for myself when I was first living on my own. One of my absolute favorites that I turn to time and again is this eggplant baked ziti. It's worth so much more to me than a simple baked pasta recipe, because it also contains my go-to recipe for homemade marinara sauce.
I'm one of those people who could live on pasta and red sauce for a very long time without getting tired of it. I used to buy jars and jars of sauce, but after making the above recipe a few times, I realized something: it was so much cheaper to just make it on my own. I never need a bunch of fancy ingredients for my pasta sauce, and the things I do put in — canned crushed tomatoes, garlic, olive oil, basil — are pretty cheap, and things I often already have on hand, anyway. Now, while I try not to eat pasta everyday, I can't remember the last time I bought jarred sauce, because making my own is so easy and inexpensive. (I'll make enough to store in the fridge in a mason jar and eat it over a few days, but some people are much more hardcore and go so far as to can their own tomato sauce.)
I got to thinking about what other pantry staples we're used to buying pre-made are actually cheaper to make at home. I'm only personally ever interested in DIY-ing things that are super easy and require tools I already own, nothing fancy. I'll never be interested in making my own almond milk, for example, because there are too many steps going on. But there are plenty of things that are super easy and inexpensive and make me think, Why on earth am I still buying this pre-made?  Here are 9 DIY pantry staples that are definitely worth the time to make at home.
1. Mayonnaise
Full disclosure, I've only had the privilege of eating homemade mayonnaise once, but boy was it worth it. And after reading this how-to from The Kitchn, I am realizing how easy — and cheap — it is. If you already have an immersion blender (one of my favorite kitchen tools!), definitely check it out. It only takes three ingredients: a few egg yolks, oil, and a squeeze of lemon juice. Don't make it in huge batches, though, because it will only keep in the fridge for about a week.
2. Granola
My roommate used to make homemade granola in college because it was a) a lot cheaper than store-bought, and b) a lot easier to control how much sugar she was eating. My #1 go-to budget cooking site, Budget Bytes, has tons of granola recipes that are each broken down by price. This pumpkin spice granola, for example, costs only $4.50 to make and yields seven servings.
3. Vanilla
If you bake a lot, this is much cheaper to make in bulk batches than you think. From one of our very own articles by Taryn Goodge:
I'm talking $35 for an 8 oz. bottle of good vanilla extract in the stores. I am currently working on 25 ounces of vanilla extract for about $70 worth of materials. That boils down to $4.275 per ounce bought at the store vs. $2.80 an ounce made at home. That's a 64% discount. If you add in the cost of a mason jar, which you may or may not have, that's $3 an ounce. I've used a small funnel to put my finished vanilla into a clean beer growler, a beer bottle with a cork, and currently a sriracha stout bottle (so when I cook something it appears that I'm adding sriracha to my chocolate chip cookies).
4. Cookie dough
I know a lot of people who buy (or at least used to buy) pre-made cookie dough so they always have it on-hand. Mary is a huge fan of making big batches of cookie dough on her own to keep in her freezer and thaw when she knows she's having company. This is what she said about the cost: "It's probably cheaper to make it, because it's like 3.50 for a package of frozen cookie dough that makes like 12 cookies, but when I make one batch of cookie dough, the ingredients I use probably add up to around the same price and yield anywhere between 35 and 50 cookies depending on how big I make them. I buy a huge bulk bag of chocolate chips for like $10 at BJ's and replace it twice a year."
5. Salad dressing
Salad dressing is one of those things I never bought pre-made after starting to make my own. (Besides ranch, of course.) A basic vinaigrette is one of those things that is so easy to make and can be extremely cheap, depending on the ingredients you prefer to use. I like these variations from Genius Kitchen, but I think making a good salad dressing is also something you can eyeball — just keep tasting it until you get the proportions right for your own taste.
6. Buttermilk
Every once in a while, Peter and I decide to make something involving buttermilk, like pancakes or biscuits. And almost every time, we end up throwing away half of it because we couldn't find another use for it before it expired. I love this make-your-own recipe, because it lets you make the exact amount you need — no more wasting money on extraneous buttermilk, especially when our grocery store only carries one brand that's like $7 a bottle. Plus, it is crazy-simple and only takes two ingredients.
7. Chicken broth
This is one of those things I have always been meaning to get around to doing, but still haven't. Which is ridiculous, because Peter loves making roast chicken, and we could just use those scraps to make broth. This NY Times Cooking recipe is super simple, and while it takes two hours, 99% of that time is just it simmering on the stove, which means you could just get your broth going and then do some housework or watch a movie while you wait.
8. Guacamole
This is another thing that is so simple (and honestly satisfying) to make, I don't understand why anyone would buy it pre-made. Even if avocados aren't particularly cheap near you, you can probably buy three or four of them for what you'd spend on a tiny package of not-great pre-made guac, and you can add whatever you do and don't want to it. This is a great recipe, but all you really need for good guac is avocados, lime or lemon juice, salt, and a few spices you have on-hand.
9. Veggie burgers
I used to love buying frozen MorningStar brand veggie burgers and heating them up for a meal whenever I didn't feel like cooking. And if they're on sale, that can definitely be worth it price-wise. But I've never had a frozen veggie patty that was as good as these cumin, carrot, and kidney bean burgers, which cost me maybe $3 total to make a batch of them. The also freeze super well, so you can easily make a bunch at a time and save what you don't immediately eat for quick meals in the future.
*****
These are just a few of the recipes that are super cheap and simple to make at home, of course. If I missed something you love to make on your own, let me know in the comments!
Holly is the Managing Editor of The Financial Diet. Follow her on Twitter here, or send her your ideas at holly@thefinancialdiet.com!
Image via Unsplash