A Brutally Honest Breakdown Of What It Really Cost Me To Be A Bridesmaid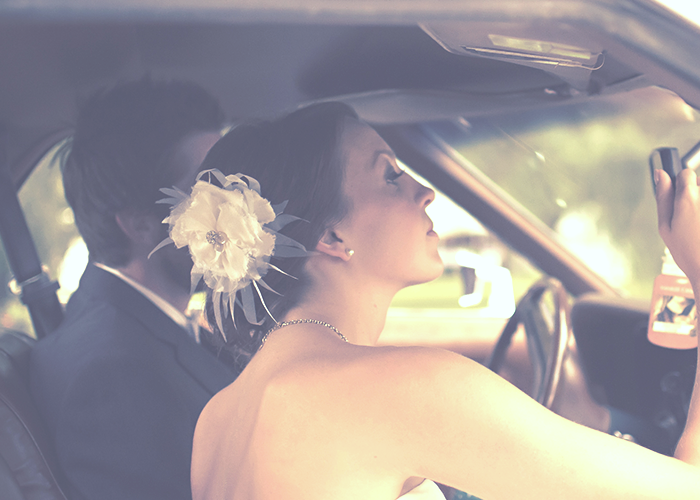 They say that death and taxes are the only two things in life that are certain, but I would like to add two more: your late 20s will be spent attending the weddings of friends who are growing up and settling down, and the cost of flights from one corner of the country to the other will always make you cringe.
I recently had the honor of serving as a bridesmaid in the wedding of one of my best friends. We lived across the hall from each other freshman year of college, studied abroad in Madrid for a semester our junior year, and shared a house together with three other women as seniors. We landed in different cities after graduation, but visited over long weekends and took a week-long trip to San Francisco and Vegas back in 2014. When she asked me last summer if I would be a bridesmaid in her wedding this past April, I said yes immediately and enthusiastically.
And then I began saving. (I also began losing weight, but that's another story.)
As the perpetual "friend who moved away," I'm no stranger to traveling in order to attend a wedding. In fact, every single one of the seven or so weddings I've been to in the last few years has required a plane ticket. And since I currently live in Portland, the plane tickets are never cheap and the itineraries never direct.
So what does it cost to be a long-distance bridesmaid? Here's a detailed breakdown of everything I spent, down to the penny.
The Bridal Shower | Boston, MA | October 2015
I was in-between jobs when the surprise bridal shower planning was taking place, so I did the boring but financially responsible thing and skipped the event. I was sad to miss out on time with my friends, but I couldn't justify the airfare for a short weekend trip.
Bridal Shower Total: $50 for a gift
The Bachelorette Party | New Orleans, LA | February 2016
Flight from Portland to New Orleans: $323.20
Four nights in a hotel: $411.00
Airport snacks: $27.18
Round-trip shuttle between New Orleans airport and the French Quarter: $44.00
Matching bachelorette party pajama shorts: $24
All the delicious food I ate in New Orleans: $143.98
Cocktail bike tour, otherwise known as drinking for three hours while trying to ride a bicycle for the first time in more than a decade: $85.00
Ubers to and fro across the city: $15.74
Stuff I forgot to pack, like contact solution: $6.52
Miscellaneous cash for tips, food, and mishaps: $100
Fitness classes I did on my own, because apparently I'm the obnoxious person who does a historical running tour, hot yoga, and spin class while on vacation: $47.00
Street art that I bought from a watercolor artist that looks lovely in my apartment and did not get bent on the trip back to Portland: $50.00
Bachelorette Party Total: $1,277.62
The Wedding Weekend | Miami Beach, FL | April 2016
Two flights from Portland to Miami for my boyfriend and me: $910.40
Four nights in a hotel: $678.27
Bridesmaid dress that I got to pick out for myself and actually can't wait for the chance to wear again: $160.65
Bridesmaid dress alterations: $46.00
Bridesmaid dress undergarments: $93.00
Dress for the rehearsal and rehearsal dinner: $134.00
Beauty things to get myself ready to be in a black tie wedding, like a manicure, pedicure, spray tan, and eyebrow wax: $125, including tips
Uber to the Portland airport, to the Miami hotel, to the Miami airport, and back home: $86.57
Airport snacks: $22.04
Food we ate in Miami, minus the things my boyfriend paid for: $60.96
Stuff we forgot to pack, like razors and hair products: $13.12
Soulcycle class, because see above point about being an obnoxious person: $20.00
Wedding gift: $150.00
Cat sitter to check on my cat  and send me lots of photo updates about their fun times together: $60.00
Wedding Weekend Total: $2,560.01
Total cost of being a long-distance bridesmaid: $3,887.63.
My reaction to finally adding up the total is twofold: first, that's a lot of money. Second, this is what money is for. The ability to celebrate my best friend and stand by her side on one of the biggest days of her life is a driving factor of why I work hard, why I budget, and why I make a concerted effort to save money. I'm so glad I was able to be there for her, in spite of our geography, and I would do it all again in a heartbeat.
If, like me, you love data and numbers, you can view the spreadsheet I used to calculate this information here. The data itself was pulled directly from my YNAB budget and corroborated by my bank records.
Jenn is a marketing professional living with her boyfriend and cat in Portland, Oregon. You can find her gallery of excessive cat photos on Instagram and Twitter.
Image via Pexels