How To Be At A Chic Mediterranean Cocktail Hour In 10 Minutes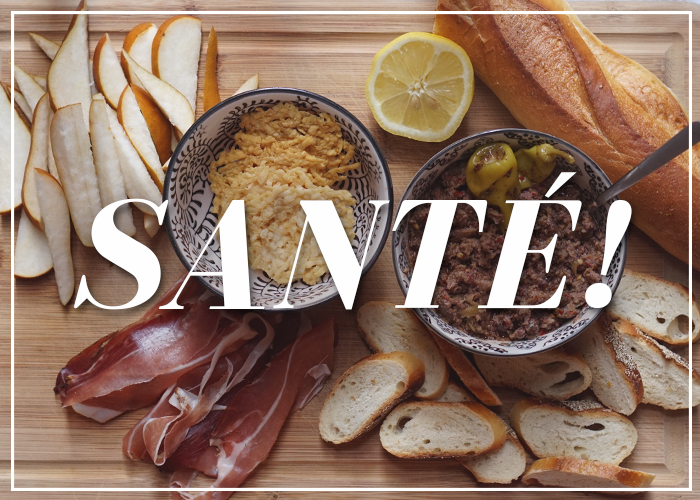 As some of you might know, Lauren and I are entering the final days before the big departure for the yearly retreat to the South of France to Marc's family's beach house. (This makes Marc sound a lot richer than he is, they built this house themselves in a lowkey windsurfing town, after many years of going there in a camping car with three kids. Their luxury is scrappy!) Anyway, we're going — with same yearly crew of about 10 — and we'll be away for about two and a half weeks. It's our Big Thing of the year, and the flight is close enough that I'm spending the next few days in a constant state of subtle vibration. My body is ready, it knows Leucate is near.
And this year, Lauren and I are staying at the beach some extra time to do something special: Marc's grandmother — a lifelong farmer and IRL Julia Child — is coming down to the beach house to make some of her most famous recipes, one of which we're photographing and including in the TFD book. (!!!) As we all know (or can imagine), the defining feature of any trip to the South of France is the food, and we are so honored that Marc's grandmother will be patient enough with us to come meet us and allow us to take a million annoying pictures of her and ask a million annoying questions. Watching her cook and eating her food — and trying her recipes at home — have been a big part of the last five years of my life, and sharing it with Lauren is so meaningful, but ultimately I want to share it with you guys, too. Everyone should get a taste of these things, because their beauty is their simplicity and affordability: "the French lifestyle" shouldn't be some fancy, exclusive, expensive thing. Some good bread, some fresh vegetables, a splash of olive oil and a sprinkle of coarse salt are all you really need.
To that end, we wanted to show you guys a little more of life in Leucate, and a big part of that is the daily apéro. Friends, family, guests: everyone spends their day doing different stuff, off in groups or solo, by the pool or windsurfing or walking around the town. But every day around 6 PM, when the sun is starting to go down, we all gather to play games and talk and have a drink and a nice little board of snacky foods. (My drink of choice for the apéro: Martini Bianco over ice with lemon and a few olives.) And when we're recreating a classic spread here in the States, two things are really important: getting some good meat or cheese, and making a few things yourself.
There's something about having a couple semi-homemade things on a cocktail tray that takes it from being just something you threw on the table to something intentional and warm, which seems much more legit as a meal itself (rather than just something to nibble on). Because, let's be honest, sometimes we don't have time to make some big dinner for guests, and we just want to put out a tray.
For this spread, we went with:
-Bosque pears, sliced
-Baguette, sliced on the bias and lightly toasted
-Homemade cheese crisps
-Homemade tapenade
-Speck (similar to prosciutto but more cured and saltier, a personal fav)
And to make our two homemade items, it's simple: for the crisps, we heated the oven to 350 degrees and grated little piles (about Oreo-sized in diameter) of pecorino onto a parchment-lined tray. We cooked them for about 10 minutes, until they were golden-brown and lacey/crispy in texture.
For the tapenade, we grabbed our favorite bulk olives (these were spicy garlic mixed olives) and coarsely blended them up with a hand blender, squeezing a few squeezes of lemon juice in as we went for freshness. Note in general: never buy jarred tapenade, because a) it's way more expensive than it needs to be and b) it can't compare with the taste and texture of the freshly-blended stuff. It's way cheaper, and takes about 30 seconds' worth of work to produce. Plus, you can buy your favorite olives for it and add whatever flavors/spices/herbs you'd like as you blend it up.
Enjoy your weekend, and make yourself a great cocktail board to nibble with your rosé.
Santé.