Confessions Of A Girl Who Lived The "New York City Dream" & Hated It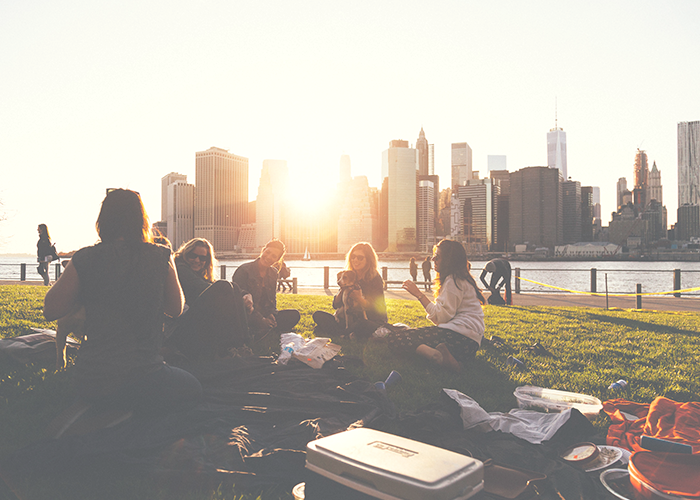 There was a time when I truly believed that New York City would be the gateway to the life I dreamed of living. I'm the kind of person who's never exactly had career goals but I've always had a strong idea of what I wanted my life to look like: full of cosmopolitan friends who pepper intellectual discussions with pop culture references, weekends busy with brunches and museums and orchestral concerts, and a job that is challenging-but-fulfilling, and combines my passions with my talents. I graduated from college in 2008, and after spending eight months backpacking around Europe I couldn't dream of returning to my home state of Maryland, a place most Europeans didn't even know existed. Two of my siblings already lived in NYC and were eager to have me as a roommate, so I figured I may as well give it a go. I convinced myself that the strength of the job market would cancel out the high cost of living, so I scraped together the last of my savings, packed up a U-Haul, and ventured into the world of adulthood.
What I quickly realized is that while New York is full of culture and museums and orchestral concerts, in order to take advantage of these things, you have to make enough money to afford leisure time. The city quickly loses its glamour when you're sending out 50 resumes a week for entry-level jobs in any organization that is even remotely related to any of your interests, and don't receive so much as an email confirmation in return. This was also long before I realized that I'd graduated into an exquisitely terrible job market, where 35-year-old professionals with Masters degrees were applying for Americorps positions. But in my blissful ignorance, I held out hope that if I was tenacious enough something would materialize and that when it did, my New York fantasy would start to come into focus.
Unfortunately, you can't live for too long on the wish of a job. My share of the rent was $825, which seemed reasonable enough when I thought I would be able to find full-time work, but turned out to be a lot of money when I wasn't making any. After two months, I had almost worked through my savings, so I picked up a part-time retail gig. When that turned out to provide barely enough to cover groceries and my monthly metro card, I picked up another part-time position sort of related to my interests. And then an unpaid internship, which I was SO SURE would lead to relationships that would bring me the coveted salaried job of my dreams. And then, just for good measure, I picked up a babysitting job (which turned out to pay the most out of any of them, lolz). Some days I worked all four jobs, plus the five-hour commute it required to go to jobs in three different boroughs. I was routinely working six days a week, wasn't quite going into debt but was constantly on the verge, and had no energy for going out. Going to a museum was suddenly the last thing I wanted to do in my precious free time.
After a year and a half of  sending my resume into a black hole of nothingness while working at least 60 hours a week, I finally got the phone call. It was from an organization whose program I had attended in the past so I felt pretty confident about my chances. The initial phone interview went well and I was invited to interview in person. I tried not to get too excited, but it seemed like maybe I'd finally found my lucky break. It was frustrating that the job was in Long Island and so I had to spend a bunch of money and time getting out there but I knew it would be worth it. The interview went great. They asked me to come back in the next week for the second round of interviews. I eagerly complied and spent more money and time the next week to meet with more of the staff. This went well, too, and I was told the last phase of the interview process was to come back to meet with the Executive Director. I knew this was my shot and I could taste how glamorous my life would be as soon as I was making $30k/year. Insurance had long felt like a pipe dream, but I was already mentally inventorying all of the catch-up appointments I'd have to schedule to make up for lost time. I met with the ED. We spent an hour chatting about the position in that conversational way that LinkedIn articles always tell you is crucial to landing your dream job. And then…Nothing.
A week went by, no follow-up. Another week was nearly out when I decided I was tired of having a heart attack every time my phone buzzed so I sent an email to the hiring manager inquiring about the status of the position. I received a terse reply, no more than 2 sentences, informing me that they'd gone with another candidate.
I think what made me cry the most was the realization that I'd spent an entire week's worth of grocery money on the LIRR tickets I had to buy to go to the interviews. In that moment, I realized I needed to take stock of my situation. After assessing my life and my finances, the conclusion I came to looked something like this;
I HATE NEW YORK CITY.
So I admitted defeat and moved back to Baltimore. And it's funny to me now that that's how it felt, like defeat, because since coming back my life has felt so much richer, more fulfilling, and far more like "me" than New York ever did. I've realized since that the only thing I actually liked about the city was the idea of it. In all honesty, the reality sucked.
When I first moved back to Baltimore my rent was around $300/month, I walked everywhere which meant no more monthly metro card, and my grocery bill was cut down by a third. This financial freedom allowed me to take an Americorps job. The program encouraged us to take advantage of our eligibility for food stamps so I did and between that and the $13,000 stipend I felt far richer than I ever had in New York. The experience I gained in that position led to my first Real Grown Up Job and I learned what it felt like to earn a wage that was not only enough to get by but enough to actually save.
I had the good sense to not change my spending habits after I landed this Real Job so that I could squirrel away as much as possible. After 2 years of living small on a modest income I'd saved enough to realize one of my lifelong dreams: at 27 years old, I bought my own house. Now I have 2 roommates whose rent covers the mortgage and then some so I've managed to quit my Real Grown Up Job that turned out to be terribly unfulfilling, and take on part-time work while I slowly build up my own business. I still haven't quite figured out where I'm going, but I'm so grateful to be in a position where I have the breathing room to explore my options and I don't have to feel beholden to anyone's idea of what my life should be. I love this city, I love all of the creative people I have met here, and I love the life it allows me to live.
This isn't to say that New York is always terrible for everyone. I know plenty of folks who have done well in the city and whose career success has only been possible because they decided to relocate. I wish them all the best. But that wasn't the case for me, yet I let myself drown in the idea that I was supposed to be having the time of my life because I was living some sort of millenial dream. What I had to learn the very painful (and expensive) way was that just because something is a dream for many people does not mean it is right for me. My real life now is full of friends who are pursuing their passions, weekends full of home renovation projects, and uncertainty about the future of my career but with tons of opportunity and possibility on the horizon. And I wouldn't want it any other way.
Michelle runs a blog and an Etsy shop.