Everything I Threw Out & Bought New When Organizing My Workspace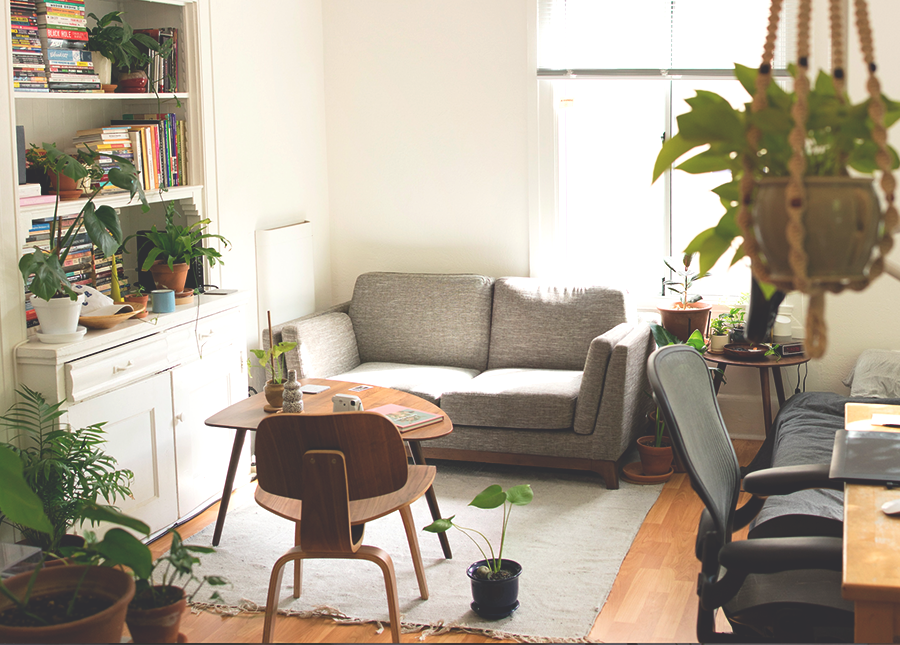 When I was a teenager, my room was never tidy. At any given moment, you could find:
A few posters on the wall that were falling down every other day
A bed that I seldom ever managed to make
My pajamas thrown on a chair somewhere
Clothes falling out of my closet when you tried to open it
Books, everywhere books — on the shelves, on the desk, in the corners of the room (even a few in the kitchen, just in case I wanted to read while eating — I'm not joking, btw)
Pencils, pens, scissors, and other school supplies all over the place
A few dying plants on my windowsill (I'm still sorry I made them suffer for so long)
Cups and plates with unfinished tea and food somewhere next to the bed (my mom used to clean them up for me — sorry, mom!)

To be honest, when I recently took a look at my home office, I realized that it wasn't much different from my teenage room — the clutter was everywhere you looked. Normally, I wouldn't care about it so much (after all, in every chaos there is an order), but I started feeling embarrassed about and overwhelmed with my possessions. There was simply too much stuff!

The utter disorder was affecting not only me, my mood, and productivity (I work at home as a writer), but also my partner. I felt I was disappointing him to a certain extent, and I was right. Last month, he told me he was embarrassed to invite anyone over, simply because of the mess. Although his honesty hurt me, I knew I had to change something. That day, I made a resolution to put an end to my messiness and organize my space once and for all.
It took me a whole weekend to make our flat look neat. I thought I would die in the process. Who would have guessed that cleaning up is such a tough job? Here, I'm sharing the whole "decluttering procedure" I went through, including what items I discovered on my writing desk, how I dealt with them, what I bought to better organize my space, and the results.
1. A Clock
I used to keep my cute pink clock (that weighs around a pound) on my desk, next to my monitor. I thought it would help me manage to do everything on time. But, after a longer consideration, I figured out that the clock was simply making me feel agitated. Whenever I needed to write another article and couldn't come up with a topic, I would stare at it for hours. It didn't help me at all. It just showed me how much time I was wasting, and thus, it was making me feel frustrated. So, I got rid of it and decided to keep my watch on my desk instead. It's small and doesn't draw attention (so far, it's working).
Costs: $0 (my cute pink clock is now in the kitchen — helping, not distracting).
2. Old photos
I was quite surprised to find a dozen photos in between various papers on my desk. Most of them were taken many years ago. Because of all the clutter that was lying on top of them, many got torn or creased.
In order NOT to damage any more photos, I decided to keep ALL my photos in a photo book from that day forth. I put the two photos that I re-discovered and liked most in wooden frames
. Now, every time I feel down, I look at the faces of my loved ones. This way, I feel less lonely while working from home.
Two wooden frames: $18
3. Office supplies
Like every messy desk, mine had dozens of pencils, pens that should have been thrown away a long time ago, scissors, pieces of paper with various no-longer-necessary pieces of information from years ago, markers, staples, and even a glue stick.
Most of those items ended in my garbage can, as you might assume. The rest I arranged in my new storage drawer
. Now, everything's at hand!
A plastic storage drawer: $35
4. Half-finished food in cheap plastic containers
I hate washing the dishes. Recently, though, when I found some few-days-old food in a container that had leaked, I decided to put an end to it. First, because the food looked disgusting. Second, because the liquid that leaked out had made an oily puddle on my papers.
In order to prevent such situations from happening again, I decided never again to keep any food on my desk, and to buy a few high-quality food containers.
Three Tupperware
food containers: $29 (one for microwaving and the other two perfect to pack my lunch and snacks)
5. Mirror
I wonder, how many people keep mirrors on their desks? Well, I'm one of those who do. Oh, sorry, one of those who DID.
Why would I do that? I kept a mirror on my desk out of laziness. I must say I used to check too many times to see if there were new spots or pimples on my face. If I'm being honest, you CAN go crazy about your appearance. Thus, because I didn't feel like going to the bathroom a thousand times during a day, I used to keep a small mirror on my writing desk.
Now, that mirror is back in the bathroom, and I'm trying to "cure" myself of checking out how I look every five minutes.
Costs: $0

6. Additional items I bought
After decluttering my writing desk, everything looks neater and more minimalistic than it did before. In addition to organizing the items I already had and getting rid of those that were useless, I bought several extra items for my desk:

I counted that I didn't spend that much money on the items that helped me organize my space and made my writing desk look neat and clean. I spent less than $150 in total — quite an affordable sum of money for better work environment, I think. What would you say?
A month later…
After a month of living in a neat and tidy flat, with a clean and clutter-free desk, I noticed some changes in my life, mood, and work performance:
I'm less stressed
It's easier for me to find everything I need
My mood has improved
I get more work done than before
My creativity has increased
I feel less lonely (we have more people visit)

I conclude that decluttering your office or home really changes your life. It doesn't take much time, it doesn't cost a fortune, and the results are marvelous!
Emily Johnson is a blogger and a content strategist at omnipapers.com. She is also a contributor to many websites about career advice, productivity, work issues, blogging and writing. You can always find more works of hers on Twitter.
Image via Unsplash