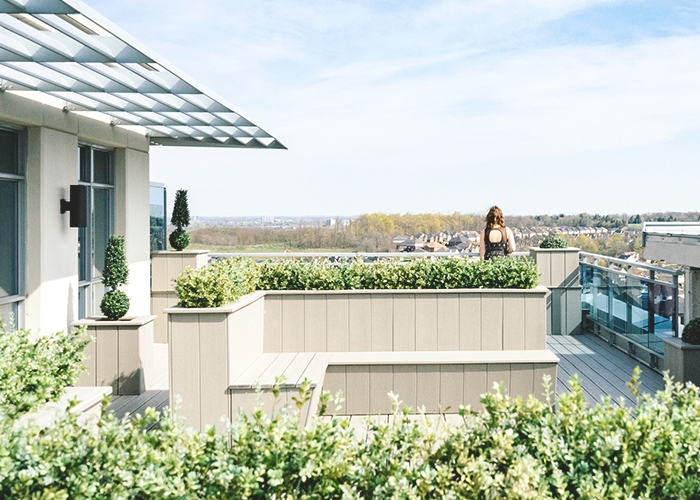 It's happening. I'm about to do something that qualifies as real adulting. I'm buying a condo!
This isn't a ground-breaking event — people younger than me have been buying homes since homes were being built and sold. But I'll take it. It's a personal milestone, and I'll celebrate it as such.
That said, it's been a headache and a half. No amount of binge-watching HGTV has prepared me for the realities of actually buying a home.
How Do You Even Start?
I decided to finally start seriously looking for my place literally right after getting dumped, because that's always the best time to make life-altering decisions, right guys?
Let me clarify. Since I was living in a cushy one bedroom, splitting the rent and space with my at-the-time boyfriend, it was a shock to have to start paying Los Angeles rent by my lonesome. After realizing I'd have to blow through about $1,000+ more every month than I was used to, I realized that buying a place would not only be cheaper month-to-month (while letting me build equity), but would also let me earn some of that money back in the form of rent. This dictated a lot of my requirements, which included:
1. Must be at least a two bed, two full bath.
2. Must have separate, comparable living spaces.
3. Must be sexy enough to a renter that they'd trade me money in exchange for living there — OR have the potential to get there.
4. Must have an in-unit washer-dryer, because that shit's meaningful — to me, and to the renter.
5. Must be in a reasonably safe and accessible neighborhood. I'd ideally be renting to another woman, and we'd both want to live somewhere we can confidently walk around.
6. Must have two covered parking spots — not tandem.
This would be the dream situation, but the non-negotiables really became the washer-dryer, safe neighborhood, and individual parking spots. I could share a bathroom. I just don't want to.
The Money Problem
This is easily the biggest purchase I'll have to make (you know, until my next home). I've been saving aggressively for years, because I knew I wanted to invest in rental real estate, but I didn't plan on buying my own place until I left Los Angeles. Still, I was able to set aside about 40K for a down payment — a measly 10% for a two-bedroom condo in the less-desirable parts of town.
But it's a start! I'll have to pay Private Mortgage Insurance (PMI), but the savings from rent will more than cover this new expense.
So I have the money, but is it even worth it? This was my thought process:
1. I'm paying $2,400+/mo to rent my current one-bedroom apartment
2. If I put down ~40K, I can move into a new condo and pay $2,000-2,700/mo (mortgage + PMI + HOA fees + insurance + property tax)
3. If I rent out one of the bedrooms, I can charge $900-1,500/mo, depending on the rent in the area
Not even counting the tax incentives of owning a home, I'd be able to reduce my spending by $1200-1400/mo, making back that down payment in less than three years.
And because I'm interested in Buy and Hold real estate, I'd be renting the place out even after I eventually move, which, based on today's market, would mean an additional $2300-2500 in my pocket each month.
Lower monthly costs + long-term passive income = win, win.
There's an App for That
Armed with this knowledge, I started looking on Redfin and Trulia, and set alerts for anything in my price range that checked most of my priority list off. Each of their web apps are great, but I got in the habit of browsing from bed on a lazy morning, or while waiting for a date to show up. The mobile apps were a dream, and I will say that Redfin tended to be the better resource for fresh-on-the-market homes. I will also say that Zillow is usually grouped in with these two, but I didn't have much luck with it. YMMV.
Both Redfin and Trulia connect you with agents and lenders, but neither seems to vet them out well. Which brings me to…
A Good Agent is Hard to Come By
I met upwards of six or seven agents before deciding to work with my most recent agent, who's helped with the search for the past three months.
My first agent, courtesy of Redfin, said he lived and worked out of the neighborhood I was gunning for, but couldn't tell me a damn thing about it. He didn't know how to find the keys for the first unit we saw, nor did he know how to find the second unit. Period.
It, uh, didn't work out.
My second through fifth agents were all in one of two camps: either they were too slow to respond, sometimes going days or even weeks without getting back to me on a property, or they were so focused on making a sale that they were less than honest. Again, it didn't work out.
My last agent was an unexpected score, because while Redfin paired me with his boss, who is technically the Real Estate Agent, I never once met the man. Instead, my "agent," who's at work getting his license, took me from place to place. What he didn't do was vet those places before I drove out, so a lot of them were a waste, unfortunately.
So now, I'm contacting listing agents myself, asking my questions, and walking in to open houses that already satisfy those six must-haves.
Scratch That — Be Your Own Agent
Okay — unpopular opinion time. After letting my last agent go, I've already seen some good signs. By working directly with the listing agent, I stand out in two ways. One, I'm interfacing with them directly, so that alone is different from most buyers. And two, more importantly, I'm unattached. If they want to work as the agent for both seller and buyer (and therefore retain more of the commission), they'll try to make my deal stand out.
When I was working with my last agent, I got no feedback on any offers sent in. None. But now that the seller's agent can be my agent, I'll be aware of the seller's process, and how I may fit into it.
Opportunity Knocks
With all the agents that I went through, I did get one perk: access to MLS. This is an agent-side platform for new market wins. One of my agents probably put me on a set-it-and-forget-it notification list, which had MLS ping me with any new properties that matched most of my list. While things didn't work out with her, this was a win for getting to see properties early on. Usually anything posted on MLS would appear on Redfin within the next few hours, and I could reach out to the listing agent directly.
Good Bones Beat Modern
This was one of the later lessons. Los Angeles is an unreasonably hot market, and investors with cash are able to make the most of it. Little old me, with my rinky-dink 10% down, can't hold a candle to people who are willing to forego an appraisal.
So these investors are snatching up units, leaving me in the dust, only to put them back on the market with a fresh coat of paint, new appliances, and a price jacked up by 50K+. No thank you.
Instead, my last agent suggested I bake renovation costs into my mortgage application. If I found a place for, say, $50K less than its modernized counterpart, I could invest $10K into it and have a place that was move-in ready in a matter of weeks, while my mortgage would still come in lower than if I just bought the pretty place. And even better, it'd be to my taste, and done right.
This started a new kind of search. I didn't want pretty. I wanted good.
There's No Time
So those investors I mentioned — they're willing to go in on a deal so fast that I don't even have time to sleep on a decision. After a few missed opportunities, I got my affairs in order and put my go-to advisors (aka my mom and my friend/potential future renter) on speed-dial, so I could talk things through immediately after seeing a place. If it still seems like a smart move after going through the details with them, I can confidently put in an offer quickly.
Besides, I learned that just because you put an offer in doesn't mean you have to commit to it right then and there. Things change. It's a dick move to put in offers willy nilly when you have no intention of holding true, but if you have no time, then change your mind, so be it. The next one will be better.
*****
So here I am, five offers in, and hopefully zeroing in on my new home! That's going to come with its own batch of headaches, but I'm starting to see the light at the end of this tunnel — a light in the form of a cute townhouse with lots of windows, and plenty of renter-friendly space. Wish me luck!
This post was originally published on a fledgling blog meant to help the author eliminate anxiety from her life, and to help organize her thoughts.
Image via Unsplash