Exactly What My Year In AmeriCorps Looked Like, Financially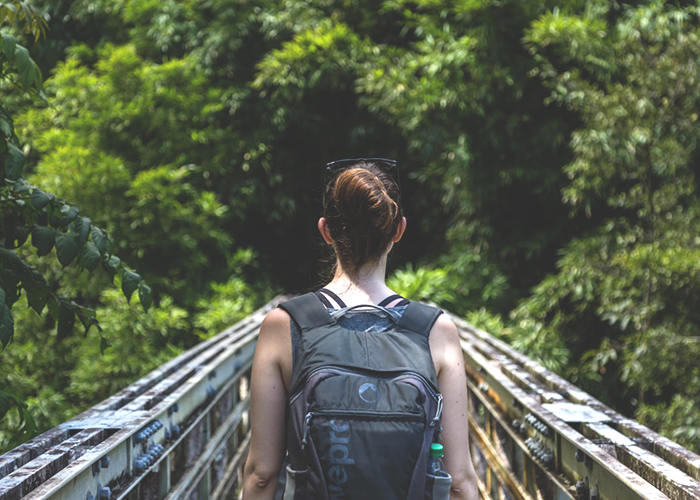 The end of a calendar year makes me feel like I'm in a speeding car whipping around a street corner, everything blurring behind me, and my stomach halfway between butterflies and bile. That December feeling is exponentially greater (and trends more towards nausea) when you're a senior in college with no idea what's up ahead personally or professionally. I still clearly remember the excitement and trepidation I felt at that time, though I was luckier than most because technically it was my second year as a senior, so I'd already started considering my post-grad plans.
Some people decide they want to be doctors or lawyers, and I envy them because there's a clear series of post-undergrad steps already laid out for them. My dual degrees were in history and comparative literature, but I'd chosen those majors because I wanted to learn about them, not because I thought they'd turn into a job. I didn't have the necessary language skills for (or interest in) becoming a translator, and a professor told me straight-up that you have to truly love history to compensate for the professional and financial realities of being a full-time researcher. So, I accepted that on a professional level my degrees would just serve as proof that I could think, write, and finish what I started. My actual professional drives were that I A) enjoyed teaching improv to college and grade school kids, and B) had a strong desire to do work that helped struggling populations improve the quality of their lives.
Usually, when you say you want to do work that helps people, it's assumed that you're some mix of religious volunteer, charity chairman, and Girl Scout. I've gotten a lot of "Oh, good for YOU!" responses when I tell people what I do. But guess what! I honestly did almost no volunteer work growing up or in college. I just figured that the odds of staying engaged in a job for multiple years were higher if I had the satisfaction of knowing that I was improving lives. I also knew that there are a helluva lot of social issues that need addressing, ranging anywhere from hunger to lack of education to untreated PTSD among returned soldiers. And the great news is that there are a MILLION non-profits and NGOs that exist across the country and address those issues on local, national, and international levels.
Probably the best-known post-grad volunteer option is the Peace Corps. Did I consider them? Sure. But I was leery of the two-year commitment (two years seems like FOREVER when you're only 21), and I didn't trust my mental state enough to spend such a long period of time in relative isolation. Also, I had a professor from Malawi with a scathing opinion of the Peace Corps: "Why should you tell me how to solve my country's problems? You can't solve your own!" Which is a great point! Not to say that the Peace Corps and all its wonderful volunteers aren't genuinely changing lives and making a difference, but I think we sometimes forget (or ignore) the needs in our own backyard. In the end, I felt like I'd be a more impactful worker in America because I speak the dominant language and I'm already familiar with the cultural and social issues.
Once I settled on American non-profit work, I had a lot of shopping around to do. There are non-profits in basically every city and town in America, so I had the luxury of choosing my post-grad geography. Did I want to try for the Bill & Melinda Gates Foundation in Seattle? Or the Make-a-Wish Foundation opening in Arizona? The Big Brothers Big Sisters of Atlanta? I googled "Top Non-Profits in America" and systematically went down those lists checking out websites and searching for openings wherever I could find them. Then someone tipped me off to Idealist.org, which is an AMAZING site for anyone looking for non-profit work. Tons of smaller organizations use Idealist.org, so I suddenly was learning about niche programs in such diverse fields as disaster relief, water & sanitation, and (relevant here!) financial literacy. By sifting through all those endless possibilities, I learned the value of (slightly) narrowing down my core interests to a few (slightly) simplified realms like women's rights, hunger, and youth work.
I also learned that I couldn't expect much money in return for my services. I hunted down plenty of amazing job opportunities, only to learn that they were either unpaid or only came with a weekly stipend of $50. Many of the DC and NYC positions threw in metro fare on top of the stipend, but that's like receiving thoughtfully knit socks after your feet are lost to frostbite. Why not give me boots in the first place? Because, unfortunately, many non-profits can't afford to give even their seasoned employees much in the way of financial footwear. Non-profits rely almost entirely on grants or donations of varying sizes, and even when there IS sufficient funding, donors don't like it when you allocate their funding towards payroll rather than programming. Many people live comfortably doing non-profit work, especially once they've been promoted within their organization, but things can be rough at the bottom of the totem pole when you're a new, young employee. And that's where AmeriCorps can help.
Think of AmeriCorps as an umbrella providing financial coverage to existing organizations. Non-profits apply to get AmeriCorps positions; if accepted, those positions at established organizations become "AmeriCorps Fellowships" and are financed by AmeriCorps and come with all the AmeriCorps benefits (more on those later). So, being an "AmeriCorps Fellow" encompasses any number of diverse jobs, from a clerk at a Habitat for Humanity branch to a trail maintainer at a state park. However, all Fellowships fall into three AmeriCorps branches: Network (formerly National), NCCC, and VISTA. VISTA positions are one year full-time with some very cool organizations, but I avoided VISTA like the plague because they didn't allow you to have a second job at the time. NCCC positions tend to deal with disaster relief and environmental issues, but I also avoided these because they seemed seasonal and I wanted a long-term position. Network jobs were the right fit for me because they tended to be a year-long with cool organizations AND you could have a part-time job on the side.
Regardless of which branch you're in, all AmeriCorps Fellows get the same basic benefits. While serving, your student loans go into deferment, meaning that you don't have to make payments or pay interest on them until you're out of service. You have the option for health insurance and childcare benefits. Upon completion of your term, you get an Education Award of up to ~6k to put either towards repayment of student loans or towards grad school. And most importantly, while in full-time service, you get an annual stipend of $12-15k. $12-15k for an entire year is not much in the grand scheme of things; in fact, it squeaks juuuust above the poverty line. But 12-15k is considerably more than the paltry stipends or unpaid internships you get at many non-profits. Unless you've been grant-writing in undergrad, $12-15k is likely the most you can expect for entry-level non-profit work. Doing AmeriCorps guarantees you that stipend, those benefits, and with a National position, you can pick up a side gig to help make ends meet.
Looking at the AmeriCorps portal online, I found an organization called YSOP (the Youth Service Opportunities Project) in NYC that organized service learning trips for youth to learn about hunger and homelessness. I applied and eventually got the job, for which I am still extremely grateful. I had friends and family in NYC, and YSOP has an amazing staff and a mission that kept me consistently engaged at work. On a professional level, I gained all kinds of logistics-management skills that I've leveraged into higher-paying non-profit roles. On a financial level, I was pulling in $1,040 a month after taxes.
I know this sounds like an insanely low income for NYC, but I made it work with minimal struggle through two things: a low-rent situation and food stamps. My rent was low because I became the sixth roommate in a large apartment rented by an old high school friend. I also applied and qualified for food stamps, and while I don't know the exact amount I received (I never figured out how to check my balance), a one-person household can receive as much as $192 monthly for food items. Food stamps (now called SNAP) have gotten the high-tech treatment, so instead of physically counting out stamps, you can just swipe your EBT card (Electronic Benefit Transfer card) like no big deal. Big supermarkets like C-Town, Trader Joe's, and Whole Foods accept EBT, and smaller bodegas generally put out signs when they accept EBT. You can't use food stamps at restaurants, but I was single and stingy and like to cook, so having SNAP covered virtually all my food expenses.
All in all, my monthly costs as an AmeriCorps Fellow looked like:
Rent/Utilities: $600
Metro Card: $0 (paid for by YSOP)
Basic Phone Bill: $45
Student Loans: $0 (in deferment)
Food: $50 (let's say the other $150 was covered by food stamps)
Mad Money: $345
As you can see, I could have even paid a couple hundred more in rent and still had a little money to spread around. I did end up working a couple of nights a week at a second job to create an expense buffer for myself, but overall I felt very little financial anxiety as an AmeriCorps Fellow. I know a couple of other Fellows who lived with their parents while they did AmeriCorps, so in their case, they'd have even more spending money or, hey, maybe even money for savings or to repay loans while they're still in deferment.
I completely understand why someone would want to, or need to, choose a more immediately lucrative path than AmeriCorps offers. If you're interested in non-profit work, though, AmeriCorps is a criminally under-advertised way for new graduates to dip their toes in the water and make a huge impact professionally. If you find yourself surfing Idealist or the AmeriCorps portal, feel enormously free to tell your folks and friends that yes, these are real jobs, and yes, you'll be just fine.  
Carolyn is a four-year NYC resident who still compares every price tag to the ones back home. These contradictions keep her up at night and coming back to read TFD.
Image via Unsplash