The Halfway-Point-Update On My Radical Decluttering Challenge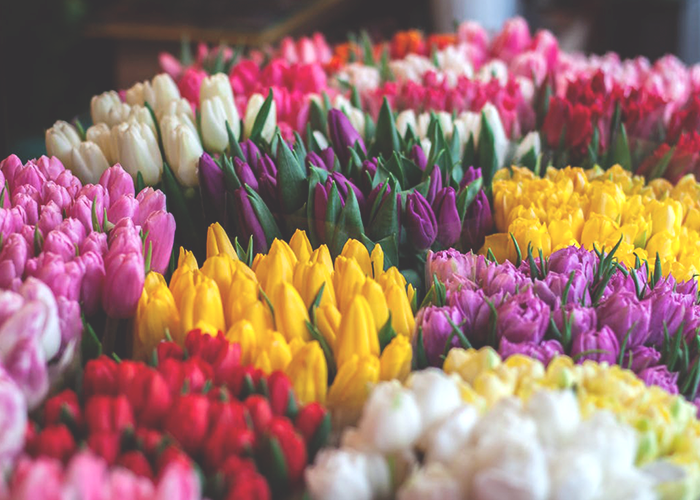 As I mentioned in my previous post, I am in the middle of a month-long home organization challenge to prepare for my upcoming move. The challenge is designed so that I can tackle one area per day over 30 days, but as it stands, I spend most of my time in the new apartment (which my boyfriend already lives in). So, I've taken to dedicating a significant amount of my days at home to organizing, so that I can tackle several areas at once. Here's a refresher of the challenge: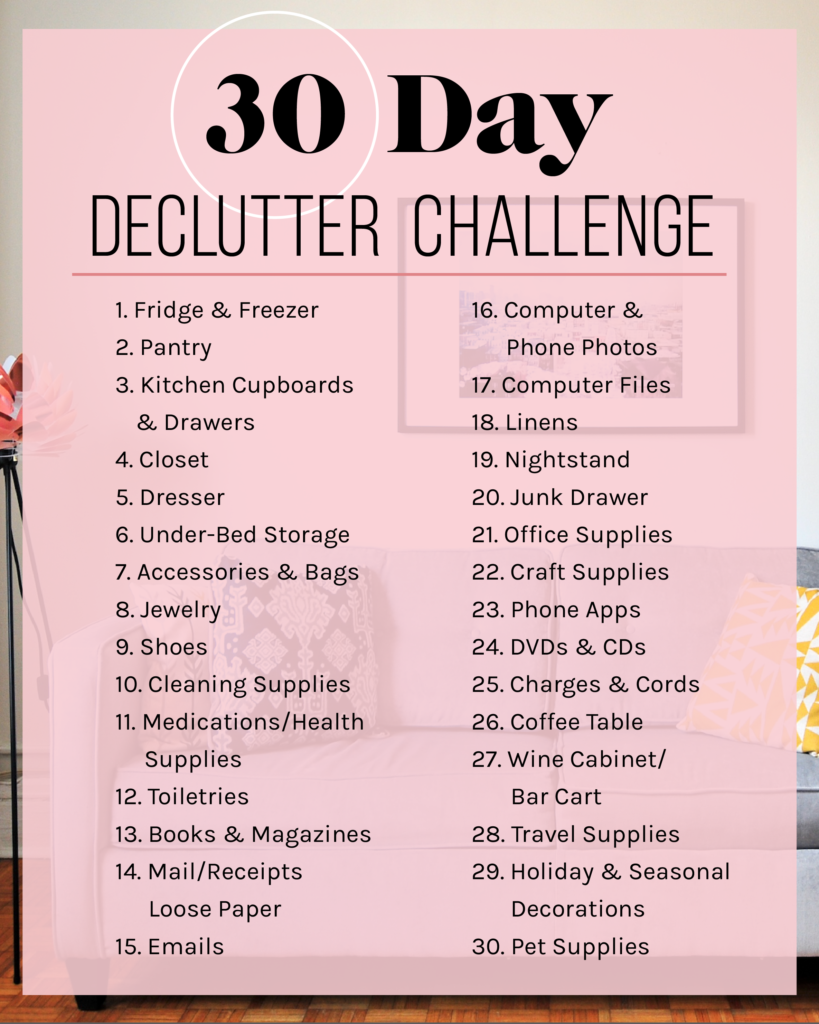 First things first: I am absolutely going out of order with this, especially because my bedroom was the place I most wanted to get organized. It's now been about two weeks since I started, and I have to say, I'm pretty happy with how much I've gotten done. My closet, dresser, and the crap under my bed were a particularly big undertaking, so I'm thrilled that I've gotten those out of the way. Walking into my bedroom no longer causes me stress upon entry.
However, I have not gotten as many of these areas out of the way as I had planned to. Since it's my halfway point, I should have gotten to at least 15 by now, but I am only counting 12:
Closet
Dresser
Under-Bed Storage
Accessories & Bags
Shoes
Books & Magazines
Mail/Receipts/Loose Paper
Linens
Office Supplies
Craft Supplies
Chargers & Cords
Travel Supplies
Some of these were extremely easy to do — like too easy, and should not have counted as an entire category. For example, I don't have an excess of chargers and cords lying around, so that category only included me throwing away an iPhone cord that was fraying at the end. But others, like my closet, were time-consuming enough to warrant two separate categories. Here are a few highlights from how everything has gone so far (and do forgive my less-than-mediocre photography skills).
Closet/Clothes:
Before: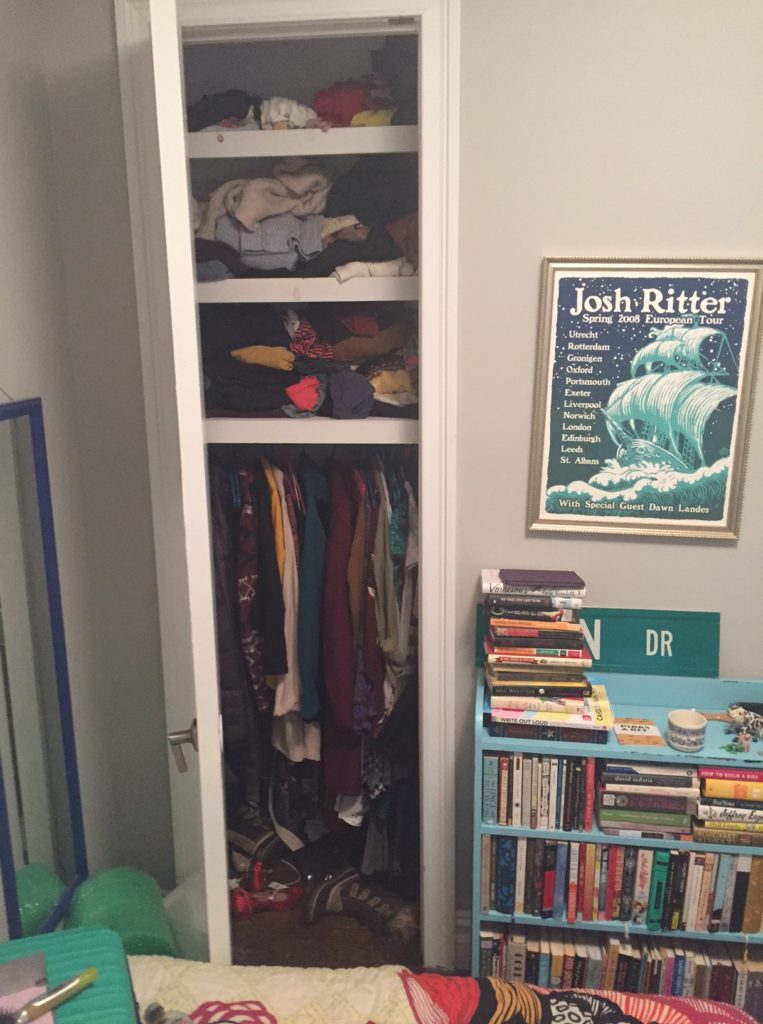 As you can see, my closet is pretty skinny, but quite tall — meaning I often just throw things haphazardly onto the higher shelves, because the stepping stool in the other room is too far away. I also had no method of organizing my shoes (many of which were hiding under my bed, anyway), and I had a ton of clothes that needed to be tossed or donated.
After: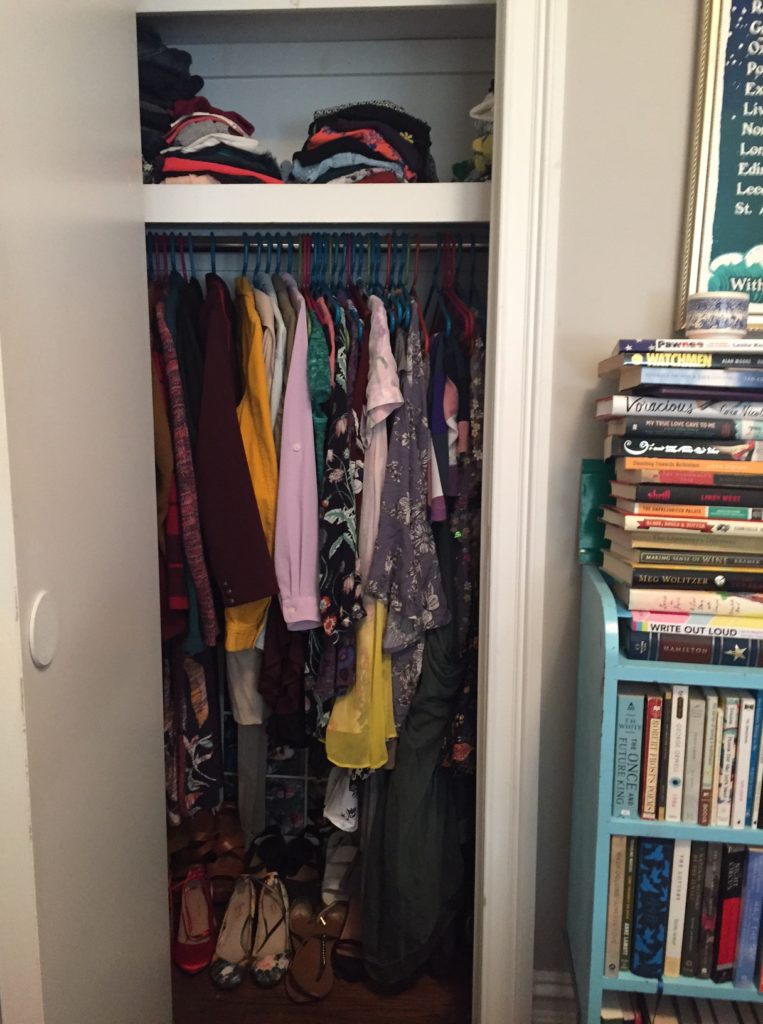 Since I'm moving and will have to pack all of this up soon, I didn't bother re-arranging clothes by color. But I did take the time to group them by category (e.g. put all the dresses together), and it already makes finding things much easier. I got rid of a lot of clothing from my closet and dresser, enough to fill four bags to take to Goodwill, and one to send to Thredup to try and sell (see below). Some of the things given away were bags and accessories, too, so these bags aren't totally full of clothing. (Included in clothes that were donated: dresses from my "going out" phase in college, a cardigan with two holes in it, and about four pairs of corduroys I hadn't worn in as many years.)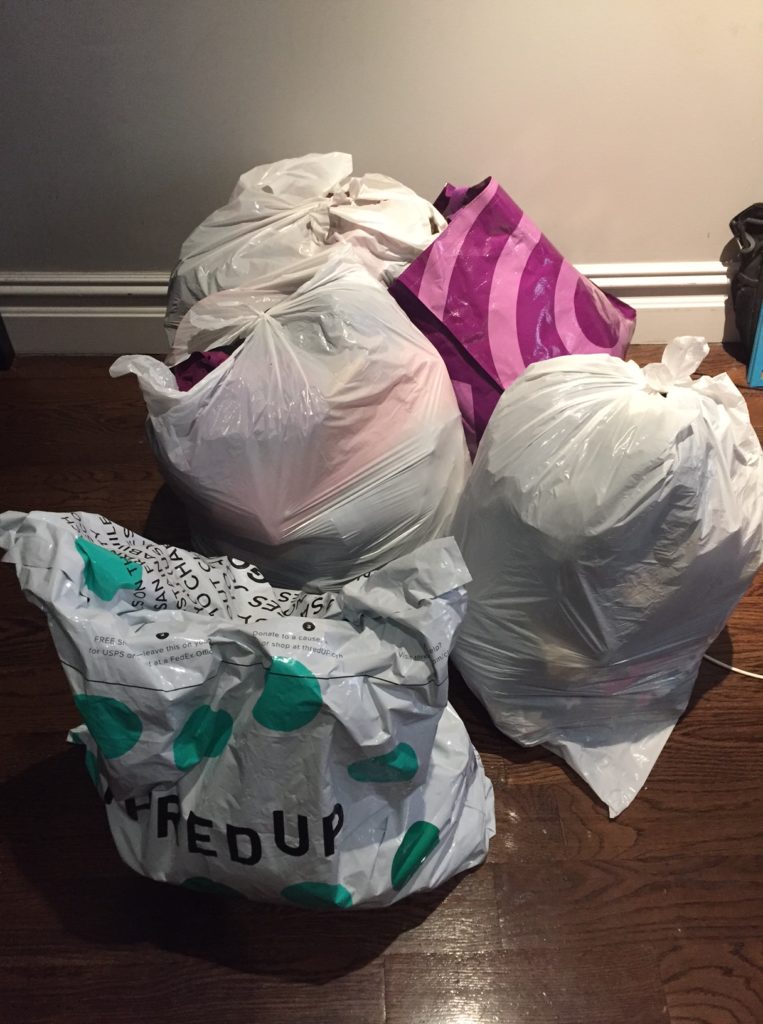 Craft Supplies:
Before: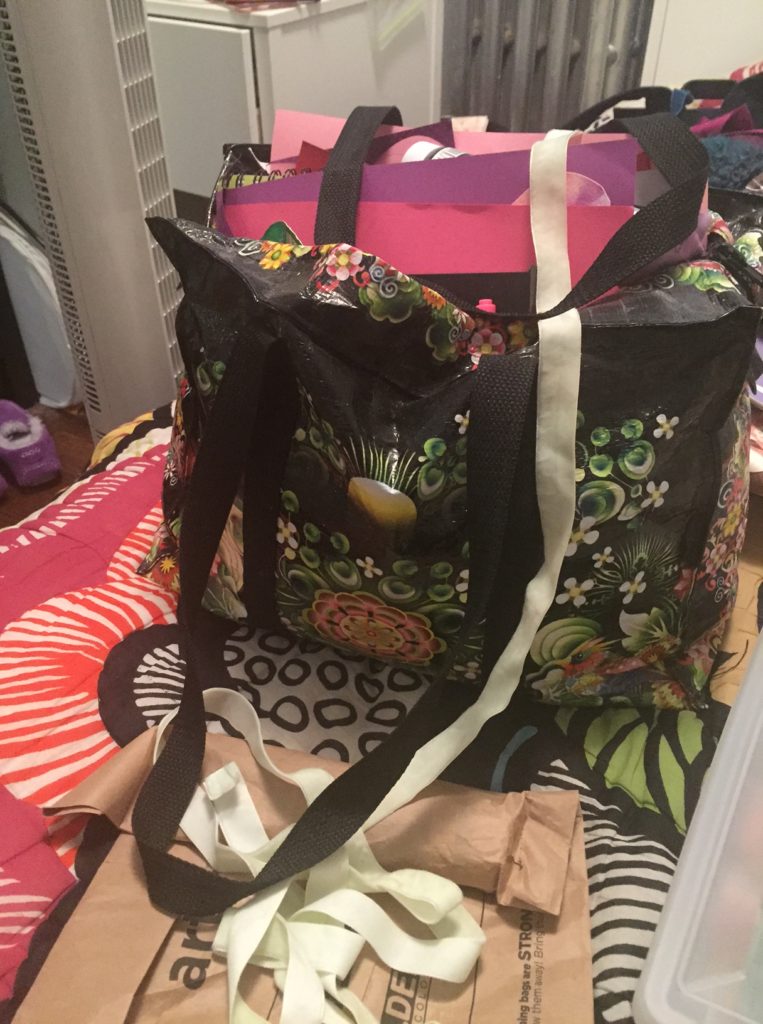 This poor craft bag was the bane of my home life. I would use a few things out of it every month or so, but there was so much crap in it that was just…crap. Paper scraps, filled, unused notebooks, and gross loose glue tubes for my glue gun were just a few of the things that needed to be tossed. Also, the bag itself was ripping in about three different places, and needed to go.
After: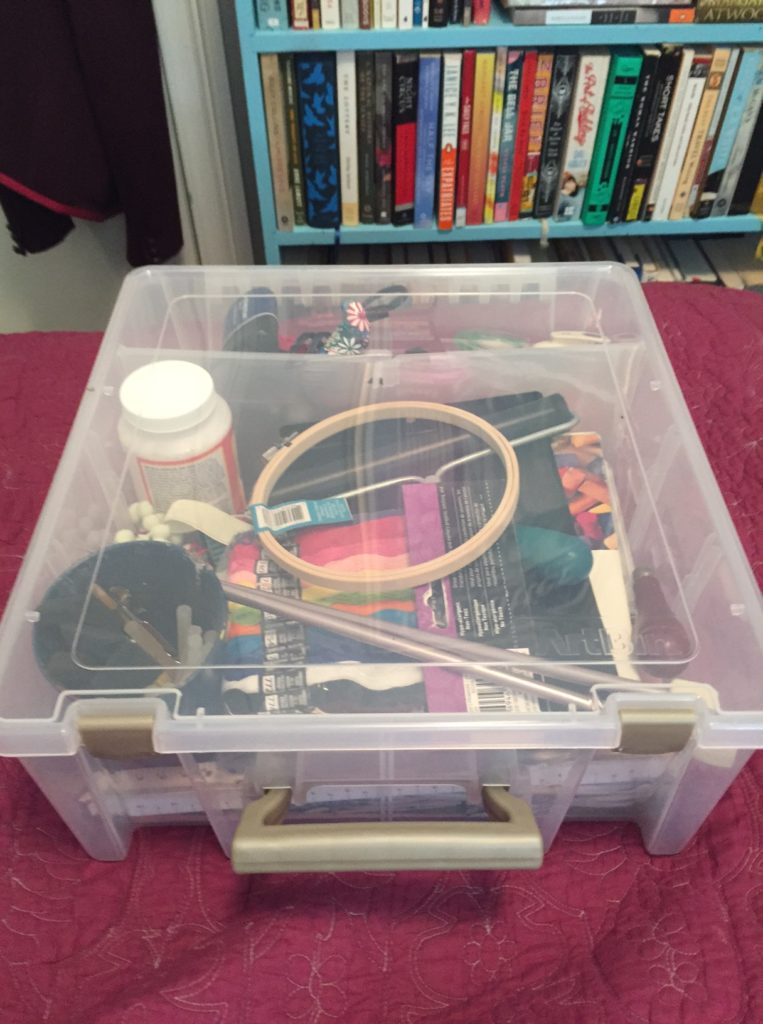 I bought this organization bin
, and my life is already so much better. I couldn't use all of the dividers it provided, because some of my things were too big to fit within them (e.g. knitting needles), but just being able to clearly see everything I have is a much better system. It takes up about the same amount of room as my bag (and will fit in one of the closets in the new place), but it's much sturdier. I'm hoping to keep it as not-gross as possible.
Books
Before: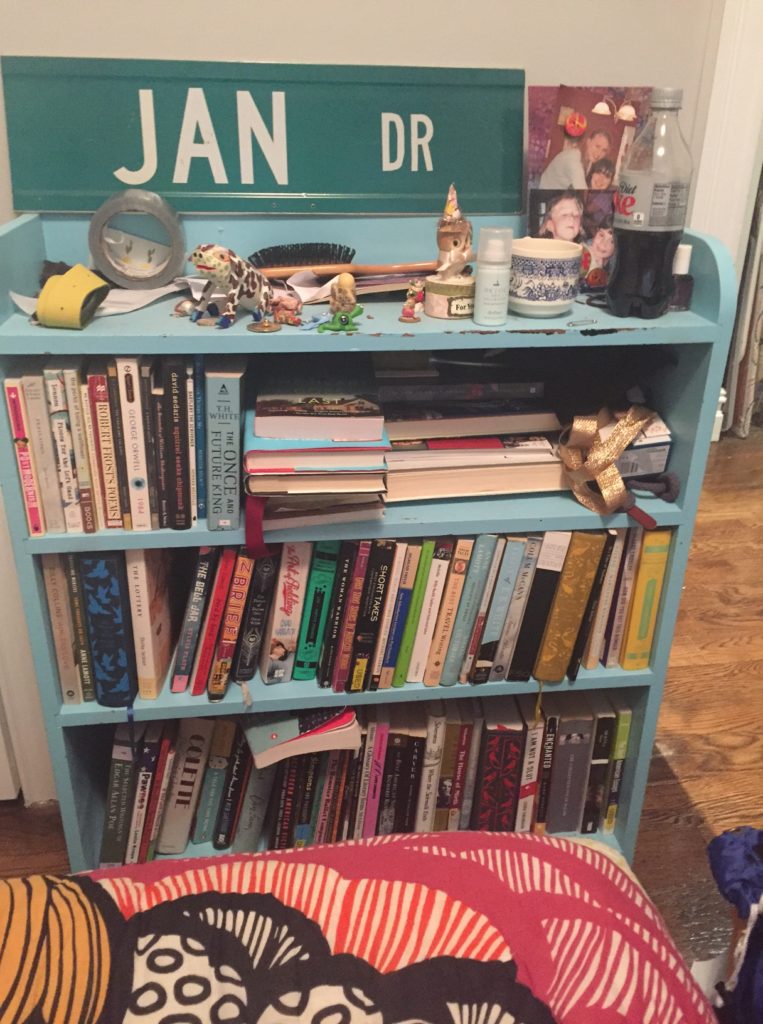 This bookcase, which I'm definitely getting rid of come moving time (I spray-painted it when I got it from a thrift store in college, and it's chipping like crazy now), was a total mess. As you can see, I used the top to just hold whatever, and the books were fit in wherever there was room. It also wasn't even holding all of my books — I had several under my bed and plenty in a shared shelving unit in the living room.
After: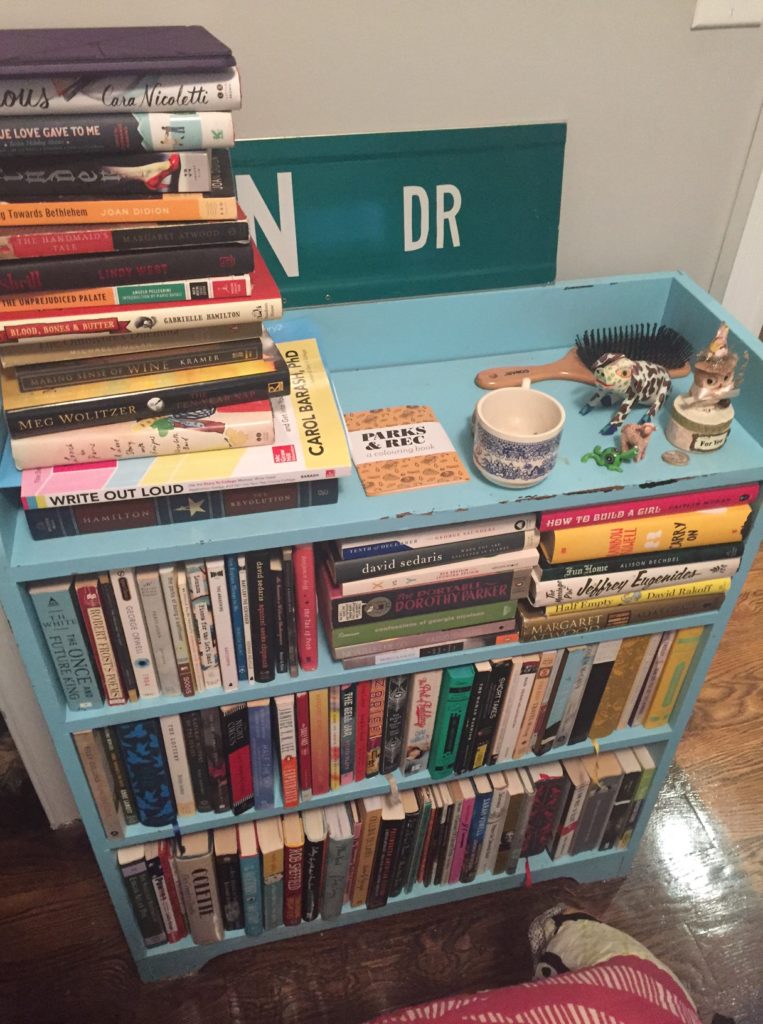 In terms of downsizing my book load, this hasn't exactly been the most successful. I did, however, give away about 25 books, and managed to move all of my living room stash onto this bookcase — it's not ideal, but having all of my books in one place instead of mixed in with my roommates' is going to make packing them up go a lot faster. Plus, we are getting a bigger bookcase in the new apartment, so these will hopefully all fit (or else I get to do book cleanse round 2).
*****
Everything else was pretty straightforward. It was easy to tackle my all of my clothes-related areas (closet, under-bed storage, dresser) all at once. But everything else I have left is mostly stuff I am dreading. The fridge and pantry include things that are both mine and my roommates', but I'm the only one who signed up for this cleaning out business (though, I'm sure I will get some help if they're home while I'm taking it on). And I'm not looking forward to cleaning out any computer files, because that is just time I'd rather spend watching charming British television and playing Two Dots. But I know from what I've done so far that it'll be a huge relief to have it all done, so that packing to move goes as smoothly as possible.
Holly is the Managing Editor of The Financial Diet. Follow her on Twitter here, or send her your ideas at holly@thefinancialdiet.com!
Image via Unsplash