How (And Why) I Lived In A 192-Square-Foot Tiny Home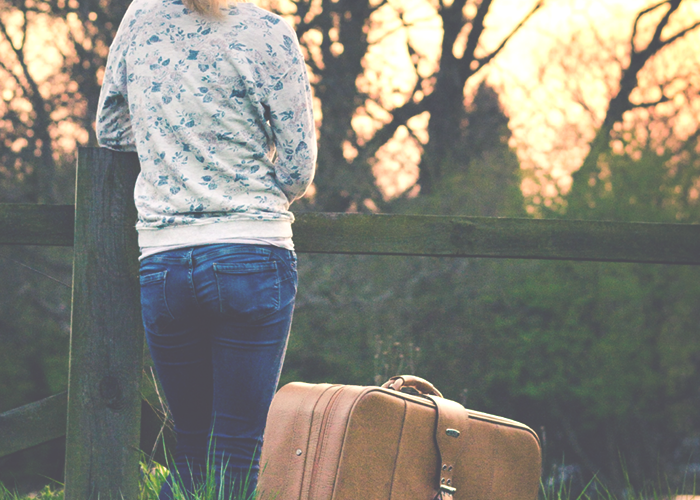 When my fiancé, Marc, and I were living in an apartment, living very paycheck to paycheck, I stumbled upon a blog about a woman who lived with her husband in an airstream. They broke their paycheck to paycheck cycle and suddenly, they had a savings account. I was entranced. I talked about living in an airstream with such passion that soon, Marc was just as passionate about the airstream dream.
Fast forward a year, and we had purchased an airstream and were in the process of stripping it to its frame to renovate it when our friends, who lived on a farm in an argosy, started planning to move. An argosy is a travel trailer just like an airstream. After talking with the farmer, we decided to move onto the farm, take their place and attempt being part-time farmers. Our parents, I'm sure, collectively rolled their eyes.
The first step of moving into an argosy was to get rid of the majority of our stuff. Since we were already in the process of renovating our airstream, we got a storage unit that served as purgatory for the furniture Marc had made that we didn't want to part with. We also stored sinks, subfloors, and walls from the airstream, and boxes of Christmas decorations and sentimental things we couldn't imagine dropping off at Goodwill.
We did become Goodwill regulars, though. We donated carloads of kitchen supplies, old clothes, and furniture. On one trip, we are pretty sure we donated my car keys and wound up getting my car towed to the dealership and rekeyed. We had high hopes of selling some of our things, but in reality, a lot of our furniture was already hand-me-downs or thrift shop buys, and didn't have much value. For a brief period of time, we attempted to "re-home" some of our favorite things that just did not belong in our new tiny home; Marc called almost every friend that we have and asked if they were interested in a vintage mustard-yellow couch that had been heavily scratched by cats. I texted my girlfriends to ask if they were interested in pie plates from Crate and Barrel. We clearly had issues letting go.
When we finally moved on from attempting to re-home our belongings, we were ready to move into the argosy. The argosy was 24-feet long and almost eight-feet wide. And it's very evident that it's eight-feet wide once you account for all the built-in cabinets and beds. 
We found living in a small space to be challenging, but for different reasons than our families and friends thought. Since we were living on a farm, we had a work-trade agreement with the farmer. That meant that there were certain tasks that we had to complete and specific hours that we had to keep in order to complete those tasks. Our work-trade agreement was basically this: We would 'rent' the argosy for a certain amount every month and through work, we reduce that amount. At the end of the month, we would settle up.
What that agreement meant, in reality, was that before work, we would run around feeding animals at frantic speeds attempting to get to work and meetings on time. After work, it meant that we would race home in the winter, in order to feed the animals and put them up for the night before the sun went down. It got stressful, as you can imagine, and there were probably too many days I went to work brushing dirt off my pants and smelling like a goat.
Ultimately, we moved off the farm. Not because the argosy was too small, or we thought that we would lose our minds, but because balancing work and farm work (and for me, school also), was just a bit too much. We now live in a comfortable little house with no goats and continue to slowly but surely renovate our own airstream on the weekends. Here are the lessons and perks we experienced living in a small space:
1. We saved a ton of cash. It was stressful and in essence, we had a part-time job (the farm) on top of our full-time jobs. We went from paying around $800 monthly for rent and utilities to typically owing $300 for rent and utilities at the farm (full disclosure: we live in a small town in NC, so life tends to be cheaper anyway here).
2. We didn't waste food as much. Our fridge was the size of a mini fridge, so we went grocery shopping frequently. We also didn't buy things, like stuff for our house or more clothes.
3. Conflict resolution was pretty tricky, but also hilarious. When we would bicker, there was nowhere to go. Literally, our place was one room and the best you could do was declare, "I'm so mad, I'm gonna go stand in this corner for a while," which would make us dissolve into laughter.
4. It was cozy and fun. Honestly, people thought we were nuts, and maybe we were, but living in an argosy was an adventure. Life can get monotonous when you are living the 9-to-5 grind, but when you go home to a farm and argosy, things are more fun.
5. While we don't miss the goats, we do miss the argosy and are excited to finish our airstream renovation. Whether we live in it locally or travel around the U.S., we now know for certain that we can live in a small space without killing each other. For almost six months, our living situation was unusual, but now, we know how many cabinets we actually need in our airstream and that living in unconventional spaces can bring us some significant financial rewards.
Laura Guidry is a writer in NC. You'll find that and all her cats on Instagram.
Image via Unsplash