How I Purchased My First Home At 23 (With No Financial Help)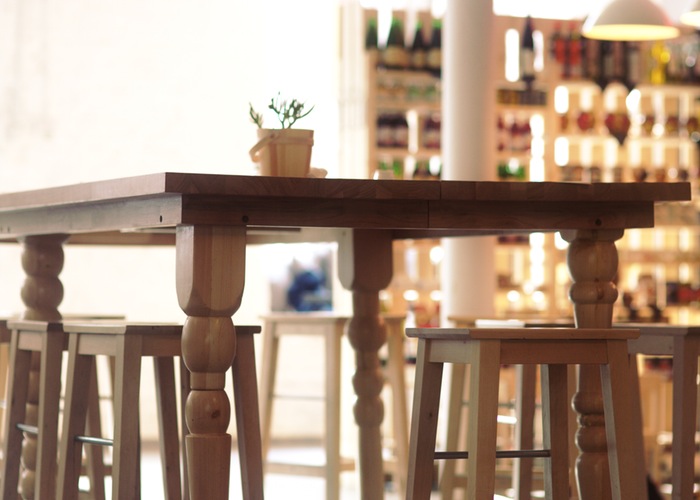 I had no intention of buying a property at 23. After things went south in my roommate situation, I had to find a place quickly, so I moved to another apartment in my building. I was working two jobs and living in a studio apartment. It was $1,052 for a 425 square foot apartment, and a parking space. My rent had increased by over $400. Eight months later, I financed a used car, a little Volvo S40, for $18K at 7%. None of this added up to "ready to buy a house" and yet, it still worked out. I have to admit that I didn't do everything right — I made mistakes along the way, and was lucky to have a support system to help. But I held my own, learned a lot along the way, and know even more now. Here are the steps to buying a home, and how I worked through each step:
1. Look at your finances. The mortgage application is going to ask you to list every cent you have and owe, so start compiling the information early. I actually did this step third, but I now think it should be done first. I was making $51K at the time, at my full-time job, and I was working part-time job for extra money. However, my expenses were too high: I had the higher rent, the car, and student loan payments (about $260/month). I decided I needed to pay much less in rent, but the most I was willing to pay was $1,200. In the DC area, this is what you'd typically pay for a studio or one bedroom. It was an ambitious goal but my expenses were already too high for my liking. I didn't put any money down for my car, so I still had my savings. I had about $5K – $7K saved. My retirement account (about $20K) also helped. It showed that if something were to happen, e.g. job loss, there was money "available" to me.
2. Look at what's (realistically) available. You should understand how the market is doing and what homes are going for. In May 2009, my best friend, Lexie, called me and asked me to go look at houses with her and, of course, I went. I was extremely motivated to follow in her footsteps. We were both 22 at the time we started looking, but neither of us realized what a strong position that put us in. We had time ahead of us, and qualified for the $8K first-time homebuyer's tax incentive.
3. Pick a realtor that will actually help you. Our realtor, Vincent, was amazing. I met him through Lexie, and hired him as my realtor because he was extremely trustworthy. Vincent gave us the ins and outs of qualifying for a mortgage: two months of good bank statements, showing a steady, decent balance in your accounts (in my opinion, you need to show more than enough for the down payment, as a rule of thumb), and a good — or fairly good — credit score. In addition, you need to be all set for pre-approval, which involves being prepared (mentally and financially) for the interest rates, insurance, home warranties, points, fees, etc. Vincent was there through the entire process. He explained the different rates and options, and even helped me through the FHA loan process.
4. Secure financing. I chose not to get pre-approved for a home loan, but that's honestly because I did this process a little backward. Part of my process with Vincent was to use his relationship with a financing company for my mortgage. Since my credit score wasn't as high as it probably should've been for a purchase, my interest rate was in the 5% range, which isn't ideal. To put it into perspective, I can get a mortgage for around 3% – 4% now. 
5. Put a bid in, and know when to walk away. I fell in love with a property at the end of May. It was a two bedroom, two and a half bath townhouse. It had three floors, two master suites, and a fireplace in the basement. It had new paint, and carpet, and was closer to work. It was perfect. I put a bid in for the asking price (about $169K) and wrote a check for $1,000 for my earnest money deposit (which would go toward my down payment). There were about eight higher bids on the property, and I couldn't justify paying more. So I got my deposit back and kept looking.
I came across a fixer-upper that was cheaper, bigger, and brighter, with a finished basement and closer to work. It had a few broken windows, the carpet needed to be replaced, and the walls needed to be painted, since it was about $40K less than the original property I wanted.  I envisioned what I was going to do with all this "extra space." It was more than three times the square footage of my studio, so I had dreams of an in-home gym and a movie projector. The property was also FHA-approved, which meant I only needed to put 3.5% down. I had enough in savings already. However, I'd have to pay Private Mortgage Insurance (PMI) until I got to 80% loan-to-value. (Basically, what I owed on the house needed to be at 80% of what the house was worth, or less. This means for a property valued at $129K, I had to pay PMI — less than $100/month in my case — until my loan balance reached $103,200 or lower.) I put a bid in, with another earnest money deposit. Two weeks later, my bid was accepted. It was time to go to closing.
6. Close on the property. Getting to closing was stressful. The date kept changing. They tried to change the amount of money I was supposed to bring to closing, but I put my foot down. I had a "good faith estimate" and I was holding the underwriter to it. I also had to finalize everything with the insurance company and make sure nothing changed financially. Basically, I couldn't spend anything outside of necessities until after closing. It was frustrating, but I was fine keeping a strict budget until the process was over. 
7. Own it. I didn't move into my house until three months after closing. I took out a loan with Navy Federal Credit Union (that I would pay back once I received my $8,000 first-time homebuyer's tax credit) to fix up my place. I had repairs to make, and locks to change. I had to replace a sliding glass door, two windows, and a large glass in the kitchen. I had to patch holes, repair sagging ceilings, and replace the flooring. Some of the contractors were amazing people that did awesome work. Others, not so much. The company that did my floors was a headache, but, luckily, it all got done within my budget.
Lexie was gracious enough to let me crash in her apartment until everything was finished. (I later returned the favor.) In January of that year (2010), I also got a long-term renter, to help cover some of the mortgage costs. My monthly payments were $1,140.57, plus a Homeowner's Association (HOA) fee of $60.50, for a total of $1,201.07. This included principal, interest, and escrow. In my case, my escrow account included my homeowner's insurance, property taxes, and PMI (which was temporary). In October 2012, I refinanced to a bi-weekly conventional mortgage with Navy Federal. My interest rate dropped to 4.125% and my payments are less than $950 per month now. I also pay about $2,800 in property taxes every year.
Owning a home, especially at a young age, isn't for everyone. There are a million details, and a huge amount of work that goes into purchasing and caring for a home, and it's a responsibility I did not take lightly. If you're looking to purchase a home, it's important to be in strong financial standing, even before you start looking. Also, do your own research and look for the best rates and options for you. Ask plenty of questions. Don't just accept what people say. You can't take everything your realtor, your underwriter, or the seller say at face value. Make sure you're getting all the information you need to. And even though buying a home is an emotional process, and it's very easy to get attached to a property, the key is to understand there will be other dream properties out there.
Flanice is a DC-based "idea machine," traveler, blogger, budding coder, and helper of people.
Image via Pexels