How I Turned My Small Closet Into A Fully Functioning Office

Tell us a little bit about yourself.
I am a freelancer, career coach, and podcast host of Office Politics and Pretty For A Black Girl. Currently, I live in a 1.5-bedroom/1 bath fourplex with my husband, who is home due to shelter-in-place orders (and our dog, Winslow!) Like most, we've had to adjust to the work-from-home lifestyle and found that there can never be enough space. 
What made you want to redo this room?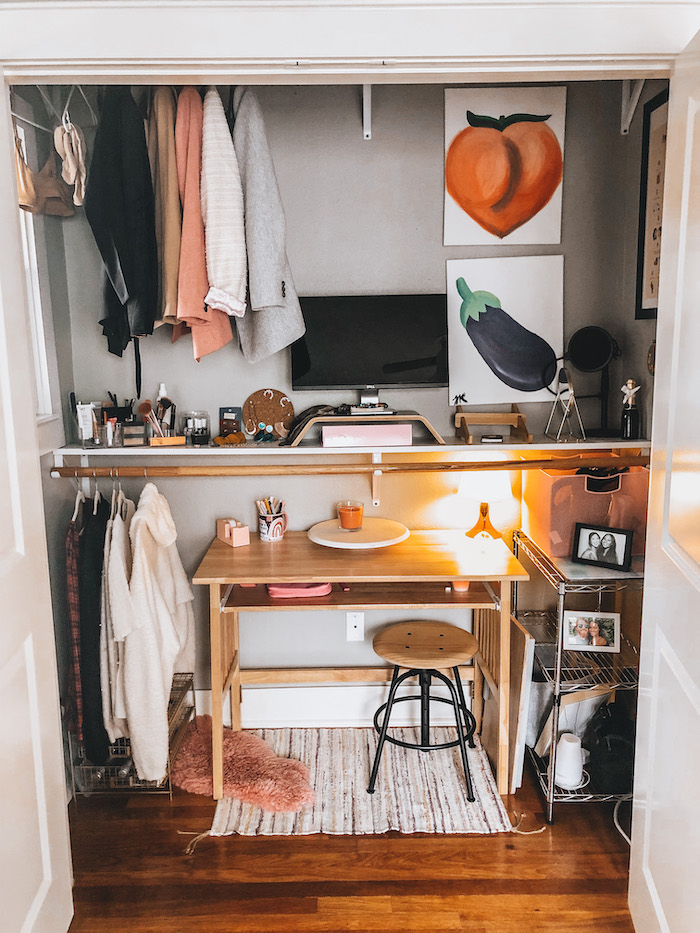 My closet-office (After)
Part of the reason we moved was to have more options within our space to work. Previously, we were paying $1,600 for a 1/1 with no patio or porch. Since moving to a nearby neighborhood, we've gained a spacious den (advertised as a bedroom, but that was a little generous), an amazing back porch with views, more closets, and a lower rent price tag at $1,420. 
Once we moved in, we saw that the closet inside the den (or ahem, "second bedroom") had more potential than we realized. As someone who was solely hibernating in athleisure and stained sweatpants, I knew it could be so much more than a storage facility for clothing I wasn't wearing. So I humored a dream I had for the future: a podcast studio + vanity + personal desk. 
By turning our den's closet into the ultimate workspace (and personal cave), I have a place to apply my makeup, record my podcasts, and work on tight deadlines — all without fighting my husband for the corner of the apartment with the best lighting or best acoustics. 


Tell us what you changed.
We ditched the clothing and put in layered rugs for a feeling of coziness and femininity. 
Next, I added in a slender desk that I bought at the beginning of the pandemic. This addition's utility is pretty obvious; it allows me a space to work and check emails, especially if my husband is monopolizing a different part of the house.
To make the closet feel less like a dark storage room and more like an intentional space, I added personal touches and hand-selected art. I hung up art I made from some wine nights and a framed My Favorite Murder poster. The personalization helps any room feel more intimate and approachable. 
I outfitted the remaining space with storage for my cameras, podcasting equipment, and other work-related materials. I like that it's tucked away in a corner and out of eyesight but still close enough to grab when I need it. It's been nice to have the microphone and podcast set-up ready to go versus building a mini station when I needed to record. 
Finally, I completed the space by hanging up my "Zoom clothes" and shapewear to the left. And I elevated the shelf that divides storage space in the closet into a vanity station with accessories and makeup. It's a real one-stop (boutique) shop where I quickly throw on makeup, a blazer, and maybe statement earrings before important meetings or filming content. 
How much did you spend?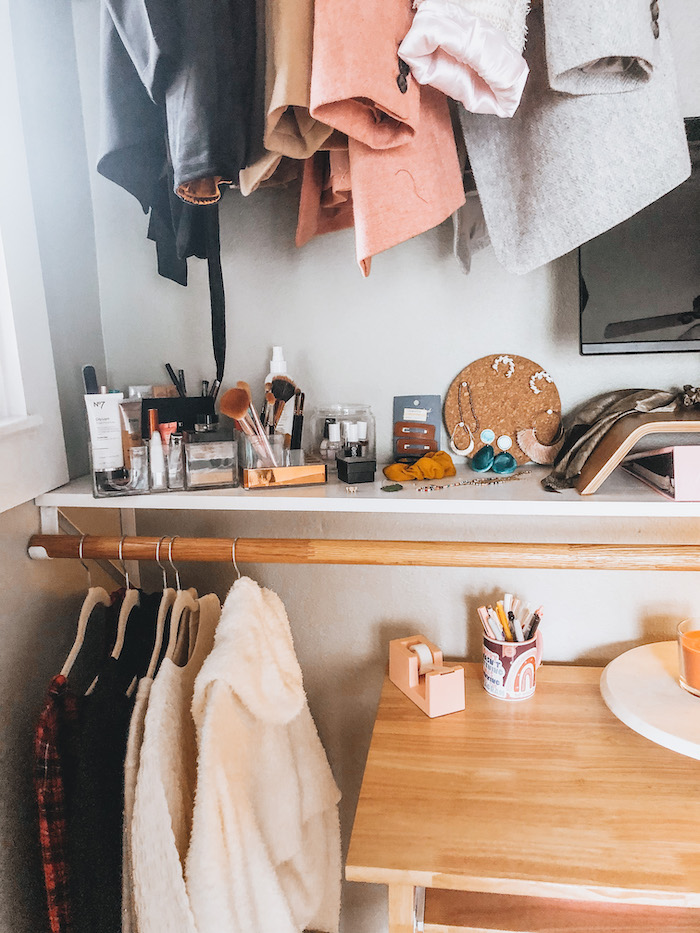 I didn't buy anything for this project; everything that has made its way into the space is from past purchases or upcycled from a different house. 
However, the rugs were from IKEA (similar options here), somewhere in the ballpark of $30-$50. Although no longer available, the desk was brought on Amazon for about $100 (similar options here). I recently upgraded my hangers to velvet hangers for an added touch of luxe on a budget for just over $20. The storage was all bought through various Target runs or Amazon sprees. 
I think that is the beauty of the space — it came together organically out of necessity and possibility. The artwork that never quite found its home found a place in my work cave. The (expensive) tech equipment that was getting stuffed in drawers could now be displayed and cared for properly. 
How long did it take you?
Getting the closet office (we most often refer to it as "the podcast studio") was my first priority when we moved this past winter. I would say it all came together within an afternoon. A true delight and surprise that we hadn't planned for, but it's worked out so well, especially when my husband and I want to enjoy each other's company but also have the space to focus and get work done.
What was the biggest challenge?
Nothing was too challenging. I would say subsequently, I had to get creative in our primary bedroom's closet. It's much smaller than the closet I redesigned. Once you then take into account that two adults are sharing it, things got very snug, very quick. 
I purchased garment bags, one per partner, per season. For example, I keep winter coats in one bag, summer jumpsuits in another, and my fall essentials have their own bag as well. We keep half of the garment bags under the bed, and the other half is in the garage. 
What are a few of your favorite pieces?
I really cherish my rugs! My husband and I have pretty complementary styles, but we've never seen eye-to-eye on rugs. He loves neutrals and safe patterns. I want bold colors and patterns that elicit a polarizing opinion from guests. I remember him hating the pink fuzzy rug when I brought it home. I love that the weird art and (loathed design choices) have a home. 
Any advice for someone who wants to tackle their own budget DIY home makeover?
Yes! Shop your own home first, and really consider the form, function, and utility of a room. I've never understood "rules" when it comes to a home. If you wish your living room was your art studio, make it happen. If you want to transform your kitchen into a coffee lounge, do that. Space should not confine you but make your life easier.
Jazmine has been a contributing writer for The Financial Diet since 2015. While her spending habits have changed over the years, her advocacy work surrounding social change and mental health has not. She hopes her writing and activism can empower all women to occupy their space at work — and everywhere else. Outside of TFD, Jaz (as she likes to be called) is a career coach, full-time writer, and a plant + dog mom residing in Dallas, Texas. She spends her "fun money" on trips to Trader Joe's, throw pillows, and white wine. You can follow her Target shopping adventures here, and learn more about her at JazmineReedClark.com.
Image via author/TFD