How I Turned My Tiny NYC Living Room Into a Fully Functioning Home Gym For Less Than $150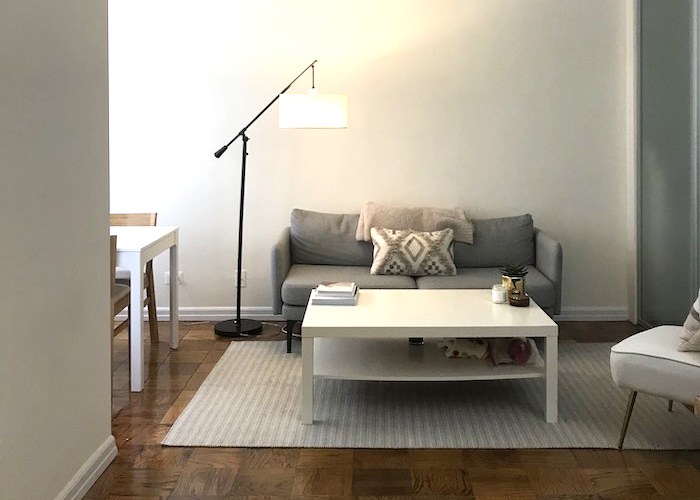 Once upon a time, my weekly exercise schedule consisted of three to four days at my office's gym plus anywhere from one to three boutique fitness classes. All in, this cost me a little bit over $200 monthly, which I felt was a pretty good deal for New York City. I made the most of off-peak pricing, a discounted ClassPass rate through my employer, and the rock-bottom monthly membership fees at my company's in-office gym, which, for the record, rivaled any Equinox or other high-end gym in the city.
However, when the pandemic hit, I went from never exercising at home to having to shift my entire routine to at-home workouts. The first few months were rocky — I desperately missed the equipment I was used to at the gym and especially missed my favorite yoga, spin, and dance cardio classes. The motivation I once had to wake up on work days at 5:45 or 6:00 to make it to the gym or that day's scheduled class all but vanished. 
Then in May, a friend introduced me to a resistance-based workout program that is designed to be done at home or at the gym and all of that changed. By getting creative with furniture and household items I already had, using gift cards strategically, and knowing when and what was worth investing in, I learned that I could get just as effective of a workout from my tiny NYC living room as I could at the gym — all for less than $150. 
Cardio
Let's start from the top. First, I like to begin each workout with a quick 5-minute cardio warm-up to get my blood flowing and my muscles loosened up. Where I once would have walked on the treadmill or did a quick spin class on the gym's Peloton bike, I now use no equipment at all. Lucky for me, I live on the 15th floor of a high-rise building, so many days the cardio warm-up is a few trips up and down several flights of stairs. Other days, when I have a little bit more time and it is not freezing outside, I'll do a few laps around the block. Another fun (and free!) cardio option is to watch Youtube videos of dance-style workouts. While it's not the same as being in the studio with a live DJ and flashing lights, it reminds me of the "before times" and I always end up having a fun time. 
Total: $0
Weights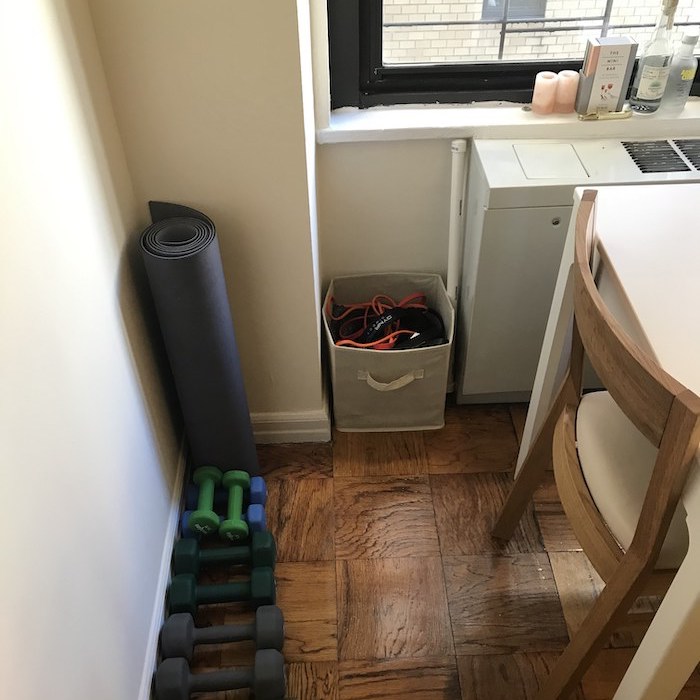 The biggest investment I've had to make as far as equipment goes is dumbbells. Over the course of several months, I've acquired a set of 3, 5, 8, 10 and 20 pound dumbbells. If I had to do things over again, I might have chosen to purchase adjustable dumbbells rather than so many different individual sets, however, when I was first starting to gather equipment the upfront cost seemed preposterous as I (wrongly) assumed my home gym setup would be used only briefly. I was able to get the 3 and 5 pound sets completely free, as my roommate already owned the 3 pound set and my mom generously donated the 5 pound set from her home gym.  I used a Target gift card to purchase the 8 pound dumbbells, so while not technically free, I was able to get them for no cost, to me. The 10 and 20 pound dumbbells were $42 and $63.58 respectively. While they were the priciest purchase of my entire setup, I bought the 20 pound set from a local sporting goods store, so for me, the blow was lessened significantly by knowing that I was helping to support a small business. 
Total: $105.58
DIY "Cable Machine"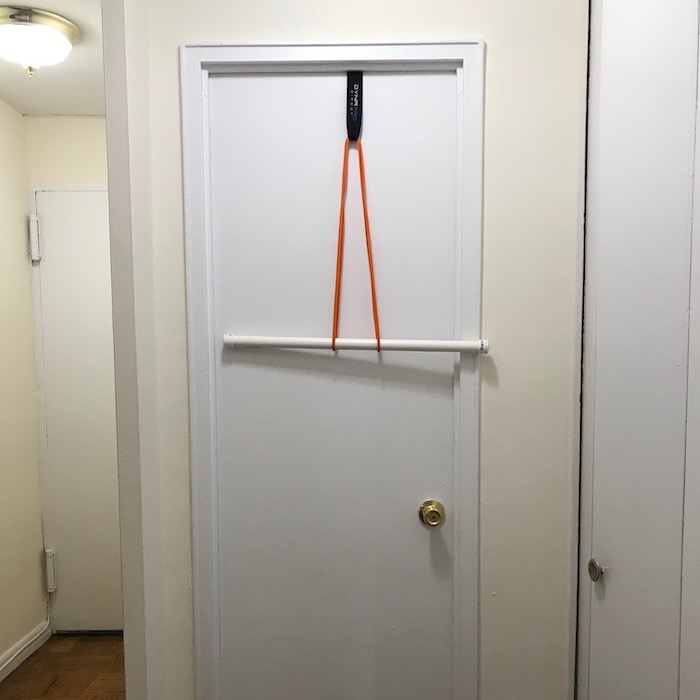 The best purchase by far and the one that has made the biggest difference in replicating the gym experience at home has been my DIY "cable machine". I purchased a set of pull-up assist resistance bands and an over-the-door anchor for $25.95. For months, I was using this setup as-is to do a variety of back, chest and tricep exercises. I would say that it was maybe 60% of the true cable machine experience. Recently, I saw a hack in which you can loop a PVC pipe or wooden dowel through the bands to better mimic the handles of a cable machine and this has made all the difference. The $3.52 I spent on the PVC pipe and end caps has brought the my at-home DIY "cable machine" experience close to 100% of that at the gym. 
Total: $29.37
Extras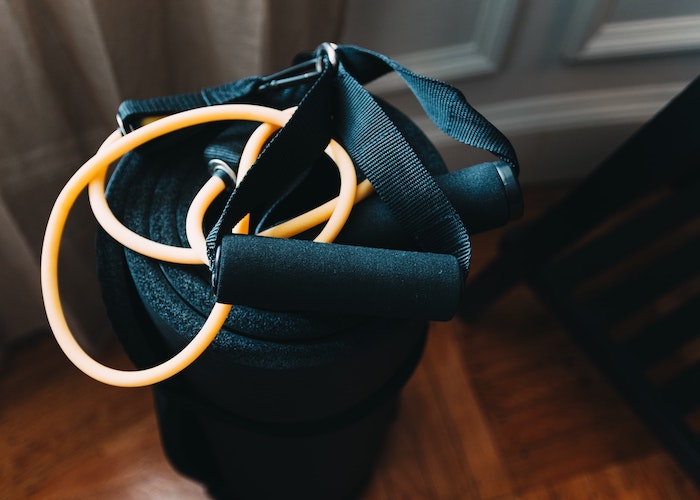 In addition to my main equipment, I also have a few accessories that have enhanced the overall at-home workout experience. A set of mini loop bands that I bought for $10.95 help to add extra resistance without needing additional weight for a tough glute workout. A yoga mat is a must for me, given that my apartment has hardwood floors, but a towel on top of carpeting would also suffice. I was gifted a Lululemon yoga mat that retails for $78 for my birthday a few years back, but I think that a cheaper mat would work just as well. Finally, I have moved the oscillating fan and over-the-door from my bedroom to my living room to help keep me cool and my form in check while I work out.
Total: $10.95
Furniture + Finalé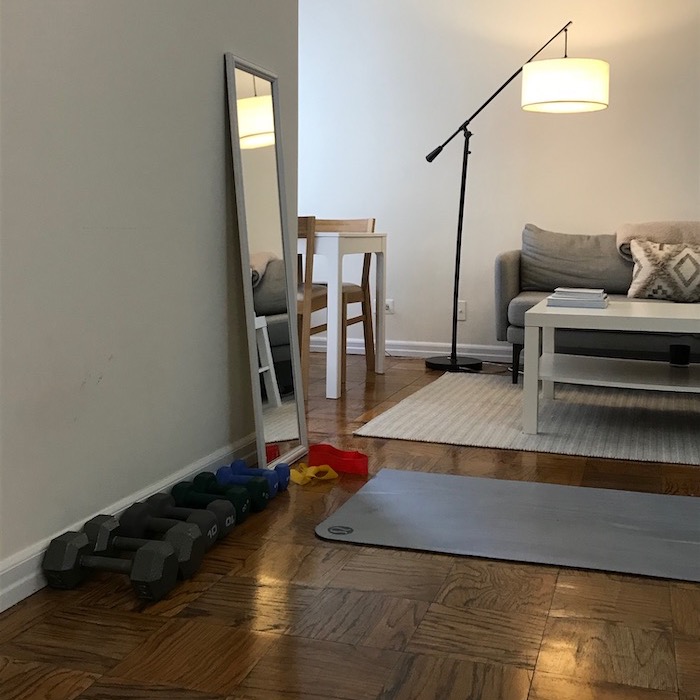 Finally, I have gotten creative with my existing furniture to replace a bench. My couch frequently serves as a rest for my back as I do hip thrusts. The shoe storage bench in my entryway works well for step ups. Sometimes I will even use my kitchen counter to do modified push ups and a variety of other exercises. I have come to realize that it's all about imagination. While nothing will ever compare to a gym in which every space and piece of equipment has been designed specifically to maximize a workout, I would rather make the most of the current situation and do the best I can. I recently heard the expression "don't let perfect get in the way of good" and that certainly applies to my makeshift home gym. Would a real gym be better? Of course. Is it worth risking my health and that of my loved ones? Not a chance. 
GRAND TOTAL: $145.90
Images via author