How I'm Tricking Myself Into Saving For A Vacation (Finally)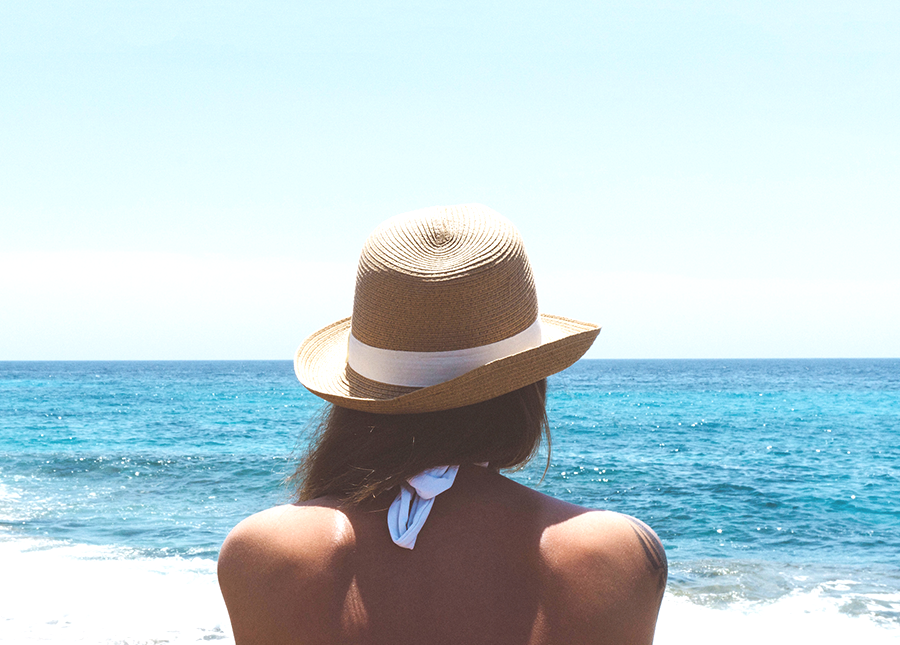 This post is brought to you in partnership with Chime.
April 2, 2018:
This morning, while looking up the weather in Connecticut, I actually got teary-eyed for a minute when I saw that the temperature won't creep far above 45 for the rest of the week. Simultaneously, I scrolled through Instagram pictures of bloggers eating acai bowls under palm trees while wearing sunglasses and shorts — two items that I haven't touched in at least six months. I know this sounds a little dramatic (I am what I am) but I've genuinely never felt this dragged down by a season.
It's been a long time since I've had a true vacation. Like, a long time. I went to Disney World with my family four years ago, but that was the last time I took a few days off to do something fun and relaxing. As a through-and-through homebody, I prefer to stay in my cozy apartment puttering around with my puppy by my side. So I tend to shove saving for vacations to the back-burner, thinking I'll do it at a later date; a date with less bills, smaller savings goals, more disposable income. But here's the thing: that date will probably never exist. And one of life's greatest pleasures is enjoying yourself; something I so often put off in favor of doing the responsible thing. But it has been a long, frigid winter, and last week, while I stood in my bathroom looking at my pale, sad face in the mirror as I popped vitamin D, I realized something: I need a vacation. Somewhere warm. And soon.
So, now the bigger question: How would I make myself save for it?
Planning a trip is kind of complicated for me, both financially and logistically. While I'd prefer to plan far in advance so I can secure the best deals and have ample time to save, my boyfriend's job is pretty unpredictable, meaning we often can't make hard plans until a week before we leave. Additionally, not to sound like a total brat, but I'm not here for a shoestring-budget-vacation right now. I've done that before (I spent a few weeks in an Irish hostel splitting one sandwich per day with a friend while sharing a bedroom with eight men, one of whom literally shit his pants in the middle of the night), but I want to go on a smaller-scale vacation this time. Something relaxing, local, and, dare I say, indulgent. I'd rather put my money towards a nicer place and enjoying as many bloody marys my heart desires without worrying about their $14 price tag.
The problem is, I have a hard time saving for specific goals. I use one bank, which has one savings and one checking account that are linked, so I see the sum of all the money I have every time I log in. I try to keep the majority of my money in savings, because that discourages me from spending. But it's still hard for me to mentally visualize which percentage of money is for which goal. I consider $2,000 of what's in my account to be my "emergency fund," but the rest of the money in there is for general savings, and really fair game. After some debate, I came to the decision that the best way for me to save for such a specific goal (on such a short timeline) would be to open an entirely new account and dedicate it entirely to my vacation fund.
Opening a new account is something I've been considering for a while now, but had never quite settled on which bank to use. However, after hearing about Chime, I was sold. Chime is an online bank that allows you to do all your banking on-the-go through their mobile app and easily automate your savings with a feature that rounds up to the nearest dollar amount when you spend using your Chime card and automatically puts the money into savings (which is perfect for me, a person who fully sucks at biting the bullet and transferring money to savings herself). The best part? It is free to open an account and can be used entirely fee-free — yes, entirely free — with none of the common fees like overdraft charges or monthly maintenance fees (which, to be honest, is the number one thing I'm looking for in a bank). I'd looked at a few other banks that I considered opening my new account with, but considering the great things I've heard about Chime (and the fact that we're partnering with them here on TFD) I decided to give it a go.
With no set-in-stone plan other than that we'd like to take a long weekend trip to somewhere within driving distance, on water, with somewhat nice accommodations, I settled on a personal savings goal of $700. I'm shooting to have the money saved by the last week in June (about 10 weeks from now as I write this), so we can hop on whatever opportunity we find. This gives me the pretty manageable goal of tossing $70 into my new Chime account every week between now and the end of June. And I'm going to take you along for the journey as best as I can.
April 18 – Update:
I'm now two weeks in, and have successfully tucked the first $140 away. I'm fully loving Chime so far (although I haven't gotten deep into it yet — stay tuned for more on that), especially because almost every other bank I looked at wanted to charge me some ridiculous fee for having less-than-x-amount in my account (how are people supposed to begin saving if you're charging them for being broke?) and because they have no monthly fees (which I also love, because I plan on saving for a few months, and truly hate the idea of spending money on an account that it supposed to be helping me save. I have hardly gotten into this goal yet, or gotten to take advantage of all that Chime has to offer to help me reach it, but over the next few weeks, I'm ready to see that bank account flourish, much like I will emotionally and spiritually when I finally get out of this cold New England town and on to a warm, sunny beach.
May 9 – Update:
I super love Chime, even if not for the original reasons I thought I would. I was originally most excited about the feature to help me automate my savings, which actually is a great feature if you're using Chime debit as your main spending account and making most of your purchases from it. I got to see the purchases I did make on my Chime card round up to the next dollar and plop that bit of change into savings, and to be honest, that shit adds up way faster than you might believe.
But if you're a person who is on a mostly-cash-with-a-little-debit diet, a more relevant benefit of Chime to you might be that there are seriously no fees. Saving for my vacation is such a "secondary" thing — it isn't the primary place my money is going, so naturally, the balance is going to be lower in this vacation-specific account than in the account I use to pay all of my bills. But if I were to open such a small account at many other banks, I'd be charged a monthly fee for not having a high enough balance. I'm not out here throwing hundreds of dollars every week into my vacay account — I'm just trying to put a few dollars in here or there until it adds up to something substantial. And banks don't tend to favor those with "just a few dollars here or there," unfortunately. In fact, Holly was telling me just today that her old bank charged her every month for not meeting the minimum balance, which was a whopping $1,500. (Not trying to out myself financially here, but I don't often have $1500 in my checking account, and I definitely don't have $1500 in my vacation account.)
And as a fun side benefit, the app sends me lots of little encouraging reminders and updates — complete with palm tree emojis – that keep my savings goal in the forefront of my mind.
Final Thoughts:
It is worth mentioning here that a small wrench was thrown in my "save for a summer vacation" plan when I had to rush my dog to the vet the other day and spend $300 on bloodwork and antibiotics for his sick belly. So, I have not saved the $700 I intended, but I do have $400 and I'm thinking that's going to be just enough.
I'm learning, however slowly, that you can save for something special in a way that is intentional and within your means, as long as you do it in a way that makes sense with your budget and allows for all of the other parts of your financial life to remain taken care of. For me, that meant keeping the "special" funds in a separate account, putting one more step between myself and the money on a daily basis where I could so easily decide on a whim to put it towards a grocery bill or a dinner out. Sometimes, all you have to do is trick yourself a little bit into treating yourself.
Image via Unsplash