How To Find A New, Non-Sketchy Roommate In Less Than A Week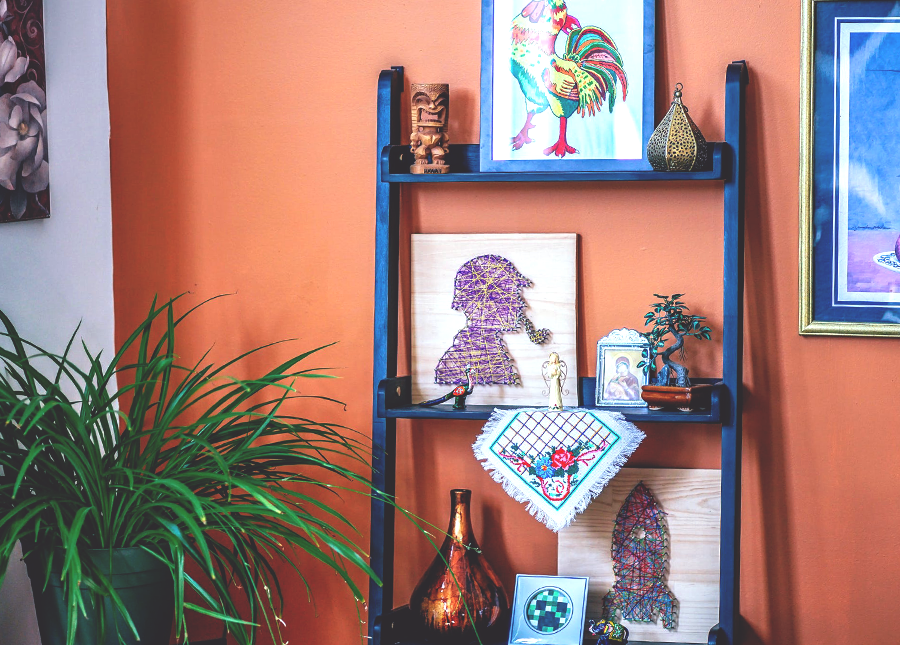 Sharing a home with someone is always a gamble. Whether you've known them for years or just met via Craigslist, you never really know a person until you live with them. The wrong housemate can be an absolute nightmare, but when you have the right one, it can be better than living alone – and not just because of the money you save on rent. That's why I was so devastated to find out my roommate was moving in with her partner. She's been a literal angel (okay, figurative, but really as close as you can get) to live with, we've known each other for years, and she pays rent on time almost every month. In my mind she is irreplaceable. But then I found myself having to replace her, anyway.
Luckily, what felt like an insurmountable task actually took less than a week! Here's a step-by-step guide to replacing your irreplaceable roommate, without having to cover any gap with extra rent:
Step 1: Great Photos
I don't care if you're using a DSLR or an iPhone – make your photos the absolute best they can possibly be.
If you have a friend who dabbles in photography, ask a favor and offer beer or tickets to a fun event in return. If you don't, break out your phone and try your hand at it. Play with the brightness and color settings to really make the place look comfortable, bright, and clean, and ask yourself if you would want to live here if you saw them online. If not, reach out to inexpensive photographers in your area, whether friends of friends or just Instagram accounts you think match your ideal apartment ad aesthetic.
Clean your entire home, hide all the knick-knacks, and fluff everything up a bit. Minimalism sells, so try and empty your surfaces if you can. While you're at it, remove any expensive and tempting items like your PS4 or MacBook Pro – safety first whenever you're putting anything on the internet!
Pro-tip: time your shots to get the best light. Early morning is a great time to get this done!
Once you're ready to get all your shots, make sure your photos are thorough. Think of it as a walking tour, from entry to bedroom. You don't have to show the exterior of your home (safety first), but you do want to give the real experience from entry to common spaces, to the bedroom and bathroom available, to amenities. If you're in a complex that has additional amenities (laundry, pool, garden, etc.), get photos of those, too!
Step 1.5: Make a Cover Photo
This is where your Photoshop skills can come in handy – or, for those of us who aren't Adobe-savvy, free tools like Canva will make creating a cover photo as idiot-proof as it gets. Take your best, most inviting photo, and put some inviting words on top of it. You can really highlight the best features of your unit in the text on top of the best photo.
So select your best photo. I suggest kitchen and living room photos work best, as they feel most like home. Pick a great font like Glacial Indifference and, very briefly, say what you need to say. For example:
PRIVATE BEDROOM AVAILABLE

Quiet townhouse in gated neighborhood,

Garage parking, in-unit laundry, pool & spa.
This will catch the attention of people scrolling through the half-assed and dreary photos that usually show up for subletters, helping you get the best renters!
Step 2: Get Descriptive
Now onto how you're going to sell your place to your ideal housemate. Like the photo tour you just developed (get it?), you want to be as thorough as possible when selling your place. Lucky for you, I have a template you can update and use as you please:
Title: [Bright/Large/Private] Room Available in [Neighborhood]

The [apartment, townhouse, condo] is located in a [private/quiet/gated] location just minutes from [landmarks and freeway access points]. Looking for housemate(s) to rent the private bedroom available. (No smokers.)

THE APARTMENT:

# bedroom(s) available in shared _____ sq feet, # bedrooms, # bathrooms, #-story condo with [tons of natural light, high ceilings, etc.]

Furnished with [refrigerator, microwave, oven, stove, dishwasher, central A/C and heating, security system, and washer/dryer in-unit – note that the condo is furnished in all shared spaces, and has one (unfurnished/furnished) bedroom available for rent.]

Private Balcony

[Parking details]

First Floor: [room list]

Second Floor: [room list]

THE ROOM:

# sq ft bedroom with [mirrored closet, window, and window seat] – [unfurnished/furnished] – $____/mo

THE COMPLEX:

[Gated/Off Street] [Pool/Jacuzzi/Spa/Sauna or outdoor amenities] [General Location]

LOCATION:

Minutes to [freeways/major access points]

Close to [landmarks, large employers, etc.], and walking distance to local restaurants

Close to [schools]

20 minutes from [major tourism attractions]

Minutes from [conveniences like gas stations, Target, grocery chains…]

OTHER:

Available starting [date]

No smokers please

No criminal background please

Friendly, clean, responsible applicants please

[Month-to-Month/1-year] lease

Security deposit required to reserve condo, refundable upon move-out

Utility costs shared by tenant

Must have verifiable income; credit and background check will be required
Notice that we're only including general location information – this is for your safety. You never know who you'll find on the internet, so proceed with caution. That said, edit the template so it works best for your place, and really highlight why you love living there, whether it's bright sunlight, your local farmers market, or friendly, respectful neighbors. Then keep the rest of the information very digestible and straight-forward. It may seem sterile and impersonal to advertise this way, but it'll attract more potential housemates, letting you weed through to find the best of the bunch for you.
Step 3: Advertise
Now that you have all of the ingredients for a great, accurate ad, it's time to put it online. There are a few sites that make this incredibly easy, and don't charge a thing! My favorites are:
Cozy – a site that acts not only as the advertising platform, but also offers credit and background screening at no charge to the "landlord" (AKA you)
Zillow – basically a 3-in-1; if you put your ad on Zillow, it'll automatically post on Trulia and Hotpads, two of the other major players in the real estate space
RadPad – a simple listing service that works for mobile and desktop users
PadMapper – a map-based listing service for the mobile renters out there
Facebook – maybe you'll luck out and a friend of a friend is looking, or better yet, find your local for-rent and subletting groups!
Craigslist – you never know what (or who) you'll find here, so proceed with caution. Still, it pays to cast a wide net!
Post your ad everywhere, and get ready for the avalanche of responses coming your way.
Step 4: Weed Out the Unlikelies
You don't want to give a house tour to every person that says they're interested. Let's face it, there are some people you have no interest in living with. This means you want to create a template that really gets to the point, but in a friendly and inviting way. Here's what I suggest – with of course the edits that work best for you:
Hello [name],

Thank you for your interest in the available room. I just saw your message and I'd be happy to give more information on the [condo, apartment, house]! The room is available [dates], and [has/shares] a private bathroom. The cost for the room is $X/mo, plus shared utilities.

Would it just be you? If you're interested, please share a bit about yourself/anyone else who would be renting.

As for me, I'm a [friendly/clean/non-smoking/professional/etc.] person who's very respectful of privacy. [If you have a pet, let them know now!] I'm looking for a housemate that shares similar qualities. If it's a match, I'd love to set some time for you to visit!

For your reference, I'm linking the original listing here [link]. If interested, let's set up a visit so you can see the space. Let me know if you have any other questions – I'm happy to help!

Best,

Tis
Don't provide your personal contact information or location until you're ready to set up a tour. Anyone who didn't pay close enough attention to your (very thorough) ad will self-filter and you'll likely never hear from them again. Of the 15-25% that do respond, you'll be able to be selective on whom you invite for tours.
Here's where I suggest you go the extra mile. Do a cursory Google search on your candidate, and see what you can find. Facebook and LinkedIn are a great start, but also check out the results for "News." These are perfect strangers, so you never know what you could find. During my search, I came across a prospective renter who'd been convicted of second-degree murder. Seriously. Do this research up front and really be smart about who you're inviting into your home.
Once you're down to a small handful of applicants, ask to connect on social media (LinkedIn or Facebook) and try to get a sense of your potential cohabitant before taking the time to meet them. Think of it like online dating – you wouldn't want to just blindly meet anyone who says they're interested. You'd want to make an initial decision and spare yourself the time. If they're looking to live with you, they're probably in the same boat.
Step 5: House Tours
Out of all of the interested applicants, invite just two or three people for house tours to start, and make them the best of the bunch. Clean the entire place, open the blinds, and tire your dog out before anyone arrives. While you're prepping, it's worth it to practice an extremely awkward part of the process: giving complete strangers a tour of your home. Ask a neighbor, your current roommate, or your friend to pretend to be a new renter, and walk with them through the space. Start with all the common areas and amenities in the unit, work your way up to the private spaces available, and wrap up by sharing the best amenities in the overall building, complex, or neighborhood. Get their feedback on what they'd want to know or see, and keep that in mind when you're giving the real tours.
Always finish the tour by asking whether they have any questions, and let them know the next steps. For example, "I have a few more house tours before I make my final decision, and from there it'll just be a credit and background check. I'll send you the details soon, but let me know if you need anything from me in the meantime."
Step 6: Formal Application
Here's where I suggest using Cozy to really screen your potential housemate. I mentioned before that they not only advertise your rental for you, but they provide free credit and background checks for you. All you have to do is send the Cozy link to your top prospective tenant and have them complete the application online. Note that they will have to pay $40 for the screens, and you'll be able to easily check on whether they have any criminal history, credit issues, or other red flags. Let this help you make your decision, but don't turn the runners-up away just yet!
Step 7: Draft a Lease or Roommate Agreement
Of course, if you're renting already, talk to your landlord and have them take it from here, but go ahead and start your cohabitant relationship off on the right foot with a Roommate Agreement. If, however, you're the landlord, it's time to draft your lease agreement.
Whether you're the homeowner or a renter, there are some great resources online to help protect yourself and your home. Find a template you like and be as detailed as possible with your edits. What responsibilities do you expect them to take on for shared spaces? Are there rules for your building or Home Owners Association? Do you need specific quiet hours at home? How and when do you expect them to pay rent (e.g. Is Venmo okay, does it have to be on or before the 1st of each month)? Put all of that into the lease. The more you cover your ass, the better off you'll be.
While you're at it, if you're the homeowner, check your state and local regulations. If there are any legal requirements, e.g. a pamphlet on lead poisoning prevention, include them with any agreement you send over.
Step 8: Wrap It Up
Once the lease and/or roommate agreement is completed and signed by both you and your new housemate, it's time to let the others off the hook. Be polite and let them know that you've enjoyed meeting them, and wish them the best in their search. Then take your ads down and mark your calendar for your new roommate's move-in date. If you really want to start things off on the right foot, make some brownies and order a pizza – they'll appreciate it by the time they're done moving everything in!
Tis is a 20-something recruiter, startup enthusiast, finance blogger, and proud feminist-slash-crazy cat lady. Find her on Twitter or check out the blog for lifehacks and musings on personal finance, professional growth, and enjoying the journey to early retirement.
Image via Pexels