How To See Great Art In Your City This Weekend For Little-To-No Money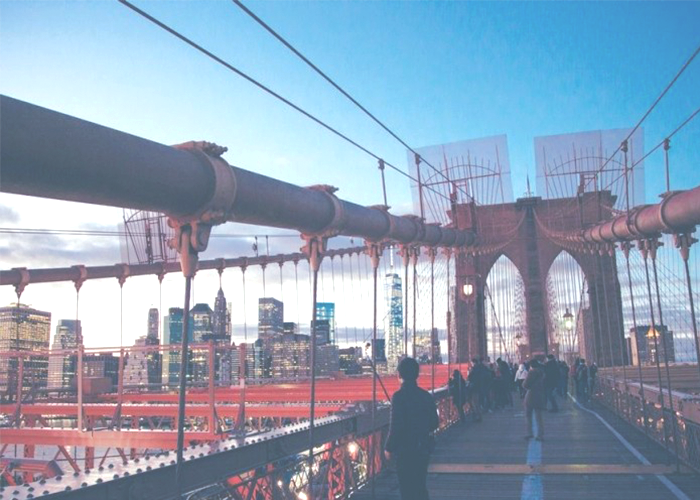 Despite the cliché image of the starving artist, many parts of the art world revolve around money and wealth. Newsworthy art auctions, elite galleries, and expensive galas can make the art world seem out of reach for many creators — and appreciators. But, luckily, you don't actually need a huge amount of money to see art. Even those of us on the financial ~struggle bus~ can get our fill of art. There's nothing quite like walking through rooms of classic masterpieces and modern artworks to feel refreshed and inspired.
Every major city offers plenty of alternatives to your standard art experience. Keep an eye out for pop-up shows, free programs, and weekend-long exhibits. Get to know the city even better by exploring public art. Instagram can guide you: look up hashtags for public art and street art, or explore your city's hashtag to see what others have found. Sign up for newsletters from local galleries (most of which don't charge an admission fee) to keep up with openings, which can often include free booze.
But if you want the full museum experience, here is a quick guide to some budget-friendly and/or free ways to see art in four major cities. This is by no means an exhaustive list, but it's a hell of a start. (Also, for those in any city, if you use Bank of America, check out this list of free admission days through their "Museum on Us" program.)
New York
Thanks to UNIQLO, New York art lovers can get free admission at the Museum of Modern Art on Friday from 4 PM to 8 PM. Fair warning: the museum recommends visiting after 6 PM to avoid waiting in a long line.
On Saturdays, The Guggenheim offers "pay what you wish" admission from 5:45 PM to 7:45 PM. The last ticket is given out 30 minutes before closing, so make sure you get there with plenty of time. You can take advantage of the same policy at the Whitney Museum of American Art Fridays from 7 PM to 9:30 PM and the New Museum Thursdays from 7 PM to 9 PM.
This year, MoMA PS1 is offering free admission to "all residents of New York's five boroughs" until October 15, 2016, according to their website.
Los Angeles
At the Los Angeles County Museum of Art, you can get free admission Monday, Tuesday and Thursday from 3 PM to 5 PM and Friday from 3 PM to 8 PM. if you are an LA county resident. Arts for NextGen also offers free admission to anyone under 17 and a guardian. So, now might be a good time to take a sibling, niece or nephew to see some art. Thanks to Target, some upcoming federal holidays also come with free admission (next up: Presidents' Day on February 15).
Mark your calendar: there is a huge free museum day coming up on Saturday, January 30. It includes free admission to The Museum of Contemporary Art, the Craft & Folk Art Museum, the Orange County Museum of Art, and more.
UCLA's Hammer Museum offers free admission year-round and parking only costs $3 after 6 PM on weekdays and all day on weekends. The Broad also offers free admission year-round, although it's best to reserve tickets online. You can stand in line for same-day entry, but the wait can get long on weekends. And speaking of exhibits at local universities, photography lovers should check out the Annenberg Space for Photography, a free exhibition space that displays both print and digital work.
San Francisco
General admission to the Asian Art Museum is free every first Sunday of the month. You can also stop by Thursday nights for $5 admission (which is $10 less than their general admission for adults).
Swing by Yerba Buena Center for the Arts every first Tuesday of the month for free admission from 12 PM to 8 PM. You can also get $8 admission if you bring a public library card or transit pass.
Visit the de Young for free on the first Tuesday of the month. This doesn't include special exhibits, but even seeing their regular collections can take half a day (or more). The Legion of Honor also gives free admission that day, so you should probably start your art adventure early. 
Seattle
The "big three" in Seattle lets you see a variety of artwork on the cheap. The Seattle Art Museum offers free admission every first Thursday of the month. On any other day, the museum has a "suggested admission fee," which means you can opt to pay what you can to see the collections (minus the special exhibitions). The Asian Art Museum offers free admission every first Thursday (all day) and every second Thursday from 5 PM to 9 PM. The Olympic Sculpture Park is free all year. 
For more spontaneous art adventures, you can visit the Frye Art Museum any day of the year for free (and get free parking). The Bellevue Arts Museum offers free admission every first Friday of the month from 11 AM to 8 PM. And if you happen to find yourself on Bainbridge Island, the Bainbridge Island Museum of Art is always free.
Eva Recinos is a freelance writer based in Los Angeles. She is less than five feet tall. And she is on Twitter.
Image via Unsplash