How Much I Really Saved By Living In Crappy Apartments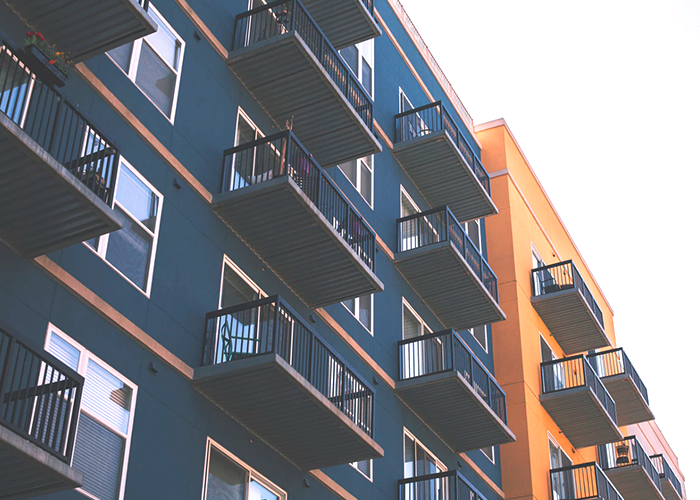 My husband and I were able to "purchase" a home in Denver (well, 5% of a home) after both of us completed grad school and worked for 1.5 years. Even with our massive student debt, we were able to scrounge the money together for the down payment, origination fees, inspection, sewer scope fee, and closing costs. Our tactic for getting there? Live in the cheapest possible apartment we could find and save every penny.
We started in Denver with literally no money. My husband was completing his PhD in Florida, and I was left alone for the first three weeks to set up the apartment and start my very first teaching job. At one point, my husband had to wire me $500 so that I could buy food, have Internet set up, and replace a ruined phone. (I later learned that this money came from a small loan ($5,000) he had taken so that he could visit me while in grad school in North Carolina.)
Our first apartment was a one-bedroom, 500 square foot (questionable…), first-floor haven costing us $875 a month including heat and pet fee. For Denver, this is a steal. We took a pretty big risk in renting it, given that it was directly next to a major road, in a city we knew nothing about, and the landlord seemed sketchy as fuck — especially when we were paying first and last month's rent and he was unable to produce any type of receipt.
This apartment was, in a word, terrible. The street parking was not free before 6 PM, so we always were paying a couple dollars to be able to park close. As a teacher, my day ended at 3:20, so I could get home early and get a reasonably close spot for a fee. It was an incredibly tiny space (I was living with a 6'4" male and a 75-pound dog) and my husband loves to cook, brew beer, and make sticky messes in general. We also lived on the first floor with a rather large bay window. This seems like a huge plus at first, but when you're right next to a very populated area, you can hear people commenting on what you're doing inside, and you feel super awkward. "Ooh look! They're dancing!"
The biggest blow came when my dad passed away, and the next month we got BED BUGS. As if I needed more stress, we took out every piece of fabric we owned and washed it at the closest laundromat or threw it away completely. Our landlord sent in some guys to spray everything (including some questionable carpet) to make sure we wouldn't have to deal with this again. News flash. We did. I know that bed bugs can happen anywhere in a city, but we had quite a few neighbors who were too afraid to report theirs since the building was so old and they couldn't afford to find a new place. This definitely didn't help the situation.
At the end of the lease, after having to call the police for reasons that I would rather not cite, getting bed bugs again, and dealing with the small space issues, we decided to look for a new place. Our lease luckily ended over the summer when I had time to contact Craigslist ads and look at a few more legit places.
In Denver, finding an affordable apartment can be pretty competitive. I ended up at a showing with three couples and one apartment. Since we were all vying for this sweet, wood floor (no bed bugs?) apartment, the landlord told us all to fill out an application with a $50 fee. He would give the apartment to whoever had the best credit score. Since I've been on a credit card with my upper middle-class parents since I was 13, and have never missed a student debt payment, I have pretty good credit — but this felt too much like the rat race for me, and I bounced.
I ended up going to a showing at a much bigger apartment (650 square feet) where you had to schedule a time. I scheduled the first 9 AM showing and as soon as I walked in and saw the high ceilings and stand-alone bathtub, I ran (literally) to the leasing office. There was already another person there for the apartment, and this time I decided to play the credit check game, and we got it! Our new apartment had an actual kitchen and also included Internet, heat, and pet fee for $1,075 a month. In most cities, $1,075 is not cheap, but we were so exhausted from searching and living in such a tiny apartment that we thought this was worth it.
After a few months, we had some more-than-horrible downstairs neighbors move in and ended up looking for a house earlier than anticipated. It was an incredibly stressful situation where the neighbors below us didn't have a "ceiling" and would remind us daily of this by screaming at all hours of the day. It was an unfortunate situation for both parties.
Here is everything we spent and saved (financially and emotionally) by living in these shitty apartments:
Total Losses: (Apartments)
Bed Bugs: twice
Laundromat: Approximately $100 total (including washing a Kilim rug the first time around)
Furniture: We threw away a couch (a Craigslist find) and replaced it with a $300 daybed
Fabric: I love to sew. I went to grad school in Wilmington, NC where there is an amazing fabric store that sells super high-quality fabric for a maximum of $10 a yard. I've seen the same fabrics at JoAnn's for $40 a yard. I threw away about 15 yards of this since I stocked up before moving: $105
Bed Bug Spray: Three bottles for $15 each: $45
Ebay Kilim Rug: $50: I was getting pretty paranoid round two with the bed bugs and tossed it. 
Laundry: Apartment Machines: $20 a month ($240 a year) 
Parking: For the first year only: $15 a month ($195 a year)
Ending Our lease Early: This cost us $1,000 to be able to leave the apartment as soon as the house was under contract
(Apparently at some point, my husband found what can only be described as "the thing the kid coughed up in Stranger Things" in our shower. I honestly don't know what price to put on this…)

Total: $2,035
Total Savings: Savings included not having to pay for heat for a year and a half, as well as Internet for half a year.
Heat: $15 a month for 18 months comes to $270
Internet: Free Internet at the deluxe 650 square foot Taj Mahal. Right now, ours is about $50, so we saved $300 total
Rent savings: Comparable two-bedrooms in the same area of Denver go anywhere from $1,200 to $1,750 a month. If we went with a $1,200 apartment instead of the other two apartments, we would have spent an extra $4,650 in the year and a half of renting.
Pet Fees: I'm assuming that the pet fee would have been another $50 a month from the past apartments I've looked at. Nicer apartments often require real pet fees to protect their wood floors. Living in cheap apartments where there's nothing to protect saved us $900.

Total: $6,120 
The difference comes to $4,085 in one and half years of renting. This made a huge difference in being able to make the leap into "buying" a house.
Overall, we were able to save what we needed to buy an emergency house for $335,000. As a teacher, I was personally able to save about $1,000 a month (due to my husband's slightly socialist outlook on life that deems I contribute only 41% to the total household costs). In the end, it was worth it to put up with crappy neighbors, poor landlords, and other small inconveniences to be able to afford a house when we needed it most. We were incredibly lucky with our house purchase and have more than enjoyed the extra space and freedom ever since.
Karen is a science teacher living in Denver, CO with her husband and adorable pup. She loves budget spread sheets and traveling on the cheap. 
Image via Unsplash