My $40 Weekend In Toronto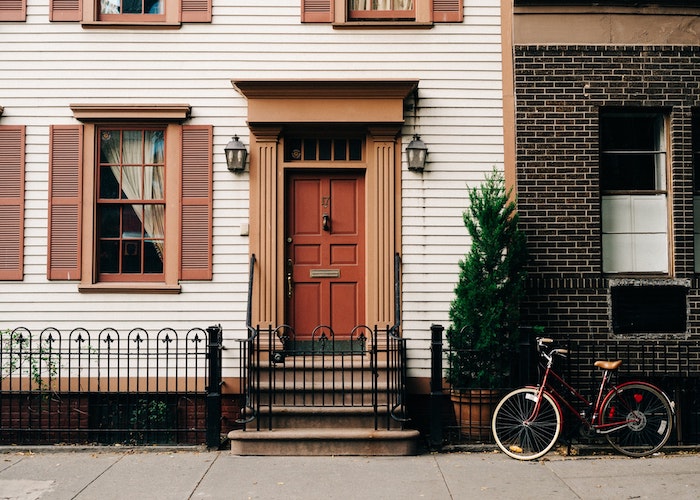 Living in Toronto can get expensive; it's consistently ranked as one of the cities with the highest cost of living in Canada (it came in at #2 this year). 
Between unaffordable housing and pricey food & drinks at bars and restaurants, staying on budget can be difficult. And, as someone who recently moved out on their own for the first time in several years, I've been freshly re-acquainted with this truth. 
So, when TFD sent out a call for this challenge, I knew it was the perfect opportunity to get thrifty again and push myself to cut down on some discretionary spending.
Author's Note: Before this weekend, I had already done a very small grocery shopping, so my fridge and pantry were decently stocked to begin with. Also, I had already paid my rent for the month, which is all-inclusive of utilities, so no major bills came up during this time. Lastly, each day, I vaped my medical cannabis, which genuinely brings me some joy (and relief), and had already been purchased as part of my monthly budget.
Friday
The spending challenge started on Friday, and when allocating my budget for the weekend, I made a deliberate choice to make the first day a no-spend day. That way, I could spend a little more on Saturday and Sunday to make them more fun.
Also, I work from home on a pretty regular Monday-Friday schedule, so I knew that I'd be occupied for most of the day and less tempted to spend on other things. 
One thing that's a big weakness of mine is ordering takeout (it's a millennial cliché, but it's true for me!). When I have a lot of work to do and I'm feeling tired, my instant reflex is to order a really big cup of cold brew from a local Starbucks to keep me going.
So, one thing I've been making a point of — even before this challenge — is to actively combat that urge. (There's nothing wrong with ordering coffee on the regular, but I know that I need to be putting more money towards my bills now, so it's a consideration.)
The way I've done this is by deliberately shopping at a slightly higher-end grocery store (as opposed to the cheapest discount supermarket I used to go to), because I know they sell really good cold brew in big cartons. 
Then, I work that into my grocery budget. It's much cheaper for me to buy two large cartons to have on hand in my fridge (at approx. $4.99 CAD per carton) than to buy Starbucks delivery multiple times during the week, complete with snacks, service charges, delivery fees, and driver tips.
It may seem like a small thing, but I notice it's helped me keep my takeout spending low, and I still get to enjoy the simple pleasure of a really nice cup of coffee.
So, here's my at-home version for Friday AM:
Cold-brew with some oat milk in a reusable cup. 

Cost: $0 on the day of (worked into my weekly grocery budget).
That powered me through the day, and after work, I did my favorite (free) pandemic activity: going for a neighborhood walk. As I mentioned, I recently moved to a new area, so going for a walk around the block is actually pretty novel!
I had a nice sunny stroll, and then I did some of my other fave free activities: meditating and practicing yoga at home (using a YouTube video; shout-out to Yoga With Adriene). I also chatted with my folks on the phone and watched some TV before bed. 
Total Daily Spending: $0
Saturday
For Saturday, I planned on spending a little bit of money here and there. To start, I walked to the bank to run an errand and stopped at a local bakery to get a coffee and snack. It was a lovely treat, and I was able to discover some new neighborhood spots just by walking around.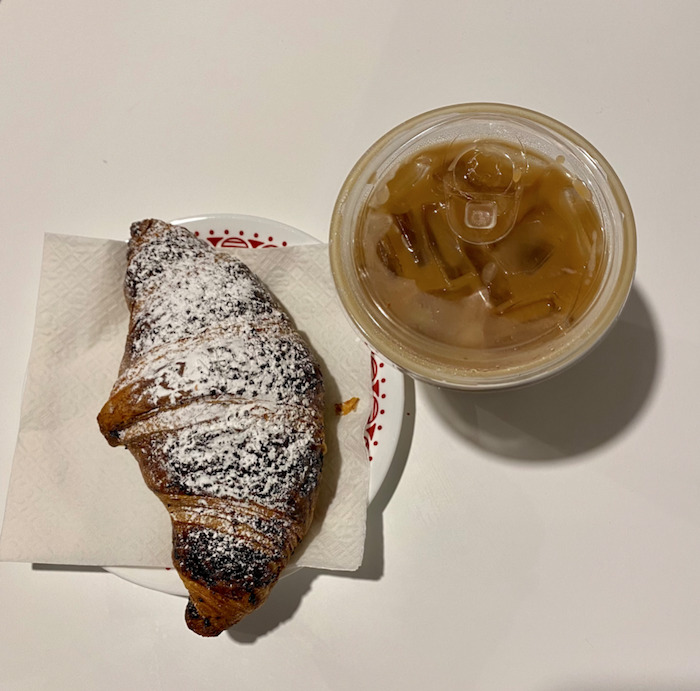 Iced coffee and a croissant. 

Cost: $6.75 CAD total.
I also planned on doing some laundry but decided to leave it for the next day. So, I had a bit of extra money leftover.
To stay occupied without spending money, I watched some beauty videos on YouTube, listened to an Intuitive Eating podcast, and chatted on the phone again. For dinner, I made a point of using up some food in my fridge before it went bad.
Total Daily Spending: $6.75 CAD
Sunday
Sunday is my day for cleaning, and I have a routine of always ordering some breakfast before I get started. It's a fun treat that keeps me motivated to get my chores done. I knew that this would be my biggest cost for the weekend, so I made sure I allocated enough to keep up this habit.
Cold brew, cookie, and breakfast sandwich (not pictured).
Cost (with delivery fees, tip, taxes, etc): $18.98 CAD.
The only other cost I had for the day was doing my (coin) laundry.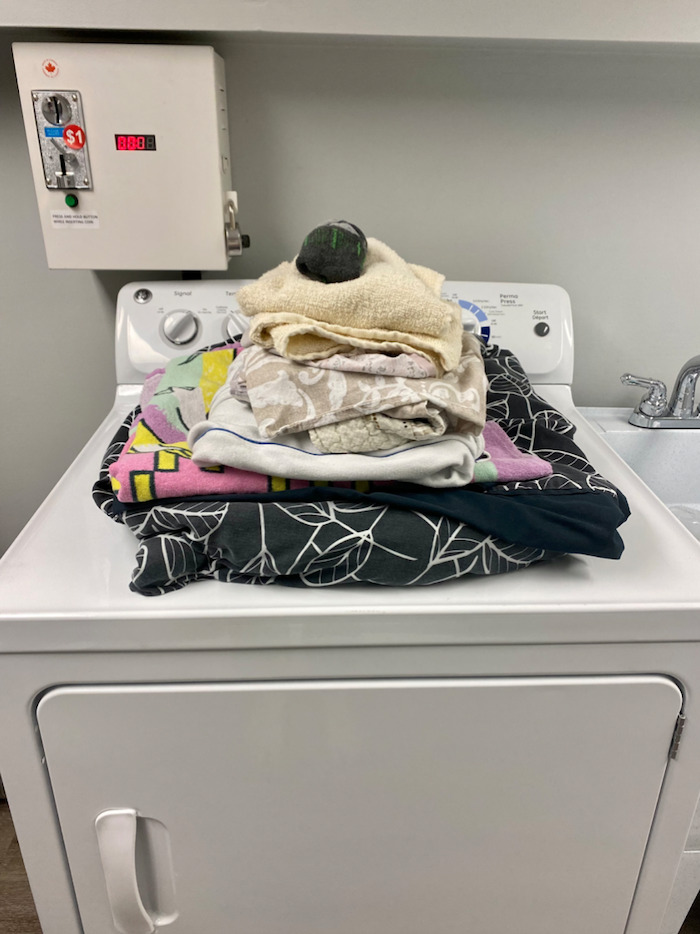 One load of laundry.
Cost: $7 CAD.
Aside from that, I deep-cleaned my apartment, listened to another Intuitive Eating podcast, had a video call with my family, and updated my resume — all free activities. I also spent most of the morning sleeping in and lounging around, which, thankfully, doesn't cost anything, either! 
Total Daily Spending: $25.98 CAD
***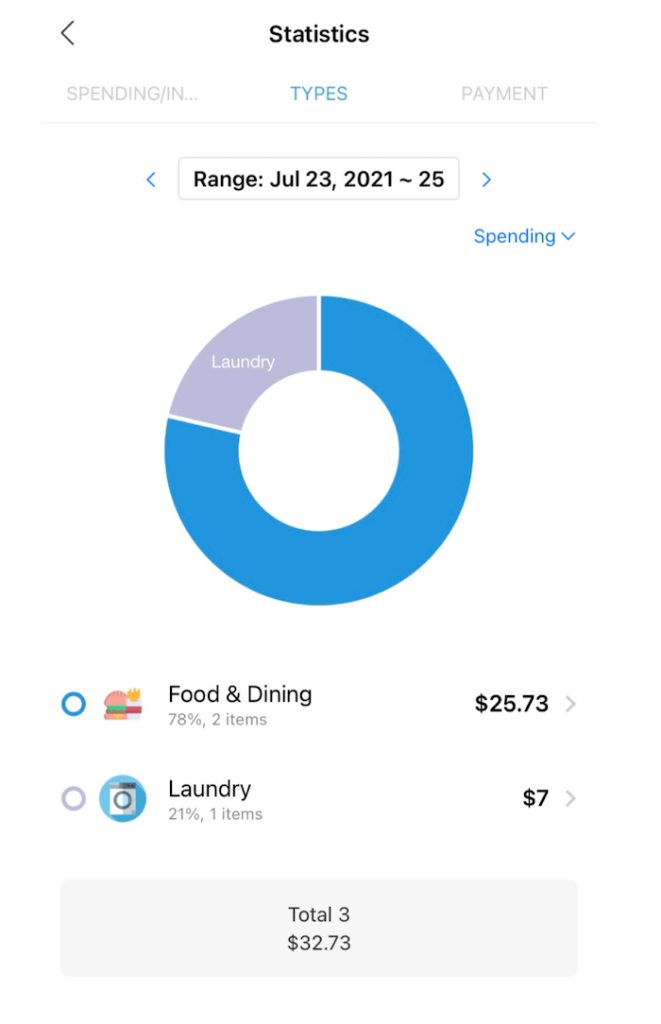 Budget breakdown from the Daily Pocket app:
$25.73 CAD (78%) on Food & Dining.
Total Weekly Spending: $32.73 CAD (under budget!)
As you can see, I'm not much of a home cook. But I also don't really spend much on anything else like clothes, accessories, or shoes. I don't drink alcohol either, which used to take up a lot of my weekend budget. So, the only real treat I allow myself these days is some takeout. 
And I'm still very much getting settled in my new apartment, so this weekend mainly involved walking around my neighborhood and taking care of my place. It was pretty low-key, so it didn't take too much effort to stay on budget. 
Last week was also quite heavy on social engagements, so I didn't really feel the need to have a bunch of plans this weekend. If I did have plans, I probably would have skipped the Sunday morning takeout and spent that money on a patio date instead. And, depending on where I went, I might have needed to budget $6.50 for some bus fare (as I don't drive).
Overall, I enjoyed the practice of challenging myself to spend less — it helped me be more mindful of my "fun" spending. I'd definitely do it again!
Mercedes Killeen is a Toronto-based freelance writer and editor. You can learn more about her work, and order her freelance services, at mercedeskilleen.com.
Image via Unsplash