How One Accidental $4,000 Vacation Made Me Snap Out Of My Spending Habits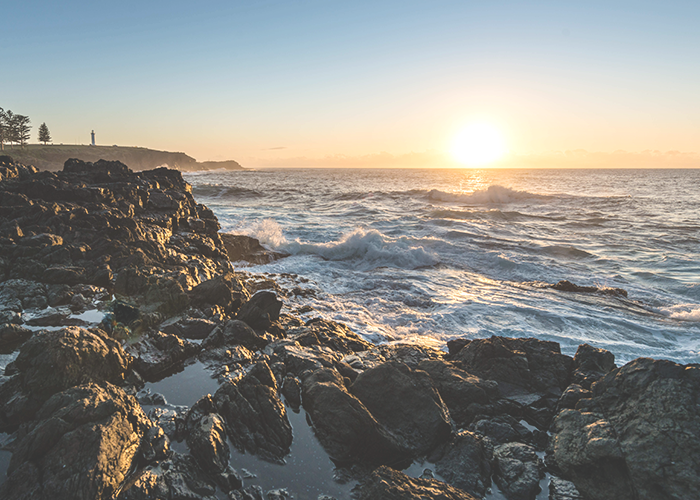 This isn't a sensational story about how we dug ourselves out of $30,000 in debt in three months. If you need to do that…well, I suggest talking with someone with some actual financial skills. No, this is about how our unconscious spending led to a cheap holiday becoming an expensive one. Let me set that scene:
Tired and overworked, the hubby and I booked ourselves a well-earned holiday — 10 days in Far North Queensland, Australia. It was going to be a cheap break, as we booked our flights on points and were staying in our friend's holiday apartment in Port Douglas. But we were super stressed, so we just wanted to focus on fun and relaxation. I take responsibility for the finances in our marriage, and I wasn't in the head space for tracking our cash like I normally was.
Our 10 days in paradise went like this: wake up (late!) and head out for breakfast ($50), participate in some sort of activity — snorkeling, a tour of the rainforest, or taking the cable car ($100) — dinner out at night ($100), and copious amounts of alcoholic beverages ($100). You read that right — an average of $350 per day.
Oh it gets better. We upgraded to gold class options when available, hired a car, and even booked ourselves into another hotel in another town for the night so we didn't have to drive the hour back. By the end we'd spent $4,000 on the holiday. Now we could blame the high cost of tropical North Queensland (which isn't the cheapest destination going around), but this one lands well and truly on us. We had a ready-made cheap escape. We hadn't even budgeted for the holiday properly because we figured we wouldn't spend that much. Yet somehow, when it was all said and done, we came back with a $4,000 credit card debt.
I am normally proud of my financial prowess and how we somehow manage to save for the things we need without making an effort. Turns out I am not a rock star budgeter; we'd just never over spent on our supply.
This holiday differed from every other we have taken. Normally I would do a daily itinerary
, estimate a food and drink budget, pre-pay all our activities and then set off comfortably, knowing that the money set aside would more than cover the break. This time, though, I figured with so many free things, how could anything be that expensive?
That experience gave me a bit of a wakeup call. We were both earning good money, able to travel regularly without saving too hard, enjoying dinners out with friends, breakfasts as a couple, thinking nothing of ordering takeaway on a Thursday night because we were too tired. Hell, the bloody fish and chip shop knew our order! The holiday put us at the tipping point where our savings had been depleted by a constant drip feed of fun and left us with a debt. We hadn't taken notice of our savings because we weren't actively saving.
We are 12 months on from this holiday, and it is fair to say that we have really turned things around. We are typical set-and-forgetters. We don't actively monitor our daily bills and deal hunt. But when we had to right our financial ship, I decided to take a look at everything. Below are just some of our major savers:
1. Cable TV
Hubby is a die-hard sports fan. Therefore for him, cable TV is a must. However, for me, it is not. We cut out the channels that I watch and saved $10 per month. Whilst it is still expensive at $51 per month, any saving is a good saving. This move saved us $120 per year.
2. Phone Plans
My iPhone 6 was still in good working order, so when my contract was up, I switched networks. The result was a cheaper deal, with more data. By switching plans, I saved $360 per year.
3. Netflix
We have been lucky, as my sister had a family account and gave us a login to her Netflix. When she cancelled it, my parents took it up. This isn't a lesson in savings, but maybe an action. Do you have family members you can share a family account with? Or can one of you pay for Netflix and somebody something else? Streaming is cheap. It is even cheaper when you share an account.
4. Spotify
Each of us in our extended family had a premium Spotify account. For only $17 per month, we were able to upgrade to a family account. Now everyone has premium Spotify and it saved us as a family. And bonus for us: my Dad pays the bill.
5. Food
I get it. Multiple stops on the weekly shop are annoying. They are time consuming. But they also save. We started doing it because, as we became more budget conscious, we noticed how our food bills were creeping up. We were shopping at the local supermarket each Sunday, grabbing what we needed for a week. An average cost was $125 for two people for the week –- and hubby doesn't even bring his own lunch! If we needed cleaning products or washing powder, we were spending $150 for the week. It seemed excessive.
We now visit the butcher for meat, a wholesaler for our fruit and veggies, Aldi for our staples, and the dollar store for cleaning supplies. If we still don't have what we need, we visit the supermarket. We now spend an average of $100 per week. It might not be much, and sure it takes a bit longer, but it saves us $25 a week, which is about $1300 per year.
6. Reigning in the fun
Prior to starting budgeting, we knew we needed to change our ways if we ever wanted to save money. But we also didn't want to sit at home watching Netflix and eating ramen noodles every night, so it really was a matter of becoming more mindful of how we were spending our money. Prior to implementing our austerity measures, we would think nothing of having takeaway on Friday and Saturday nights, eating breakfast out Saturday and Sunday and saying yes to every group activity that came our way.
We still have takeaway, we still go out to cafes, and we definitely still head out with our friends. But a general rule is no more than one takeaway meal each week and one café visit per week. We could do better, and some weekends we do, but it isn't something we beat ourselves up over.
7. Building a budget
Prior to our holiday budget crisis, we had just a rough budget — an excel spreadsheet that I was constantly updating and trying to figure out where our money was going. So we did what all young people do and went digital. We discovered Pocketbook, an app that links all your bank accounts together and tracks your spending. After a few weeks of tracking spending, we love the daily notifications of what we've spent and that it pushes you to meet savings quotas and alerts you to upcoming bills. We can now see all our money in one place, how much money is being spent on what and, if necessary, reign it in.
When it all started to crash down a year ago there was $4,000 debt from the holiday, around another $2,500 debt on the credit cards and a couple of grand in savings. We now have zero credit card debt and close to $8,000 in the bank. We aren't going to meet our original goal of saving $20,000, in a year but we will be thrilled if we end the year with $12,000 in the bank. We've learned that accruing actual savings is a definite possibility if we just take the time to budget consciously.
By day, Sarah is a mild-mannered marketer from Melbourne, Australia. By night she enjoys long walks in the park with her puppy Bessie and bad TV with her husband Ben.
Image via Unsplash