The Problem With Everyone's Problem With Rory Gilmore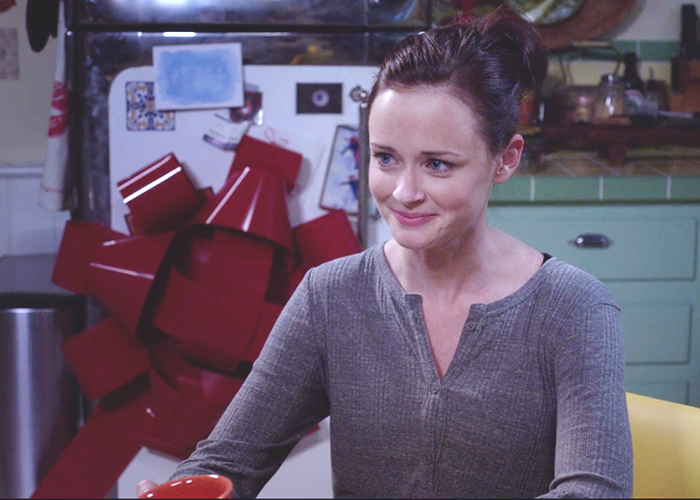 I am a die-hard Gilmore Girls fan. I watched the original series religiously when it was still airing; I tuned in with my mom when I was in high school, and when I went off to college, I watched new episodes on my computer in my dorm. I didn't have cable on campus, but I was part of a LiveJournal community that would find links to new episodes shortly after they aired. I owned all of the boxed DVD sets and would binge them on summer breaks, while eating the necessary pop tarts, and drinking the required coffee.
I've always felt connected to Rory, in part because I have lived my life parallel to hers. I graduated high school when she did, attended college within the same years that she studied, and felt all of the same emotions along the way. I watched Season 7 during the second semester of my senior year, as I catapulted towards graduation. When Rory had that emotional meltdown in the bathroom with Lucy and Olivia, crying about the big abyss that awaited her after graduation, I cried too, because I knew exactly how she felt.
Needless to say, the Netflix reboot was appointment television for me. Not just because I'm a writer and I was assigned to binge watch it the second it came out, but because I had been waiting, like so many of you, to reconnect with the Gilmore Girls for the past decade. And while the revival had its faults, as all revivals do, it was endlessly satisfying and nostalgic for all the right reasons.
In the days since Gilmore Girls: A Year in the Life dropped, I've been seeing more and more think-pieces written about Rory, and many of them are harsh critiques. I've read stories with headlines like "Rory Gilmore Is A Monster," or "Definitive Proof That Rory Gilmore Peaked In High School." And while there's certainly validity to the complaints about Rory's behavior in the revival — many critics feel that she's endlessly selfish, narrow-minded, and "amoral" — I find it almost ironic that all the backlash to this character is happening now, even though Rory has always been this way.
The reboot was, in a way, a rehashing of the very conflicts that plagued Rory in Seasons 5 – 7. It makes sense, considering that the show's creator Amy Sherman-Palladino was not involved in the final season of the original run and wanted a chance to end the story the way she always intended. The final act of the original series saw Rory make impulsive decisions (like when she stole a yacht), struggle with her path (when she dropped out of Yale), stray from "traditional" morals (that whole affair with Dean), and grapple with what true independence feels like. Season 7 ends with Rory turning down a proposal from Logan, despite the fact that he offered her comfort, security, and a freakin' avocado tree.
The Netflix revival had Rory doing all of these same things, yet in the realm of adulthood. Her impulsive behavior is still there — perhaps she wasn't stealing yachts, but she's showing up to journalism job interviews without pitches or questions, bouncing back and forth from the States to London, and having one-night stands with guys in Star Wars costumes. She continues to struggle with her path, trying to find her true calling as a writer. And just as Season 7 ended with Rory finding her way to the Obama campaign, the reboot ended with Rory finding her way to the story she was actually meant to write all this time.
Furthermore, the arc of Rory and Logan's relationship was a deep parallel to the original series. Just as she rejected his offer of security at age 22, she did the same thing at 32, by saying no to his suggestion of letting her write at his house. It was the 2016 version of the avocado tree: Rory, once again, decided that she wanted to choose independence over something safe.
It's important to note that none of these things make Rory a bad person, as some of the harsher articles have suggested. They just continue to make her relatable (with the caveat that most of us aren't routinely flying back-and-forth to London, of course). None of us, the real writers of the Internet, are really in a place to judge the fictional Rory Gilmore. I'd be lying if I said I never questioned my career, made impulsive choices, acted selfishly, stayed involved with an ex much longer than I should, or wondered what my future really had in store. And I'm willing to bet that others have done the same.
Perhaps the truth of the matter is that Rory's 32-year-old self struck a nerve with so many young adults because we don't want to admit that this is reality. We don't want to admit that 30-somethings might still struggle with the future, because we're "supposed" to have figured it all out by the time we hit that magic number. It's terrifying, in a way, to be confronted with the fact that Rory is emotionally in the same place that she was when she graduated from college. It's a depressing thought to imagine that we may not grow as much as we think we will.
However, Rory isn't entirely hopeless, and this is essential to remember. That horrific abyss she was afraid of in 2007 turned out to be a path towards independence. In the reboot, Rory learned — thanks once again to Jess — that she may have to carve her own future. She doesn't end up getting hired at Condé Nast or Sandee Says, but rather, she writes a memoir; she takes matters into her own hands. She decides to be a #ladyboss, and maybe she doesn't do it in a way that we all might agree with, but there's something to be said for her determination and drive. Rory learns, as we all must learn, that sometimes we have to take deliberate steps to create our own futures. That sometimes the future doesn't look like a job offer, or a proposal, or a wedding. Sometimes, the future — that big terrible abyss — is something we craft from the thread of an idea. Rory showed this to us ten years ago, and she showed it again to us now. It's up to us to decide whether we respond with snark, or choose to be inspired.
De is a New Yorker turned Bostonian and lover of all things theatrical. She'll never turn down a cup of gingerbread coffee, and she's the owner of the fluffiest cat imaginable. De is on Twitter and Instagram.
Image via Netflix