The $3 Treasure Hunt: Hosting A Halloween Party For Less Than $3 Per Person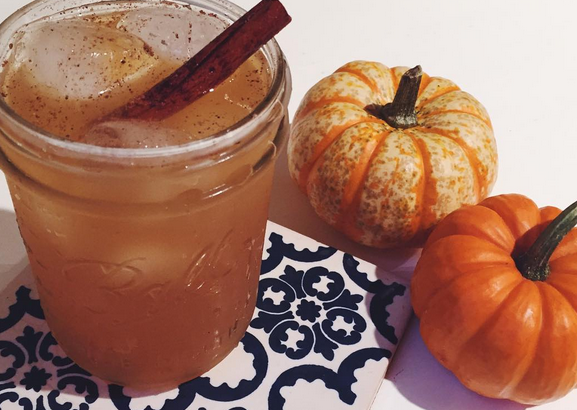 For the 13th week of the $3 treasure hunt, we thought it would be fun to plan a party while sticking to a budget of $3/person. Fall and winter are prime party planning territory, between celebrating the fall season, hosting a Halloween gathering, a Friendsgiving, a holiday party, and maybe even a NYE throw down. So, it's important to be cutting costs wherever you can. If you're going to try to tackle any or all of these holiday gatherings, don't feel like you need to do everything yourself. I love decorating, and cooking, and so do a few of my friends, so asking people to come help you isn't out of the question. Furthermore, you shouldn't incur all these costs yourself, and should instead encourage guests to bring something, and not feel like you're burdening them by providing some specificity.
For this ~spooky gathering~, I planned for 20 people, which meant keeping the cost under $60. I calculated based on prices at Safeway, Party City, and CVS. Obviously, for your own needs, there are several ways to tailor these prices, buys, and recipes. For example, there are tiny, adorable pumpkins on sale at Trader Joe's for $1.50. I assumed most people have their pumpkin necessities taken care of (mainly because I do, even though it's not fall where I live), but if not, you could eliminate a few Halloween decorations in favor of buying a pumpkin or two. If you buy a big one, don't forget to scoop out the seeds and toast them. I planned for hearty dips, with a scary or fall flair, but if you wanted to have a more food-heavy gathering, you could forgo the cocktail, and rely entirely on other people to bring beverages.
Possibilities abound, but here's a basic outline of how I would plan a Halloween party for under $3/person. I spent approximately one third of my budget on food, one third on decor, and one third on booze.
Decor: $17.96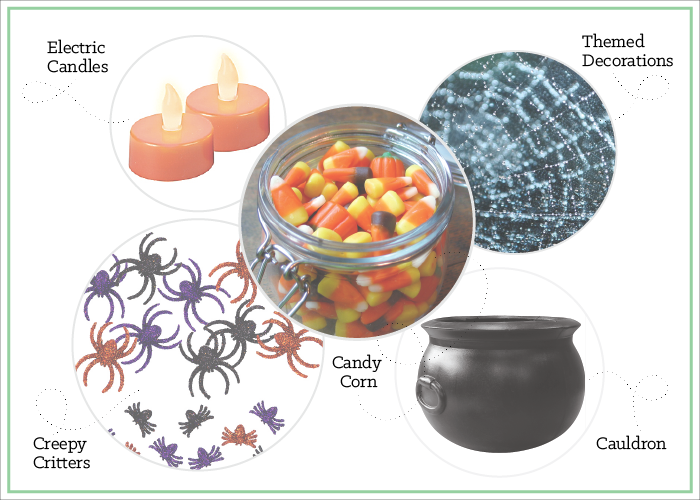 (All based on Party City prices)
50 mini black spiders — 99 cents
50 tea candles (bulk pack) — $4
Small black cauldron — $3.99
White stretch spider web — $6.99
40 Halloween goody bags — $1.99
Setup: Drape the white stretch spider web around your door, and between the legs of the table you're serving food on. Attach several spiders to the webbing, and feel free to fill any bland parts of your entryway, or living room with the webbed gauze, because you'll have plenty.
For your table, intersperse tea candles, and black spiders on the surface of the table, creating a ~spooky vibe~, and dim the lights.
Pack 20 goody bags full of candy corn (ask one of your close friends to bring candy corn, disposable plates, and disposable cups — about $8 total — instead of booze, and come early to help you stuff the bags). Then put the filled candy bags in the small cauldron, and position it on your serving table.
Food: $18.54
If you're starting after 8 PM, I think you can do well serving light snacks, and one main, festive, liquor-based drink. Then, ask everyone to bring a bottle of wine, or a six-pack of beer, or cider.
Shopping list:
(Based on Safeway prices)
4 boneless, skinless chicken breasts — $3.99
1 small pkg of light cream cheese (or greek yogurt) — $1.59
Frank's Red Hot sauce — $2.68
Celery — 92 cents
Baby carrots — $1.69
Tortilla Chips — $2.98
Salsa — $2.39
Three avocados — $3.99
Menu:
1. Buffalo chicken dip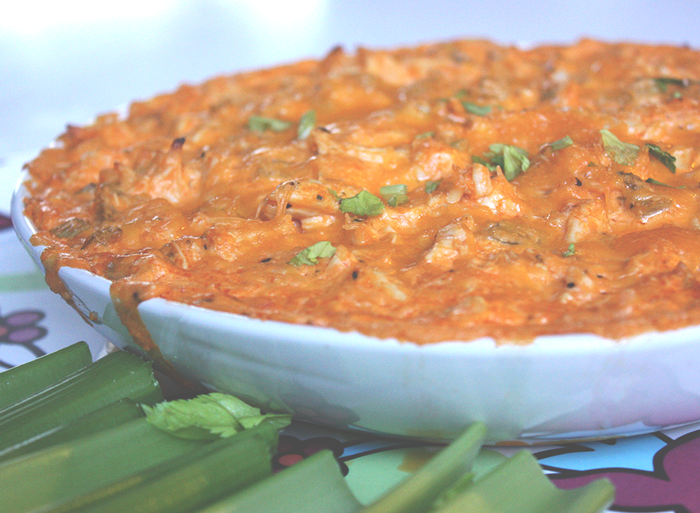 Image via Flickr
2. Guacamole and salsa
3. Chips, celery, carrots
You'll need three bowls (buffalo chicken dip, guacamole and salsa) and two plates (one for chips and one for celery sticks and carrots).
To make the dip: Cook and shred the chicken breasts — using just salt and pepper as seasoning. Put in a pot, and combine with 2/3 of the cream cheese pack, or all of the small greek yogurt, two chopped celery sticks, and about half a cup of Frank's red hot. Stir until consistent. Transfer into a baking dish, and top with cheese. Bake at 350 degrees for seven to 10 minutes.
For the guacamole, to cut down on shopping costs, make "lazy man's guac" — mash the three avocados, and about 4 tbsps of salsa, and season to taste. It will fool almost anyone, though I apologize to the guac purists out there.
The idea is to use vibrantly Halloween-y looking foods for your table (hence the orange and bright green dips). Once you set out the remaining salsa, you have all your creepy-colored food bases covered.
Signature cocktail: Fall smash ($16.98)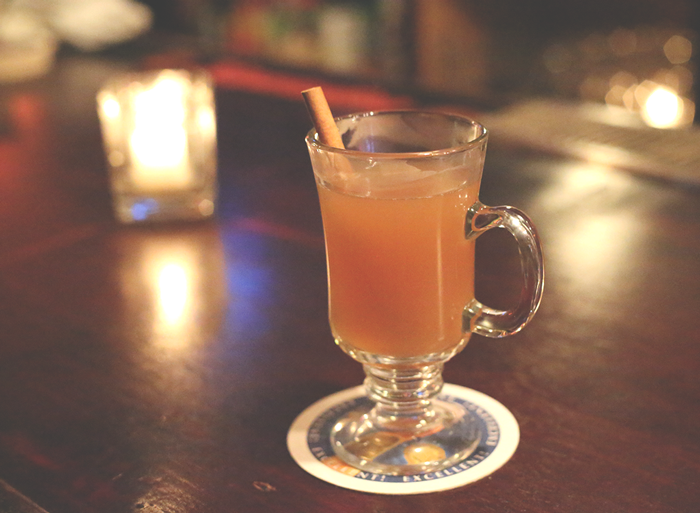 Image via Flickr
One gallon of cider — $2.99
Jim Beam (750 mL) — $13.99
(Based on CVS prices — for those of you who don't live in a state that allows pharmacies to sell alcohol, it will be $15.99 at most.)
Put your crock pot on low, and start with half the gallon of cider. If you have cinnamon, nutmeg, or vanilla, add a small splash of each. If not, just warming the cider will make your house smell impressively fall-like. Set disposable cups next to the crock pot, and a laddle down next to the pot — you don't want melted plastic in your drink. I like to put out a smaller bottle of alcohol (like the fifth), so that I give the appearance of letting people mix their own drinks, while still only providing enough alcohol for everyone to have one or two cocktails.
Images via Unsplash
Total: $53.48 ($2.67/person)