The 5 Basic Skincare Products I'm Prioritizing On A Tight Budget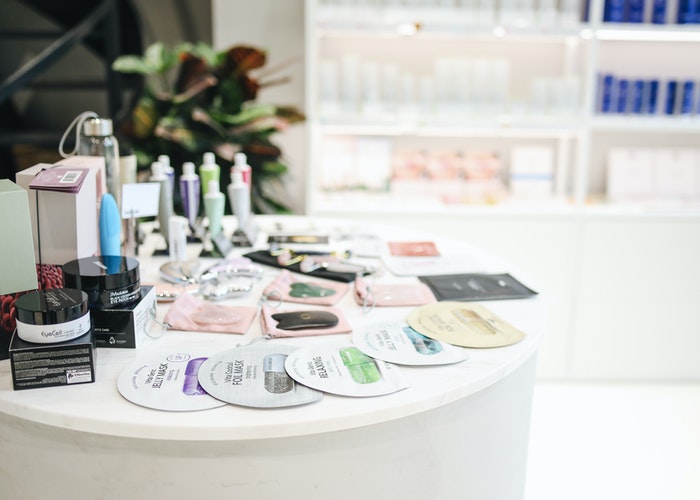 With the ongoing health crisis, it's difficult to justify any kind of non-essential spending. Is it worth it? Is this necessary? Am I being selfish? These are questions I've been asking myself about everything, and now that all of our financial futures are especially shaky, skincare is a luxury I can't afford to indulge the same way I did before the crisis.
My usual skincare products have run out, and I just don't feel comfortable forking over that same amount of money to repurchase those items. After doing some research and reflecting on the products that benefit my skin the most, I made a  list of bare-bones skincare items. My goal was to invest in what I considered to be essential products. The outcome of my research? I learned that effective skincare doesn't have to cost a fortune. I learned that being a brand junkie doesn't always pay off. In fact, most of the products below are easy to find at local drug stores, making them easy to restock. These are the products I've prioritized in my skincare routine now that money is tight.
A Simple, Affordable Facial Cleanser
My research on facial cleansers had me perplexed about the real use of the product itself, which is simply to clean your face. I'm no dermatologist, nor am I an esthetician or skin specialist, but I wonder if all the extra active ingredients in so many luxury daily cleansers offer any benefit. 
Truthfully, I don't think many of us spend very much time cleansing our skin for the recommended 60 seconds (maybe that's just me?), so I figure that a basic cleanser with good moisturizing properties would be most beneficial for most of us. I've enjoyed using CeraVe's Hydrating Facial Cleanser ($10.99/12oz.). The large bottles last months, and I use one pump twice a day. I find it to be gentle and moisturizing, playing well with my oily and sensitive face. If there's one thing in my routine I have to do twice a day, it's definitely cleansing. 
Toner 
I've been using a toner in my skincare routine since forever. I find that it offers another layer of cleansing, ensuring that any dirt left from my cleanser would be removed. I discovered Dickinson's Witch Hazel ($4.69/16oz) years ago and I've never looked back. 
Technically, you could probably find witch hazel in the first aid aisle for as little as $1.99 and roll with that. Just recently, I've added a night-time toner, E.L.F.'s SuperTone toner ($8/5.1oz) with alpha hydroxy acid. I read about the benefits of regular exfoliation (increasing cell turnover, etc.) and the pros and cons between a physical and chemical exfoliant. I decided that incorporating a chemical exfoliant would be more gentle on my sensitive skin than a physical scrub would, and E.L.F.'s SuperTone toner is actually a gentle exfoliating toner compared to others currently on the market. I'll use my witch hazel in the daytime and the Supertone in the evenings, lightly saturating my cotton pads and gently smoothing it over my cleansed skin. 
A Basic Eye Cream
Now that I'm officially categorized to be in my late 20's (Hello, 27), I can't skip the eye cream. I've long read about the importance of incorporating this into one's routine, so truthfully it's something that's been embedded in my mind since I began researching skincare at 16. I snagged Burt's Bees Sensitive Eye Cream at a sale price of $9.99 and I really can't complain.
I can't say I've noticed a tremendous difference in the appearance of any lines or in the moisturization of that area since I'm mostly using this as a preventative step. The area around the eye is delicate, so not all moisturizing products are suitable for the area. And fine lines are much easier to prevent than they are to treat, so I've been diligent about eye cream. At ten bucks, I think it's worth the purchase. 
A Versatile Moisturizer
For moisturizer, I've been enjoying CeraVe Daily Moisturizing Lotion ($9.99/8oz). It's a great, gentle moisturizer, even for my oily skin. It's lightweight and sensitive skin-friendly — even my husband's eczema-prone skin loves it. I use it after my eye cream to round out all my previous steps in the day and at night before bed. It's a great multi-purpose moisturizer and I'll often use this all year round since the bottle will usually last a while. It's important to moisturize the skin regardless of your skin type, especially after cleansing and treating it with a chemical exfoliant. If I feel like my skin needs an additional layer of moisture, I'll layer on a facial oil to help with moisturization and sealing in my facial lotion. I always keep a 4 oz. bottle of argan or jojoba oil in my skincare stash. At about $12 per 4 oz. bottle, it's quite the value. I'll apply four or five drops into my palms first, warming them up between my hands and then gently pat it onto my face, neck, and decolletage. Any oil left on my palms is applied to the ends of my hair and the back of my hands or my elbows. 
Sunscreen Is Always A Must
I've used great sunscreens in the past and the good ones are seriously hard to find. Trying to discover a product that doesn't leave a white cast on my skin is difficult, and while I've given them a try by allowing them to absorb, I realize I won't have that time every morning to let it marinade. I've searched around and found Alba Botanica's Hawaiian Sunscreen SPF 45 at my local TJ Maxx for around $6. It's reef-friendly and doesn't leave my skin with that thick, white cast. I apply this just a few minutes after my moisturizer and right around 15 minutes before I leave for work, as recommended. It doesn't leave me petrified of walking into work with a sunscreen mask over my face. The sun is the biggest contributor to premature skin aging, wrinkles, sun spots, and essentially everything you'd want your skin not to be or have. Use your sunscreen, folks, and apply often. Your skin will thank you years later. 
This is obviously not an end-all, be-all list of categories or items. You can add items you love or subtract items that don't work for you. Facial masks would also be fun and provide a spa-like experience. It's hard to choose what items are worth the money, even if some items aren't super expensive… Serums, masks, and other special treatments are a great addition, but when my financials are in a bind, I try to stick to the basics: cleanse, moisturize, and protect. 
Financial turmoil can take a toll on anyone's mental well-being. It's important to remember that there are certain circumstances we can't control. And I believe that prioritizing self-care is important, especially in those stressful times. A routine provides normalcy; it creates a grounding experience when the world feels out of whack. My skincare routine preps me for the day and helps me to unwind in the evenings. I always make time for a few steps, even if it means only a face wash followed by lotion. It gives me a sense of consistency in my day. Creating this skincare experience is therapeutic for me, so it was important to find affordable and effective products to keep up with this routine.
 
Sometimes all it really takes is setting aside a little bit of time to perform each step with care and intent. You also don't need to spend a fortune on things like a good serum or an effective night cream. Caring for your skin with a few decent products and a little bit of time might be easier than you'd think. 
Jennifer is a registered pharmacy technician and freelance writer. She loves hiking, cooking, and watching true crime shows. 
Image via Pexels
Like this story? Follow The Financial Diet on Facebook, Instagram, and Twitter for daily tips and inspiration, and sign up for our email newsletter here.