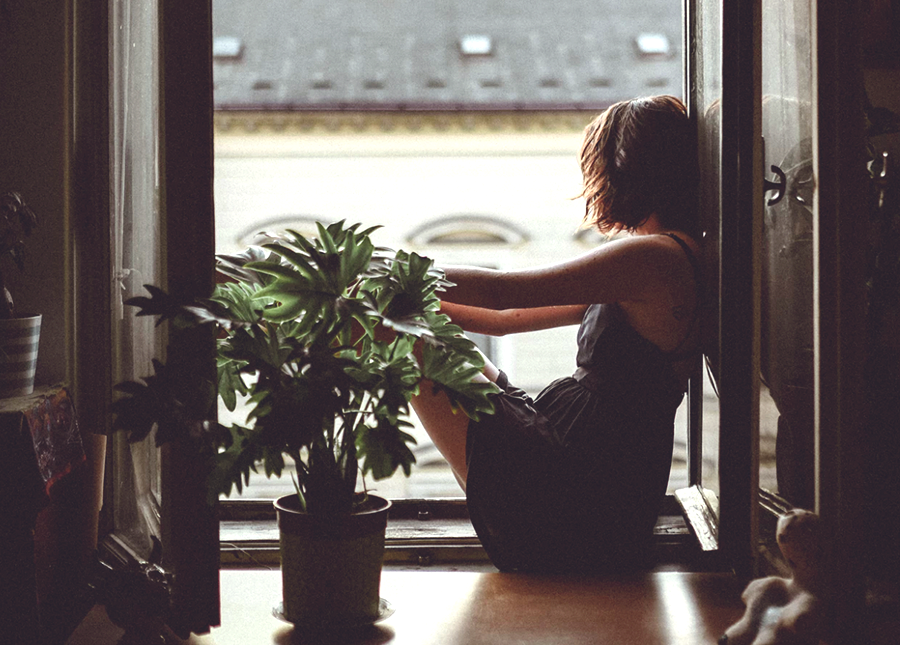 During my sophomore year of college, my roommate and I decided we were so over dorm life and wanted to move into an apartment. We had a rocky freshman year and thought moving off-campus was the solution to all our problems. The only issue was that I didn't have a job. I did, however, have some money left over from the loan I took out to study abroad the following fall. I thought I could use it to move into the apartment, get a job, and everything would work out perfectly. I was, as you have probably guessed, very wrong.
Here's what actually happened: My roommate and I found an apartment we could afford. Rent was around $750. I was in my last interview for a job at a restaurant, which I thought I'd totally land, even though I had no work experience aside from babysitting in high school. The apartment complex wouldn't rent the apartment to us alone because we didn't have any rental history, so we needed a co-signer. My parents refused to co-sign for us, which I resented at the time. (I thought they were being mean for not helping me out, but in retrospect, I would have done the same thing.) Thankfully, my roommate's step-mom agreed to co-sign the lease, and we were in!
We paid all the move-in fees, purchased a washer and dryer for $150 off Craigslist, rented a moving truck that cost around $100, and recruited a few friends to help us move all our stuff into the new place. We paid all the deposits to turn on utilities, which are fees that no one tells you about before you get an apartment for the first time.
The next day, I got a call that I didn't get the job at the restaurant. I began to panic. I had been interviewing for the job for a few weeks and it began to set in that I may not have a job I needed to pay rent by next month. A few days later, my roommate noticed how anxious I was. I was crying, depressed, and at a loss for what to do. I knew we had made a huge mistake and were completely in over our heads. We realized we needed out. We needed to break our lease. If we didn't, there was good chance we wouldn't be able to make our rent, get behind, ruin the credit score we didn't even have yet, and potentially get evicted.
There are few moments in my life I can think of that were more embarrassing than showing up to a leasing office a few days after signing a lease asking to break it. It was hard to come up with any excuse as to why we would be asking to get out of our lease that wasn't "we made a dumb decision." I can't remember what we said. I just know we paid for our mistake. Literally. To get out of our week-long lease, we had to pay two months' rent and an extra fee for something I can't even remember. I had no idea how I was going to pay to get out.
My grandma had given me $1,000 the year before as a high school graduation gift that she put into a Certificate of Deposit (CD). A CD is a savings account that has a fixed interest rate and fixed date of withdrawal, known as the maturity date. The maturity date for mine was three years. That $1,000 was the only savings I had at the time. I had blown through most of my life savings paying for my tuition freshman year, used most of what was left of my loan to move into the apartment, and I had no income coming in. I was in the worst financial place I have ever been in my life.  
In an act of desperation, I called my bank to see if I could take out my CD early. It was the only money to my name and the only way to be free of the lease. I was able to take it out with the small fee of around $20. I used that and the rest of the money I had in my bank account to pay our way out of our lease, and it ended up costing me $4,000 in total. I didn't tell a single person that I did this. My mom asked about the CD a few years later, and I finally confessed I had spent it. I still have never told my grandma. She gave me that money to use to begin investing, and I blew it within a year of receiving it.
Some of the money I ended up having to use was the remainder of my balance for my study abroad program. I wasn't able to make the last payment for the trip, and I never ended up studying abroad during college. To this day, I am paying back a loan for a trip I never went on.
To say this was the worst financial decision of my life is an understatement, but I learned many huge lessons. I moved back in with my parents until I had a steady job, because you should obviously never sign your name to a lease without first having an income. The house I rented after finally moving out of my parents' home was ⅓ of my salary, as instructed by finance experts. I live within my means now, and after losing close to $4,000 in one week, I will never make such a misguided mistake again.
Image via Unsplash