The Financial Confessions: "I Don't Want A Wedding, & It's Hurting My Relationship"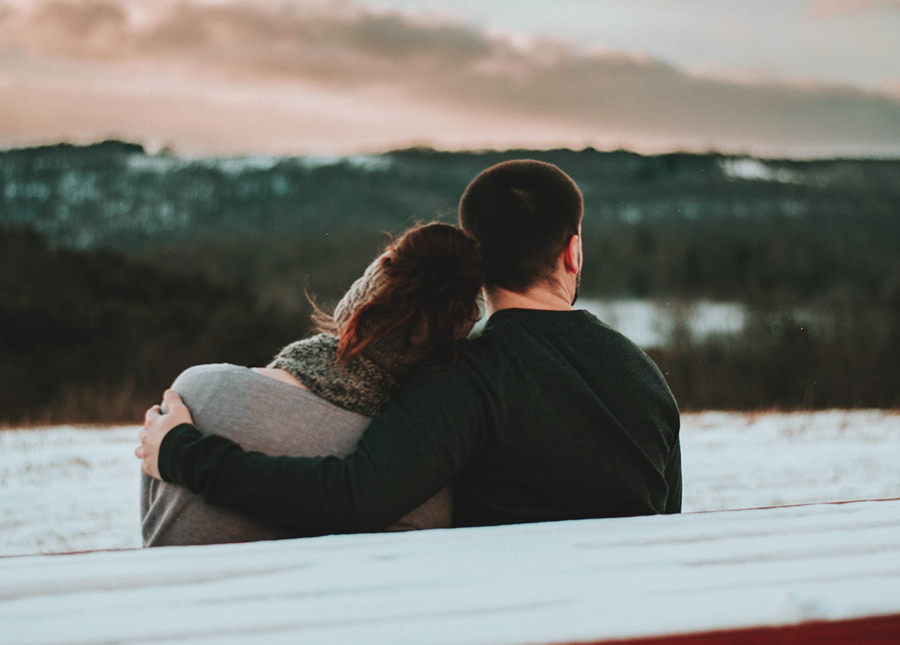 A few months ago, my long-time boyfriend rolled over in bed on a Saturday, turned my palm over in his hand, and asked me for my ring size. I told my best friend what happened, and she said, "Well, once he asks you that, you're basically engaged. It's okay to start thinking about a wedding."
I did start thinking about it. We started talking about it, too, in a much more intentional way than little comments in the car ride home from friend's ceremonies. "I loved those favors." "The music was good." "I wish they had real cake instead of cobbler." Those comments were replaced with, "How much are we willing to spend on this? How many people should we invite? How are we going to navigate your family being in another country and half of mine being too ill to travel anywhere?"
Through these conversations, we came to realize that weddings are not all joy. They are really f***ing complicated. And expensive. With every passing conversation, our dreams seemed to be farther from each other. And my dreams are much different than what the world expects of me.
When I think of my friends each spending hundreds of dollars to stand next to me in coordinated dresses, I cannot imagine a bigger waste of money. The typical price tag of a venue alone is enough for several vacations to amazing places. A dress is the cost of one month's rent, never mind the inevitable alterations, because it is the most important day, it is my day, and everything must be perfect.
He doesn't understand where I'm coming from. "It will be the most special night of our lives," he says, and I hate that he's using a trope. Doesn't he realize that we can create more special nights with the money we would save by not having a big wedding?
My heart is breaking because our relationship was easy, loving, and uncomplicated before we started thinking of getting married. We've had a joint bank account for two years. Lived together for one. He is still the person I roll into at night because I miss him, the man I trust to tell me if those jeans look good or if I'm being too sensitive about that email from my manager. I look forward to seeing him, every single day. We are more than two people who love each other. We are partners who make really good decisions together and built a life we dreamed about. Since we met, our attitude has been that we wanted to make sure everything worked before making it official. This year, we realized it was going to work forever. So why is choosing how to celebrate that so hard?
I am hung up on the money and the attention. I despise the polarizing space that is a wedding – a bride is either a glowing vision of perfection, or she is the woman who selfishly elopes, hurting and excluding loved ones. When I envision upwards of 50 people staring at me as I say the most private, intimate words I will ever say, my stomach turns.
I will openly admit that I want to elope. I want me, him, words that we write ourselves, and a piece of paper that makes the promise real. I love the idea of an elopement ceremony at a little inn in a gorgeous location, one of those where you pay a package price for two nights, champagne, a 6-inch cake and a person who can legally marry you. I would wear a white dress, but eloping would give me the freedom to wear something I am not afraid of being judged in. Lace. Loose. Something I could wear again and cost less than $200.
We could disappear for a weekend and say the things we feel the most deeply, lay in a bed that is not ours, relish in the fact that we will return to our home and a savings account we did not drain. This is my dream.
His mother would be furious. My parents would be proud. Grandma would be heartbroken. My friends? Probably sad that they missed it, but secretly overjoyed that they didn't have to break the bank for my day.
I have told him all of this, of course, because my god we shouldn't be getting married if I can't say the truth. But it has caused a rift in our relationship, because he dreams of all his family and friends, music, endless alcohol, a party to celebrate our love. I want to keep our love in a small chest, close to our hearts, spelled out in an affordable ceremony for us and us alone. I feel selfish. He feels frustrated. I don't have a ring yet, and I am devastated that my stance on weddings is hurting him. How is it that an event about love has already turned into an event that has made us less loving?
I don't have any sort of conclusion to this story. I'm still living it, existing in a strange limbo where I want the marriage, he wants the marriage, we basically have the marriage, yet we cannot figure out how to celebrate that news. I made the wild suggestion of never actually doing it and avoiding the problem of a ceremony. After all, we were happy before we started talking about rings. His response: "What if I want to bring you to that next level?"
Now tell me, what am I supposed to say to that?
Image via Unsplash