The Financial Confessions: "I'm Financially Independent, But I'm Drowning Because Of It"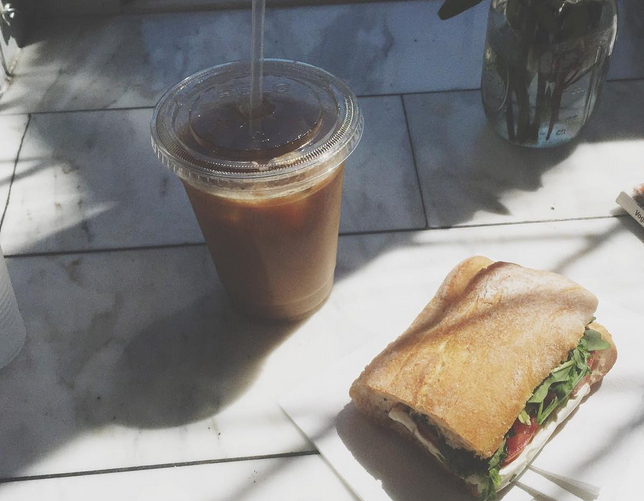 I am completely financially independent from my parents. I pay for health insurance through my job, own my car and pay the monthly insurance, and have my own phone bill. But this is the story of my bleak 20-something financials and the reality of living in an area with a too-high cost of living.
My college education was paid for by my parents so I could avoid loans (something I didn't understand at the time, but god bless them). Their budget was not limitless and for this reason, my decision came down to a local state school or a small liberal arts college offering me a sizable scholarship, and off I went to the liberal arts college. Beyond tuition payments, I was responsible for all other expenses during the school year, including everything from books and travel to unpaid internships, to my monthly phone bill and alcohol. I worked during the summer months as a waitress, and back on campus, I worked in admissions and at the IT desk. When I graduated, I had depleted my bank accounts and was essentially starting from scratch.
When my final semester came and went without me finding a pots-grad job, I moved back to the suburbs of my small state, applying anywhere and everywhere to positions that I didn't even think I wanted, out of desperation to be employed and back on my feet. Finally, I got an interview at a place about three and a half hours from my parents' house in the metro New York area. And then a second interview. It was a position for fundraising at an international nonprofit and it actually fit my career aspirations. Though it felt like a century at the time, I found a job within four months of graduation. When I agreed to my salary, $32,000, it seemed like so much money.
Relocating wasn't an issue – my friend had gone to school in the area and was looking for a roommate. I got the job just in time to move in with her and a third girl in an off-season rental a few blocks from the beach, paying $530 a month plus utilities. While the price was right, this rental was over an hour away from my job in good traffic. I quickly got familiar with the cost of living in the metro New York area and the astronomical cost of my commute. I began struggling to budget a bimonthly paycheck, was filling my gas tank multiple times a week, and was a 22-year-old wanting to keep up with my new friends on the weekends.
When that lease was up, I decided to stop with the crazy commuting and move to a location that made better sense for me. I found a basement apartment for $800 in Stamford, CT. It was around this time that I got my raise at work and my end of year "bonus" (bonus in quotes because keep in mind I work at a nonprofit). My salary was now $39,000. Since I was no longer spending hours of my day commuting, I decided to get a second job and begin to build my savings account back up. I worked as a waitress for four months before the owner asked me to leave in favor of someone who was available to work full time. Those were long days, but they were also the only four months I have still ever been in the green for income vs. expenses since graduating college.
Living in that basement was completely unbearable. The owners trusted no one, had no boundaries, and broke a million landlord rules. I felt it was my fault because it was all I could afford and it was constant stress to not feel at ease in my own space. So I decided to move again. That's right – my third move in a year. As you can probably guess, all these security deposits weren't helping my situation. I found a room available in a three-bedroom apartment down the street, in a "real" complex that I believed would be worth the peace of mind. The damage would be $950 a month plus utilities, or a whopping 48% of my monthly take-home income. A big financial no-no and something I wouldn't wish even on my worst enemy, it was the unavoidable reality of living and working where the cost of living is 22% higher than the national average.
From there, it's been a slippery downhill slope. Job responsibilities and an irregular events schedule don't permit me to get another job. I tried freelancing work and do weekend gigs as a brand ambassador. It doesn't help my self-esteem that all my friends are doing well for themselves in different towns across the country, and everyone I meet in Stamford is making a more-than-adequate living at their various jobs. Frustrated that no matter what I do, I wouldn't be able to stick to a realistic budget, I allow myself to continue to live my life and pretend that I can afford to do what my friends can. I understand money, but don't make or have enough of it to put what I know to work and improve my situation.
It seems so many people carry some level of credit card debt and it helped me justify to myself the small amount I was starting to accumulate. Here I am, almost a year later, and in about $4,500 in credit card debt. So I am financially independent, but I use a credit card as my crutch and my parents have no idea. I am suffering under the constant weight of my financial stress and the stress I put on myself with the expectations that I should be doing better at my age. This is not how I imagined life at 24 and I feel like a gigantic failure. Here's your lame analogy of the day: I feel like I am stuck treading water, while everyone else around me is sailing in their boats.
I want leave my current job (finally) and move again, this time to a more cost-effective area of the country. My lease is up October 31, I am still job searching, and time is not on my side. I am too stubborn to admit defeat and move back home, but I would be adding some unnecessary debt by moving without an opportunity on the other side. I feel like I am entering a black hole, with no idea what the future will hold.
-Anonymous