The Financial Confessions: "The Ugly Finances Of Working In Fashion"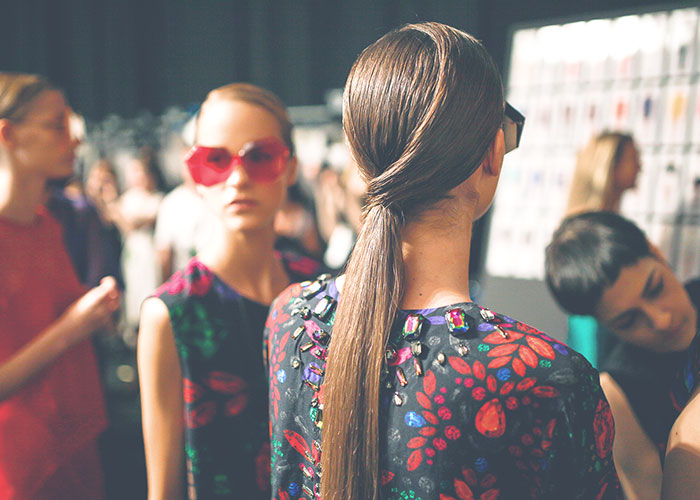 "Two truths and a lie about me: I live in New York City, my life is glamorous, and I work in fashion.
Have a guess?
Well, I do work in fashion, and I do live in New York City, but my life is anything but glamorous. I make just over 40k a year (NOT a lot of money when you're living here, trust me), my parents do not help me out (unlike a lot of young people working in fashion), and I work as close to 100 hours a week as physically possible. I am never not working, not checking emails, not on Twitter or Instagram, not moving. I'm 28 years old, and after getting my degree in marketing, two years as a store manager, one year as an assistant visual merchandiser, and one brief stint as a marketing manager for a fashion start up (the worst job of my life), I am now an assistant buyer for a small chain of high-end boutiques.
While there are some definite perks to the job, and I would consider some of the events I get to go to and people I get to meet "glamorous," I more often than not feel like the odd duck out in my industry. Like I said before, a lot of people working in fashion have some form of help coming from family members, and it's not unusual to have coworkers whose entire rent is being paid for by their parents. This isn't universal, but it's enough of a phenomenon that it makes me feel self-conscious, and for someone who grew up dreaming of working in fashion from the bedroom of her normal, middle-class home, it's enough to make you consider giving up the industry entirely, even though I know I never will, because I truly do feel passionate about what I do.
But the unfortunate truth is that it is very hard to make a good living in fashion. There are a limited number of upper-management positions that come with highly competitive salaries/benefits/perks, and for every one of those, there are going to be 10 girls who burn out or quit along the way. You have a lot of young women (and some men) working as assistants to assistants, making no more than 27k a year, who will spend a few years in the industry before, often, getting married and either changing industries or stopping work altogether. In my group of friends, we have a running joke about the girls who "go back for their Mrs. degree," because so many of them end up marrying men in finance/consulting/high-level business before they turn 30 and dropping off the radar. The truth of that is that a lot of them are very beautiful and work intense hours, which goes perfectly with the often-shallow men who are making a ton of money young, and also work intense hours, so have little time to dedicate to a relationship. It's a match made in capitalist heaven
.
But for people like me, who are not interested in marrying anytime soon and who genuinely want to build a successful and comfortable life for themselves, fashion is incredibly cutthroat. If I ever want to make six figures, I have to resign myself to the idea of working the crazy hours I work for the foreseeable future, and putting off the idea of having a balanced family/relationship life at least until I reach a certain level in a company, which likely won't come until I'm over 30. The truth about fashion is that there is constantly — CONSTANTLY — a line of 20-somethings on Adderall (and therefore not eating much/perpetually freaking out) who are ready to do what you are doing, for less money. I've had bosses literally throw clothes at underlings in a pit of hunger-and-pressure-induced panic, and of course no one complains or thinks that they have any form of recourse, because that is just the way things work. If you can't deal with this kind of pressure-cooker environment, you are replaced quickly and for less money. Establishing your value is incredibly difficult, and proving yourself indispensable is near-impossible.
If you've read about the "shocking" stories coming out about certain retailers or magazines lately (I won't name names, you can do some googling), it's only "shocking" if you don't work in the industry. Brutal layoffs and job-elimination, even for people who, the day before, were "friends," is totally normal. The industry operates, often, on razor-thin profit margins and simply does not have the financial flexibility to be a kind and loving employer. These are all realities you pretty much have to accept if you want to get ahead, and you have to understand that you cannot be emotional about these things, or take them personally. Luckily for me, working mostly on the business end of things — all the way down to store manager, which really shows you the nitty-gritty of profitability — I am less sentimental about the industry than someone who works in, say, creative or editorial. I am optimistic, but within reason, and I don't think fashion will ever be the glamorous dream job some bright-eyed 23-year-olds want it to be.
So why do I want to stick around? Honestly, it's complicated. Sometimes I feel like I'm in an abusive relationship with the industry, and that I would be happier if I got out. While I do love the retailer I work for (I shopped there before, and would continue to even if I didn't work there), and get a genuine thrill from many aspects of my work, I hate making shit money for the crazy hours I'm working. I live in a closet-sized room (ironically, working in fashion) in Yorkville, rarely have time or money to go out like I'd like to, and work in an environment that is inarguably bad for mental health sometimes. But I do get some perks that I love, like a decent amount of free apparel/accessories, interesting and fun events, and being surrounded by aesthetic beauty constantly. I admit that I love beautiful things, and to be in some way involved with the process of putting more beautiful things in the world. Occasionally, I get my own small budget to work with in the buying process, and the thrill I've gotten from seeing one of my own selections perform well in stores is unmatched by anything I've experienced. Feeling that rush of "I know what looks good, and what people like" is enormous. I don't know if I could ever give it up.
My goals for the future
 change a lot, but for now, I'd like to move up to buyer, and then either creative direction in-house somewhere, or into consulting. I don't delude myself into thinking that I will be the next Jenna Lyons (though, despite the media's love affair with her, I don't envy her life right now with J.Crew's financial woes), but I think I could do good work for a small retailer. I do my best work in niche markets, and I'm good at what I do. I have high hopes for my career, even though I've set an "exit date" if I'm not where I want to be at that point. (Everyone sets those and breaks them, though, so who knows.)
Overall, fashion is not the glamorous life it's portrayed as in media, but I think everyone knows that. The real truth of it that people might not understand, though, is just that it's not a super-profitable industry, particularly on the high-end/editorial side of things, and therefore, for every marquee job you see that makes a ton of money, there are endless jobs that are making absolutely shit money and could get a layoff at any minute. In general, the less "glamorous" a company seems, the better it probably is for its employees (in retail groups, it's often the lowest-market retailer who is the highest earner), and fashion absolutely trades on caché to compensate for its low wages or long hours. Eventually, I may need to move to a downmarket company to have a better job, work/life balance, and salary. The crazy thing is, I still don't want to sometimes. I love saying where I work, and working with the beautiful things that get bought for our stores. (I also have some obvious ethical issues with working for a fast-fashion company, but that's a whole other can of worms, and not even the high-end retailers are truly exempt from it.)
I guess I still have to get out of the "fashion haze" myself. Especially because I know that, unless you're one of the lucky few, it probably won't get better."
-Anonymous
Image via Flickr