The Perfect Mini-Vacation: Los Angeles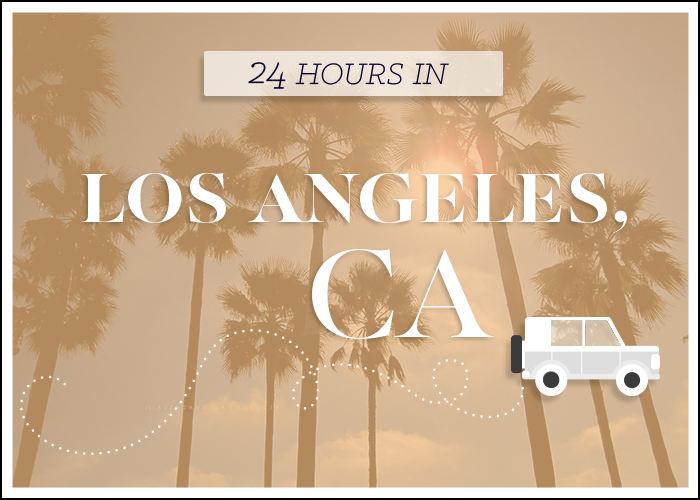 When it comes to 'awesome things you can do with your money,' few things leap to mind more easily than travel. And we're often told – and not without reason – that it's better in life to spend on experiences rather than things. But airfare is often expensive, in addition to being logistically complicated, so many of us end up writing off the idea of travel as something that can only happen rarely, and only with huge amounts of prior planning and saving. But what about car travel, which is much more affordable and, for most of us, super convenient? We've already extolled the virtues of day tripping and road trips here on TFD, but we haven't yet planned our perfect mini-vacations that fit into our budgets, and don't require any costly airfare – and can easily be tacked onto a work trip.
So to do just that, we've partnered with National Car Rental for their "One Two Free" program to imagine our perfect 24-hour trips in some of our favorite cities. They're fun and special to us, and more importantly, super savvy: we'll be hitting affordable spots we love with National's free day for every 600 points earned. So let's hit the road and discover TFD's perfect mini-vacations!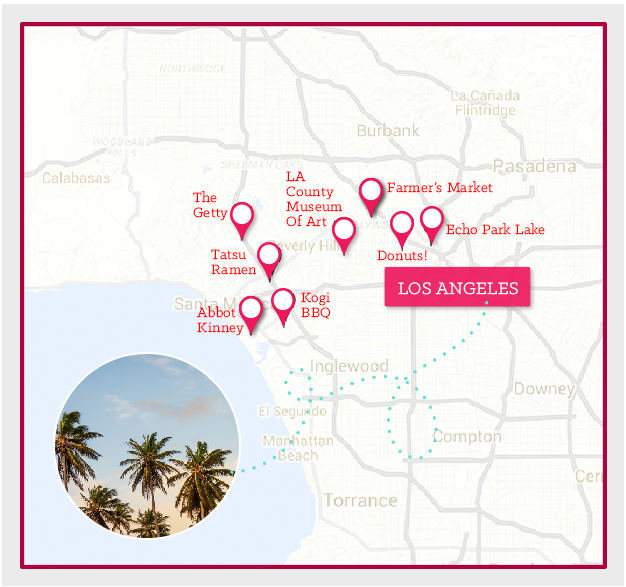 I've lived in Los Angeles for almost two years now, and I'm finally starting to feel like I can give tourists good directions, plan around traffic, and navigate the back roads. Moving to a city — for work, or a fresh start — is kind of like getting into a new relationship. You start off in the honeymoon phase, when every street, every park, and every corner café is new and exciting. But once you get over that initial attraction, and the drawbacks of the city are revealed, you hope it makes you happy. In LA, the drawbacks are all too clear — traffic, traffic, and more traffic — but getting in the car is still the best way to see the city, and I really am a fan of living in a driving city.
One of the best things about living in LA is, if you need to ~just get away~, you can plan an escape somewhere in the city, because you're surrounded by beachy vacation spots. When I moved to LA, I hopped off the plane, and started a job 12 hours later. I never had a tourist relationship with the city, or even a few days to get my bearings. So, for my One Two Free day from National Car Rental, I'd want to take an abridged staycation, and treat myself to the LA vacation day I never got. The vastness of the city not only means there's always something to do, it also means you can find amazing activities, and even better eats, on a budget. Here's how I'd do my day-long LA staycation on a modest budget.
I'd make coffee at home (I've gotten really good at making iced coconut mochas), and would enjoy it on the go while en route to Echo Park Lake. The lake is always fairly quiet, and has the perfect view of downtown. You can go pedal boating on the lake, and I've been putting off going for two years now. So, I'd go pedal boating, thus fulfilling my "exercise goals" for the day. After pedal boating, I'd get donuts at California Donuts in Hollywood. Their donuts are some of the most Instagrammable breakfast foods on the planet, and it's not a true LA day if you don't stop at a donut shop. (And I'm personally of the opinion that the best choices in life involve deciding between a Reese's peanut butter cup donut, and a Lucky Charms donut.)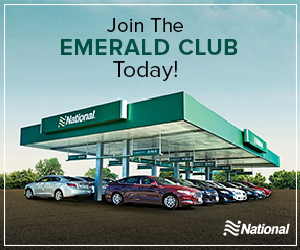 From there, I'd head to the Hollywood farmer's market. I tend to avoid Hollywood because it's always hot and touristy, but I'd make an exception for the sprawling market, because it has every genre of food you could possibly imagine. I wouldn't eat there, but would go just for the spectacle of seeing someone shuck oysters in the middle of the market, or to pick up a loaf of bread. After sampling some fresh squeezed juice, I'd head to the Getty Museum. It's free, but parking is $15, so I'd bring a friend or two to offset the cost. The Getty has an impressionist/post-impressionist wing that is as close as you can get to standing in the Musée d'Orsay on the west coast. The garden, and architecture of the building, is art in itself, and the views of the city are incredible. There's also a tram, and I'll take any opportunity to hop a tram without having to go to Disney World or Vegas.
After getting my art and culture fix (and digesting my donut), I'd stalk a food truck. The best food trucks in LA have comically huge Twitter followings because people regularly track them down — and I've always wanted to follow suit. So, I'd hunt down Kogi BBQ, a famed LA food truck. They serve life-changing Korean BBQ tacos for under $3. You can often find one of their trucks in Venice Beach, which would be ideal because then I'd head to the beach. If nothing else, Venice Beach is home to some of the best people-watching in the city. There are mini tennis courts, oversized exercise equipment, and hordes of people rollerblading on the strand, which is a path that runs right along the water. I'd love to lie to you and say that I'd join the rollerbladers, but it's more likely I'd post up and watch everyone else work on their fitness, while ignoring my own (hey, I already pedal-boated, what do you want from me?). I'd walk down from the beach to window shop along Abbott Kinney — an adorable street in Venice Beach with local boutiques, and hipsters who are partial to bougie coffee.
Next, I would head back east, because I'd want to end up at the Hollywood Forever Cemetery to catch an outdoor movie. On my way, I'd stop at Tatsu in West Hollywood and pick up ramen because, in my ideal world, the heat would've broken and I'd have my soup for the outdoor movie in the cool air. Tatsu is supposedly the best ramen you can get outside of Japan. You order on tiny iPads, and pay $12 for the most delicious bowl of soup you'll ever eat.
As I have 24 hours with my rental car, I'd get up early the next morning and make one last stop at LACMA (LA County Museum of Art) before returning my car to National. I would honestly be all museum-ed out from the Getty, so I'd just stop by to pay a visit to the beautiful lights outside the museum. This is the only oh-my-god-celebs-in-LA activity I'd partake in. Hundreds of movies have been shot by the LACMA lights (and yet, at this very moment, the only one that comes to mind is that Natalie Portman/Ashton Kutcher movie No Strings Attached, so please forgive me). It's one of those free attractions that is cliché for a reason, and I can think of no better way to end my LA staycation than walking in the footsteps of mediocre romantic comedies.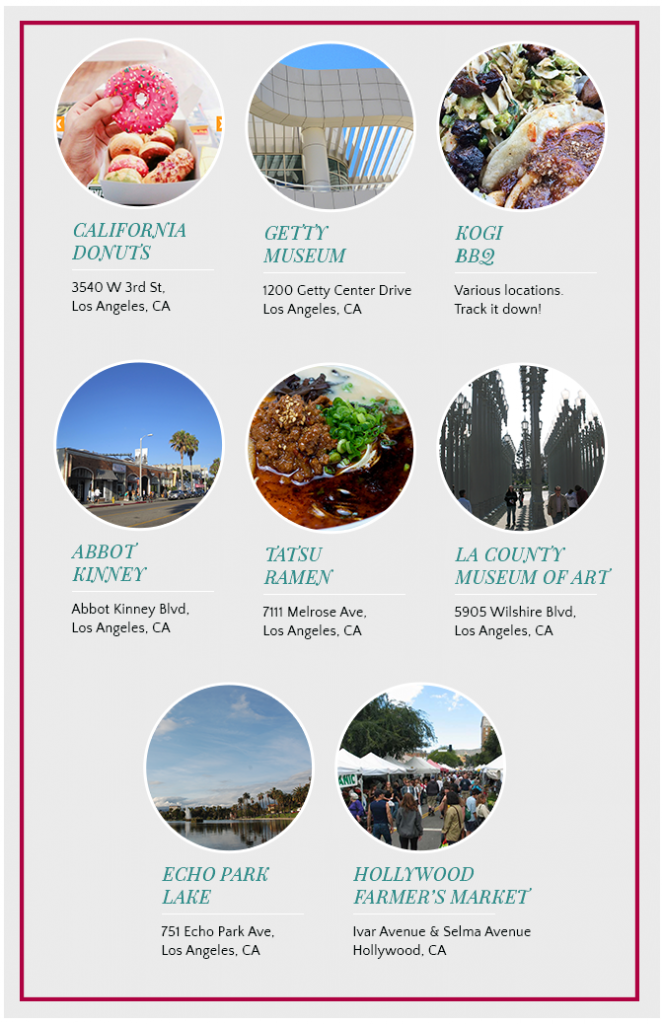 Want to start earning free rental days and enjoy your own perfect mini-vacation? Join National's Emerald Club at http://www.emeraldclub.com/Free and immediately take part in the One Two Free promotion. There are no fees to join – budget friendly! — and members enjoy expedited service at airports and free upgrades in National's Emerald Aisle, an exclusive section where members can select any vehicle (as long as they reserve a midsize or larger car). Let's learn how to ride smart, together!