Unpopular Opinion: I'm Jealous Of Coronavirus Brides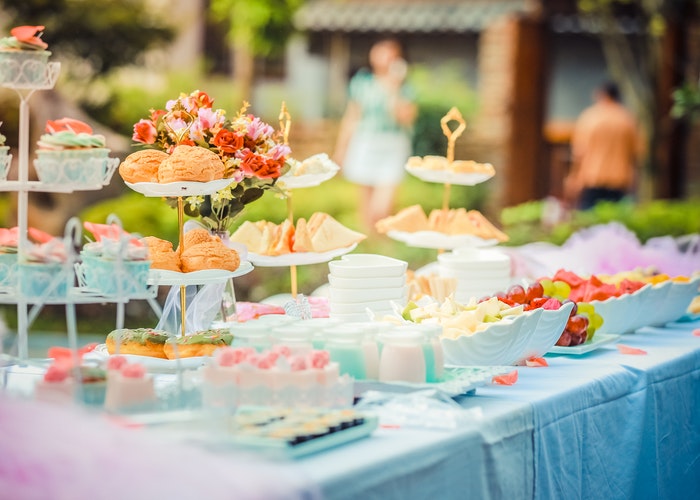 In 2018, I planned the most elaborate wedding of all time. As a Halloween obsessed, Harry Potter loving bride, I needed my day to be different. Over-the-top. More. That's what compels most brides when it comes to planning, whether they realize it or not: The idea of "more." It's the notion that your event needs to be better than the event you went to last year. Your favors need to be more unique, your song list needs to be more inspired, and your wedding video needs to leave more of your frenemies regretting their choice of videographers.
Granted, I didn't have a wedding planner and yes, everyone told me I was spreading myself a little too thin with my plans, but that didn't matter — I was going to have an event no one would ever forget. 
And I did — just not in the ways I planned. 
What My "Over The Top" Wedding Looked Like
My friend got so drunk beforehand, he couldn't string together the words to my artfully curated reading, and the musical flash mob I organized à la Love, Actually completely fell apart during the ceremony. Instead of musicians popping out of their seats as my new husband and I made our way back down the aisle, it turned into just a random guy playing his electric guitar on-stage in front of my very confused guests. I forgot to grab my $1,000 bouquet before walking down the aisle. My dress wasn't bustled for our first dance. My husband and I kept accidentally running into each other before the ceremony, and my day-of coordinator all but threw his hands in the air and said: "Y'all can figure it out, I'm done."
Worse yet, my Maid of Honor and my eldest brother both couldn't come last minute due to medical concerns. So, naturally, without a friend to remind me to eat, I managed to blackout long before the garter toss.
Those are things I look back on now and think: "Well, it all worked out and it was all still beautiful." A sentiment most brides — whether in the middle of a pandemic or not— can relate to. Still, with everything that went wrong (and as any bride, can tell you, there's always plenty that goes wrong), the end result was worth it. The best memory was holding hands with my guy, giggling during our ceremony, and jumping into his arms to kiss before my officiant officially gave us the "okay." That's what made it memorable. The two of us, together, declaring our love. 
Which, truthfully, could have been done way cheaper, more meaningfully, and less artificially if we said our "I dos" in, say, 2020.
The Joy Of A Small, Intimate Wedding
In the past few months, multiple friends of mine have chosen small, backyard ceremonies to giant 200+ person affairs. Granted, this isn't necessarily their choice. I can't fathom what that decision was like, but each of these couples scrapped their original, traditional plans of large-scale weddings in favor of something safe, small, and dare I say, vastly more special than my own.
I look at these events (none of which I'm invited to because they're reserved for family and only 1-2 closest friends) with pure, undeniable envy. Brides are getting married in their childhood backyards decorated with twinkling Christmas lights, lit lanterns, and candles adorning every surface. Mismatched chairs are brought outside to form small aisles where moms sprinkle freshly purchased flower petals from the local grocery store. Brides are getting ready in their teenage bedrooms, Hilary Duff and Twilight posters smiling in the background of the photos. 
My parents' house — the home they've had for the past 24 years — is the most important place in my world. Surrounded by old, towering oak trees and a glistening pond as the focal point, it's a place I considered time and time again for my own wedding. But as my guest list was created — and this friend needed to be invited because that friend was invited and parents' acquaintances needed to score a seat for personal political reasons — the notion of having the event in their backyard was lowkey impossible. By the time we would have had the space tented and groomed, had portable bathrooms brought in, gotten the insurance, and hired extra vendors — it just wasn't feasible.
So, we chose a venue. A venue I felt indifferent about but that my parents pushed for. They were paying, after all, so things like DJ, caterer, and location were, ultimately, up to them (despite how they framed it to me).  Granted, my wedding was expensive. Considering how much my parents — a couple about to enter their 60s — spent, horrifies me. The upcharge for the Chiavari chairs. The additional fee to bring in our own caterer. The money spent on transportation and servers and club-worthy uplighting. And I still didn't get the wedding I wanted because that event never even existed in real life. It was just an unreachable figment of my imagination. 
The Problem With The Wedding Industry In General
On the other hand, I don't want to dismiss what Coronavirus brides must be going through. I know Coronavirus brides are devastated — any of us would be. We've been groomed our entire lives to want the big, enviable day. It's a 70+ billion-dollar industry for a reason, and it knows how to prey on our emotions. We were told we needed the huge guest list, the live band, the towering cake, and the impressive send-off. The thing is, I didn't even get much cake. And my DJ was horrible. And my send-off never happened. What I wish I had had more of were slow dances with my husband, special moments with my parents, and a day spent less focused on timelines and more on marrying someone I love. 
The honest, embarrassing truth is: I'm envious. I'm envious that, without the temptation of an all-for-show event, these brides are having romantic, personal affairs, unlike anything I had. You get to celebrate in a highly personal space — a space you grew up in or share with your fiance. A place your fur babies are 1000% allowed and there are no weird, exorbitant charges for things like extending the party an extra hour or having Titos instead Svedka. 
You get to invite those who truly mean the most to you — parents and siblings — or have no one at all. You get to simply tell parents that additional guests aren't welcome thanks to governmental orders and as you say "I do," you get to look around at the few most important faces, in a place that makes you feel like you, decorated any way you see fit, and marry the love of your life. Your wedding isn't about putting on a show. It's about creating a beautiful space for the two of you, solely, and that is one of the most wonderful wedding trends to ever happen. 
*****
Not to lean on the old cliche, but I realize the grass is always greener. Coronabrides are envious of those of us who got to have the event we've dreamed about since Pinterest began and we started our wedding boards. Parties at which paying an exuberant amount for an open bar, a plated dinner, and a DJ who lost your "do not playlist" (just me?) is the norm. While it won't make it better, and it won't give 2020 — and maybe 2021 — brides the days they always envisioned, I just want you to know: There's at least one 2018 bride out there extremely jealous of the weddings you're having now.
Rachel Varina is a social media, digital marketing, and editorial expert living in sunny Tampa, Florida. When she's not creating content or collaborating with brands, you can catch her devouring thriller novels and supporting pineapple in the great pizza debate with her husband and two rescue pups by her side. You can find her on Twitter and Instagram.
Image via Pexels
Like this story? Follow The Financial Diet on Facebook, Instagram, and Twitter for daily tips and inspiration, and sign up for our email newsletter here.