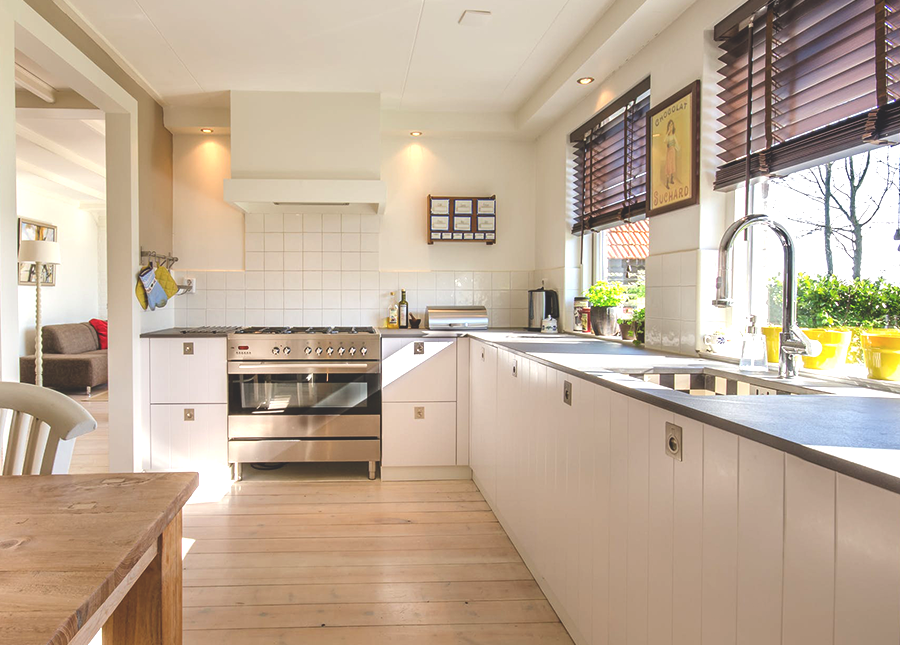 Who hasn't sat in front of the TV and binge-watched show after show about buying houses, remodeling entire homes, or even redecorating a single room? We have all retreated to that comfortable place time and time again to HGTV, where the content is always bright, sunny, and happy. It is a nice escape from other shows, like The Handmaid's Tale, that are just downright distressing. And frankly, it's a nice escape from the busyness and stress of our everyday adulting lives.
But it also gets you thinking, and by the middle of the second episode of House Hunters, you are Googling house prices in your neighborhood or researching how to move to Denmark. Most times, the urges from binge-watching HGTV result in a few hours of an Internet dark hole. In my case, it actually led to something much bigger.
I was 21 (yep, 21) when I bought my first house. By no means was it extravagant — just under 1,000 square feet with two bedrooms and one bath, but it was still a house, an entire building, that was now my full responsibility. Financially, I could handle this responsibility. I had a monthly mortgage payment that was one-third of the monthly rent I am now paying for my city apartment. I had money saved up for a decent down payment, and my dad could fix anything and everything, so I saved money by DIYing almost all renovations. What I didn't consider was the strain taking care of a house would put on me.
I was 21, so I was still in college full time, and I was working a part-time job. I had been living in an apartment with one of my friends for over a year, and I was enjoying the independence of finally being out of my parents' house. It was the first time in my life I had cable TV, as I grew up in a rural area in general, but my parents lived 8 miles out of town and never splurged for a satellite. I couldn't get enough of all the channels I had dreamed about since childhood. I spent the first few months binge-watching Bravo, E!, and of course, HGTV. I started studying house prices in my neighborhood, and I simply got it in my head that I was going to buy a house.
My dad took me to his banker. I told him what I was comfortable paying each month, and I had a realtor the next day. It really did happen just like that. I was okay with dumping my savings into a house. Real estate is, after all, a good investment, right? At the time, I was thinking a small space would work perfectly for the next three to five years before I started a family.
Fast forward through the home search process, and no, it isn't like House Hunters where you go through the house and analyze if it would work for your lifestyle. Your realtor just lets you walk through it quietly. I found an adorable older home on a corner lot in a quiet, safe neighborhood. It was perfectly located halfway between school and work, and I couldn't wait to play IRL design show and update its dated appearance. I put several thousand dollars into updating the floors, paint, countertop, and light fixtures. It was a ton of late nights and McDonald dinners, but I couldn't wait to move into my very own house. I was so caught up in the idea of what I was doing that the reality of what I was doing didn't sink in.
I closed on the house in December, and we spent the winter redoing the interior. I was so exhausted and cash-depleted by the end that I didn't have the energy or the money to pick out furniture. We used my boyfriend's futon as our living room centerpiece, as he moved in with me soon after the purchase, and we made do with old plywood-but-practically-cardboard furniture we each had in our apartments. When spring came, we suddenly had to deal with gumballs and growing grass. It quickly became a point of contention in our relationship about how we were going to divide the growing amount of household maintenance my purchase required.
I was so focused on the idea of homeownership that I didn't stop to think about all the responsibilities that would come with it. Over and over, society had preached to me that homeownership is a great investment. Somehow, I thought it would secure my place in adulthood, when in reality I was just breaking the surface of what it is like to be an adult. And not only were the responsibilities of having a house overwhelming, but life at 21 was too volatile to predict housing needs three to five years out. Just a year after buying the house, I decided to go to grad school, which meant moving five hours away. There was the debate between renting out or selling the house, and ultimately, I just wanted to sever all my ties and start a new life somewhere else. Buying, remodeling and then selling a house was both a great financial and adult learning experience, but looking back, I now know how gullible and impressionable I was by the lifestyles I saw on TV.
Media continues to play an increasingly impressionable role in the day-to-day decisions we make. Of course, there are the beauty gurus hyping this product and that, but there are so many more messages and pressures at play. When we are making big decisions or even small ones like if we should stop at Starbuck's for a morning coffee, we have to build the skills to decipher how and why we are making the spending decisions that we do.
Switch up your routine when your brain is fixed on buying something. Maybe there is something, or perhaps someone, pressuring you to make a certain decision. Taking a three-day break from social media or switching from TV to a podcast during your evening could make the difference. If I had just waited a few months before acting on my impulse, I probably would have a lot more saved than I do right now. Seek out advice from multiple sources, and ultimately make sure this "much-needed" purchase fits into your life for the foreseeable future, and not just your Instagram feed for the week.
Originally from a small town in Southern Illinois, Marki moved to Cincinnati a few years ago to attend graduate school. From adjusting to life in a new place and starting her first big girl job, she's just a twenty-something trying to be successful at adulting. She loves writing and consuming digital content.
Image via Pexels