What I Learned From My Quest To Meet 100 New People In 100 Days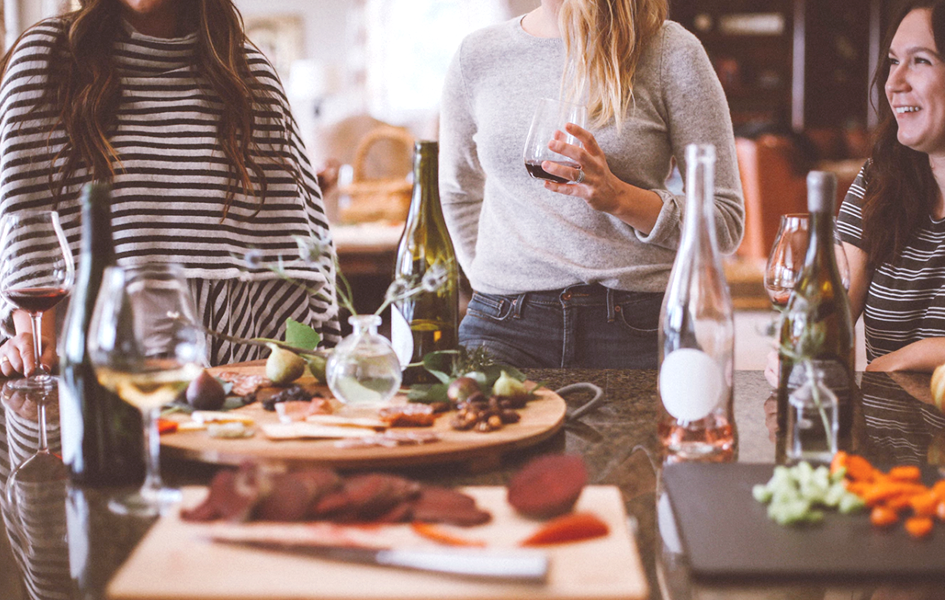 Last December, I made an ambitious New Year's resolution to talk to 100 strangers in 100 days. My goal was to learn something new about other people and myself, but even for a self-described extrovert, my anxiety surrounding the project mounted as my start date approached. Greeting pedestrians on the street is one thing, but stopping them to ask if they have a moment to talk is a different story. I feared embarrassment, rejection, or worse, but I was determined to face my fears.  
Don't get me wrong — I have a close-knit group of friends, some I've known for nearly a decade. But I had gotten to a point in my life where I felt the need to branch out. I wanted to lead exciting new conversations other than the drama-filled ones I found myself consumed in day in and day out. And I believe you can honestly never know too many people. You never know who you could meet or which conversation could change your life.
On day one, I gathered up my puppy, Ari, and walked to a coffee shop near my house. I spent 20 agonizing minutes scoping out my first stranger, finally settling on a gray-haired man reading the newspaper. I walked over to his booth and sat down across from him. "Hi," I said. "My name is Shelby, and my goal is to meet 100 people in 100 days. I would love to talk with you if you have a moment." Surprisingly, he put down his paper to have a conversation with me, and I watched his face light up as he spoke about his passion for practicing law. At the end of our chat, he had given me his business card. "Call me if you ever need a lawyer," he said.
After I'd broken the seal, the rest of my conversations came a little easier. My chats ran short and long, and covered every topic under the sun, from where I work to my favorite face mask from Sephora. Sometimes I chatted with people over the phone, too. Once, I discovered that a stranger I talked to at a bar was my neighbor. We both had gone home separately and when my Uber dropped me off, he was just getting home as well. While it was nearly 3 in the morning he told me his girlfriend, Beatrice, was still awake and asked if I wanted to meet her. Beatrice and I became instant friends.
During my search for new connections, I spent a lot of my mornings sending out emails to women I admired, hoping to schedule a time to either meet in person or over the phone to talk about anything and learn about one another. I was over the moon when I received a response from Lauryn Evarts, a blogger I've admired for several years. I figured she was too busy to hop on a call with a random girl trying to accomplish her new year's resolution, but that wasn't the case. Lauryn and I bonded over our similar career paths (we both admire journalism) and backgrounds. When Lauryn said she had to run, she was very sweet and asked for my address to send me over her book and some other goodies. Her chat alone gave me the inspiration to go out and connect with others (especially more women). It just goes to show that no matter how busy you are or how big you get, having a genuine conversation with someone is a really incredible thing.
Everyone I approached was polite, curious, and friendly. I was loving this resolution. When it came time to meet person #100 in mid-April, Ari and I headed to the coffee shop where it all began. As I sat at my table, a strange sensation came over me. I didn't feel like striking up a conversation. Then, the woman next to me tapped me on the shoulder. "Can I pet your dog?" she asked.
We struck up a conversation about Australian shepherds (Ari's breed). I learned that her name was Jo and she had a dog at home that Ari reminded her of. Her husband sat across from her reading the paper without batting an eye at the stranger his wife was talking to. We talked for about an hour about things far and wide. Jo looked gorgeous in an emerald green jacket and her hair in perfect curls. I was sad to say goodbye to her.
As Ari and I walked home afterward, I realized I had learned so much about interacting with people. One of my biggest takeaways was how much our society lacks interpersonal connection. With social media evolving almost every second of every day, it can be difficult to harvest those relationships in your life. But put in the effort. I found it important on those days when I was actively meeting people to leave my phone at home. I wanted to make this experience as personal as possible and soak up all of the information about the person in front of me giving me their time. This habit and way of thinking taught me a lot of the traits I need to let go of, and some that I still need to perfect. Some of the best people I met were people I had initially figured wouldn't want to speak to me.
I went into this challenge knowing I would making some lasting friendships. I try to attract people who love like I do and really cultivate that energy. I always tried to clear my head before walking into a conversation or entering a room full of people just to make sure I wasn't too caught up in what was going on in my everyday life. I always wanted to make sure to never miss a beat in a conversation and pick up on things people were mentioning or social queues I was being given. In hindsight, I think that's why the challenge was so successful for me. I never got lost in my own thoughts. Rather, I was lost in the words people were speaking to me. If we related on any topic within our conversations, I knew right then and there a friendship would be made. I've so far kept in contact with a lot of the people I met with the challenge.
I often think about the woman I've always wanted to be. A woman who gives more than she takes, who listens more than she speaks, who steps outside of the social norms and looks at things a little differently. Not often do you see strangers meeting for the first time and openly sharing life stories about themselves. With that, I've learned that although life may knock me off balance (and it does a lot), I'm always somehow slowly drifting towards the woman I've always had sight of. Sometimes it takes a little help from others to help you realize those things – even if they're strangers.
Shelby is a graduate of the Walter Cronkite School of Journalism at Arizona State University. There, she received her BA in broadcast journalism with a minor in sociology. After graduation, she headed off to the greater Seattle area to pursue her love of food and digital media.
Image via Unsplash