What Outdoorsy People Should Know If They're Thinking Of Moving To The Mountain West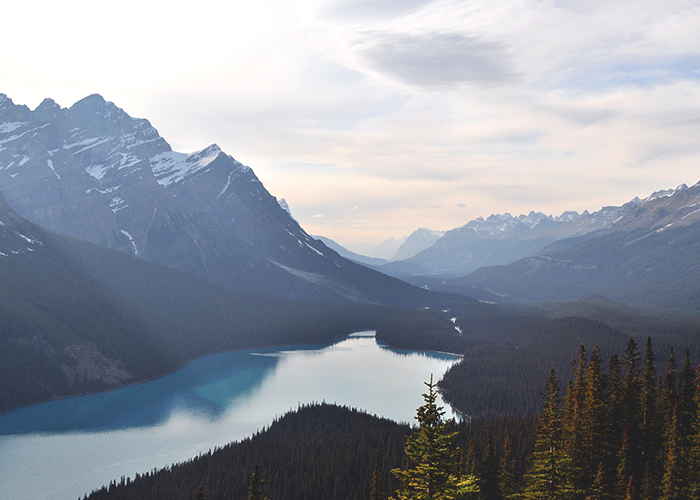 I moved to Denver for reasons similar to everyone else's reasons for moving here — I love the outdoors and wanted to experience all of the adventures Colorado has to offer. Without too much planning, budgeting, or forethought, I packed up my newly-purchased 4WD SUV and convinced a friend from Wisconsin to meet me out West.
Having grown up in the suburban Midwest, which included attending college in southern Indiana, I was not accustomed to the higher costs associated with living in a bigger city. I once paid $350 a month for a pretty nice apartment in Indiana during my final year of college, so the price tag of $1,200 for a two-bedroom apartment (which I shared with a roommate) came as a shock. Rental prices continue to rise and have only gotten higher since I first moved.
I have had the unfortunate luck of moving five times in the last three years – four of which were not by choice. My second apartment in Boulder flooded, and my roommate and I both lost a great deal of our personal possessions, including furniture and clothing. My roommate wanted to continue living in Boulder, but I was ready to move on from the city that had created such havoc in my life.
My next abode was a tiny, A-frame, attic apartment (so tiny, in fact, that you could only stand up straight in the exact middle), in a hip neighborhood of Denver. I loved it. I only paid $550 a month, and I vowed to live there until I absolutely had to move. Unfortunately, that came eight months later. The friends that owned the house realized that living in a hip neighborhood equaled a huge profit, so they sold the house. I was forced to move yet again.
I wanted to continue enjoying city life, so I moved into a neighborhood more in the heart of the city where I paid $825 for a slightly larger, one-bedroom apartment. This felt luxurious because I could stand up straight no matter where I was inside (!). Unfortunately, the landlord decided to renovate the apartment and booted me out after my year lease was up. While looking for a new apartment in the neighborhood, I realized how much rent had increased in just the course of a year. One-bedroom apartments of similar size and quality were now renting for $1,000 or more! After the renovation was complete, the landlord bumped the rent up to $1,250 for my old apartment — a 150% increase over what I was paying. After realizing how drastically the rent had increased over the course of a year, and after assessing my budget, I realized it would be cheaper for me to move to the suburbs. I now pay $750 for a one-bedroom apartment in a not so great (but also not super dangerous) suburb west of Denver.
The extreme increase in rent prices means a high volume of people are moving back here to the burbs, myself included. The increases in rent prices are due to a number of factors. Between the close and easy access to the great outdoors, and the fact that pot has now become legalized, the state draws a number of different types of people all looking for a piece of the action. All of these additional people contribute to the monetary struggles that I did not anticipate. Most everyone that lives here camps, hikes, and bikes during the summer months, and then skis during the winter. This means that everyone is trying to access the mountains at the same time, primarily on weekend travel days. The backup this creates on the interstate system not only causes headaches, but it means that I'm paying way more in gas, time, food, and my mental well-being.
Those who think they are going to take a quick jaunt up to the ski resorts on a Saturday morning are in for a surprise. Depending on the weather, what should be an hour and a half drive often turns into four-or- five plus hours spent in your car attempting to get to the slopes. Once at the resort, there are parking fees, $20 cheeseburgers, and serious ski envy that you have to deal with. Sure, you can also borrow gear, and slowly acquire what you need over the course of many years and seasons, instead of buying it all upfront at once. And high-quality outdoor gear is FAR from cheap.
The same can be said about hiking but on a slightly smaller scale. The summer highways are just as crowded as the winter drives, and everyone thinks hiking is a free hobby, right? Wrong — mostly. Yes, the act of hiking is free, but depending on where you hike, you'll need a 4WD vehicle to reach the trailhead. You'll also need an expensive sleeping bag to keep you warm at night if you plan an overnight trip, backpacking gear if you intend to spend extended periods of time in the wilderness, a helmet to protect your head if you're climbing more technical terrain, and a number of other items of gear, all of which add up to a pretty hefty price tag.
There are certainly ways around the sticker shock that comes with unexpected costs associated with outdoor activities. You can buy used gear (there is a lot of quality used gear here, because people frequently trade up for new stuff every year). If you have a flexible work schedule you can also travel during off-peak times, or ski during the week. You can pack a lunch and avoid the $15 resort salad with wilted lettuce. You can also borrow gear, and slowly acquire what you need over the course of many years and seasons, instead of buying it all upfront at once.
Living in the mountain west still makes me exceedingly happy, and I wouldn't change where I live (or moved) for anything. However, there are aspects to city living and pricey outdoor hobbies that I really wish I had understood and budgeted for before moving. If I had anticipated these costs, I could have saved myself more money than I actually did in order to participate in all the activities I've grown to love.
Jennifer is an outdoor enthusiast who you can find on the slopes or on top of a mountain.
Image via Pexels