10 "Low-Buy" Rules I'm Following This Year To Be Debt-Free By December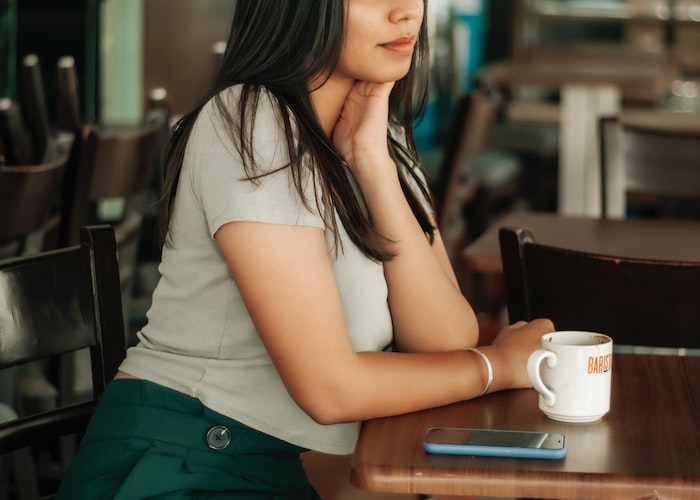 Over the past few years, I've been exploring and educating myself on the topics of sustainable living, minimalism, and personal finance. These themes go hand in hand in hand with the term "eco-minimalism," coined by YouTuber Shelbizleee. Essentially, it's a minimalist lifestyle with the intention of sustainability at the forefront. Paired with my chosen financial alter ego "Budget Bitch," eco-minimalism has allowed me to reconsider my relationship to materialism and discover what is worth my coin.
This brings us to The Low-Buy Year. It's been done before, in fact, some participate in a No-Buy Year, and now I'm taking my go at it. I've had little success with low-buy and no-buy week/month trials in the past, but after being unemployed last year and cutting down to bare minimums I'm more sure of what's necessary to live contently.
Another reason I'm doing this: I want to be debt-free by 2022. I've got about $18K left across student loans and my car loan. Being debt-free feels very possible with my $43K income, but I also want to challenge myself and my spending habits.
Here are the rules I've set for my 2021 Low-Buy year:
1. Create A Budget – Have a structured, not strict, budget
For someone that's been referring to herself as a "Budget Bitch" for the past 4 years, I've never truly sat down and made a thorough budget. Now that I finally have a stable income, I feel motivated to do it. I've included the spreadsheet I've been using to keep track of my finances for the past 3 years, more on how to use it at the end.
2. Spend with Purpose – I put my $$ where my mouth is
I'll be supporting local, small, and sustainable. If I'm going to be spending money, I might as well invest in a quality product from a company with ethical work practices.
3. Wait on Big Purchases – Anything over $50 can wait at least a month
This doesn't include necessary expenses like car maintenance, groceries, etc. More so items that I have my eye on, but are not a need, i.e. a velvet armchair for my WFH office or an electronic food compost I've been obsessively researching. If after those 30 days I'm still wanting it, I'll consider a purchase.
4. Declutter Periodically – Resell items if possible, dispose responsibly
When it comes to minimalism, it's not just about keeping things you don't love from coming into your house, it's also about letting go. If something doesn't "spark joy" anymore I'll go through a list of ways to get rid of items responsibly: try to sell it, see if someone I know might want it, find out if I can reuse, recycle, or compost, and donate as a last resort.
5. Don't Want To? Don't Spend On It – I do not give in to events or activities I'm not interested in or buy something just to "fit in"
I recently said no to joining a Bachelor Fantasy League. I don't watch the show and don't care for the content. Saying yes would be dedicating 1+ hours a week and however much money my friends are putting down (I didn't stay in the group chat long enough to see). Will I feel a bit left out? Eh, maybe. But I'd rather spend that time and money elsewhere.
6. Use Gift Cards Responsibly – When needed, not desired
Does anyone else get a gift card and immediately start cruising the site to see what you can score? I'll be waiting out that initial urge to shop until I'm needing or really wanting something. Just because I didn't spend my personal money on it doesn't mean that I shouldn't treat it as if I had.
7. Low Buy – Clothing
Although I have a good sense of my style and a well-stocked wardrobe, I still like to throw a new piece into the mix every once and a while. But with the current state of things and with a 100% remote job, I won't be dressing up for anything besides Zoom wine nights for a while. If I do feel like I want to get a lil' something, I'll shop secondhand and sustainable.
8. Replacements – Beauty/toiletries
Last year I interned for a major beauty retailer and received a plethora of makeup, skincare, and hair products. Though I've already filtered through this and given the things I don't want to friends and family I still have a small mountain of products to work through. I'll just be replacing my tried and true products when the time comes (though we hope they never will).
9. No Buy – Home décor
Although I do love scrolling through home inspiration, I have enough already to keep me interested for a while. I've taken to minimally decorating and placing some pieces in storage, then, when I want a bit of a refresh, I'll swap them out. My exceptions: fresh flowers, plants (only if they're on my Dream Plant List), and art directly from the artist.
10. Give Graciously – Gift and Donate as Usual
Just because I'm doing a Low-Buy Year doesn't mean I'm skimping on the gifts and donations. I'll be gifting thoughtfully and donating to organizations and candidates affecting good.
*Cardi B voice* It was lovely having you… See you again…. or not. hehehehehe.
***
Now, a quick tutorial on how to use the Budget Bitch spreadsheet. The spreadsheet contains 6 sheets each allowing for a different way of tracking your finances.
Track Spending  – Where I track my income and expenses daily. I spend money, I add to the sheet to the assigned category, I earn money I do the same. I do not count money saved in my expenses since I have not spent that money yet.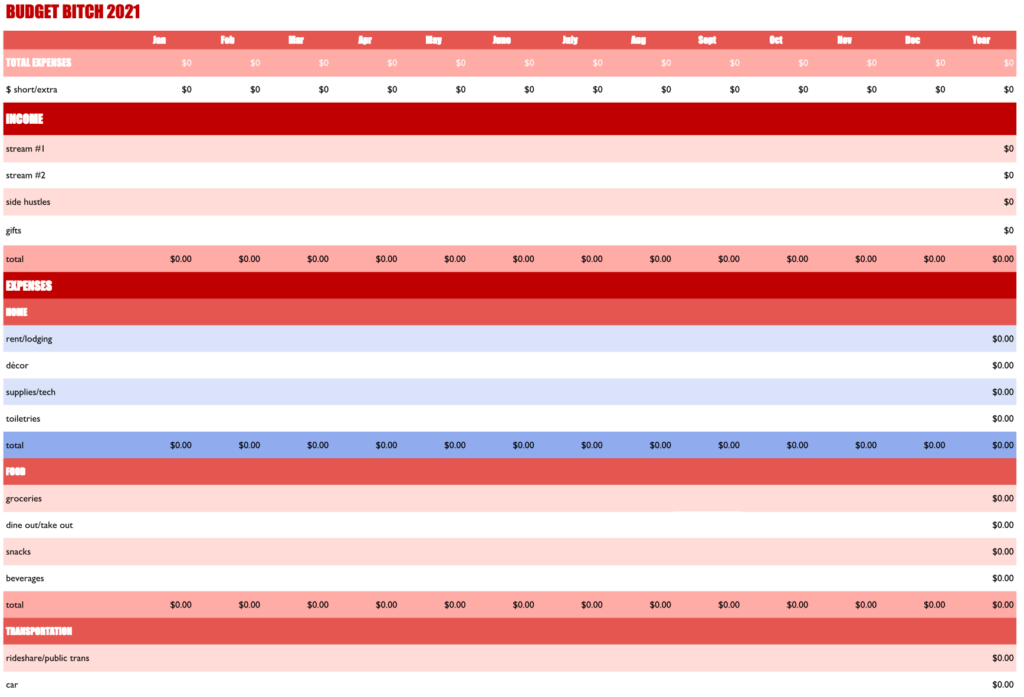 Budget – Where I have my monthly expenses visible and create a budget. I prefer to do this in percentages versus numeric totals since my income fluctuates due to my side hustles, though I have included both. Look at your previous months spending to create a realistic budget that you can actually stick to.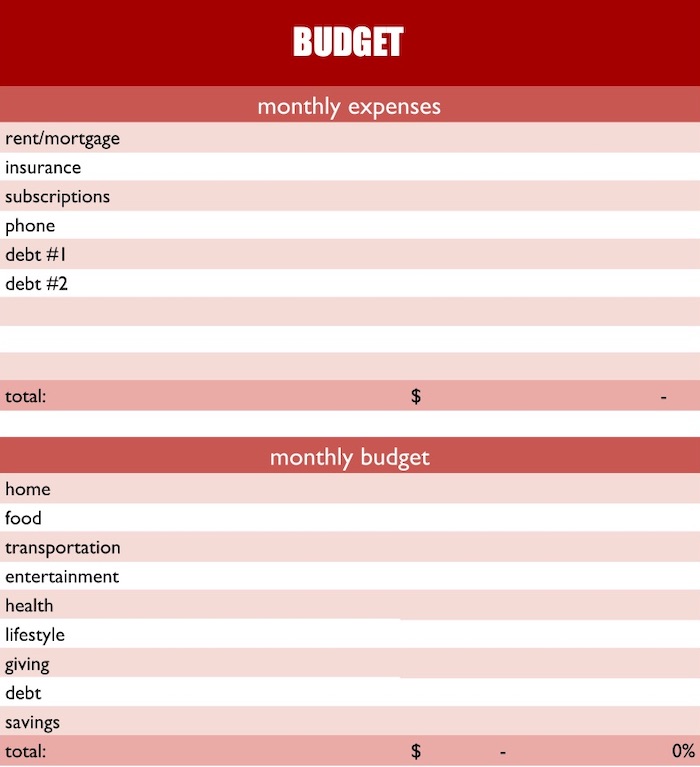 Monthly Money – At the beginning of each month, I take stock of what I have and what I owe. I sum my checkings, cash, all my savings and investment accounts, and account for my loan balances. This gives an understanding month-to-month on where you stand financially.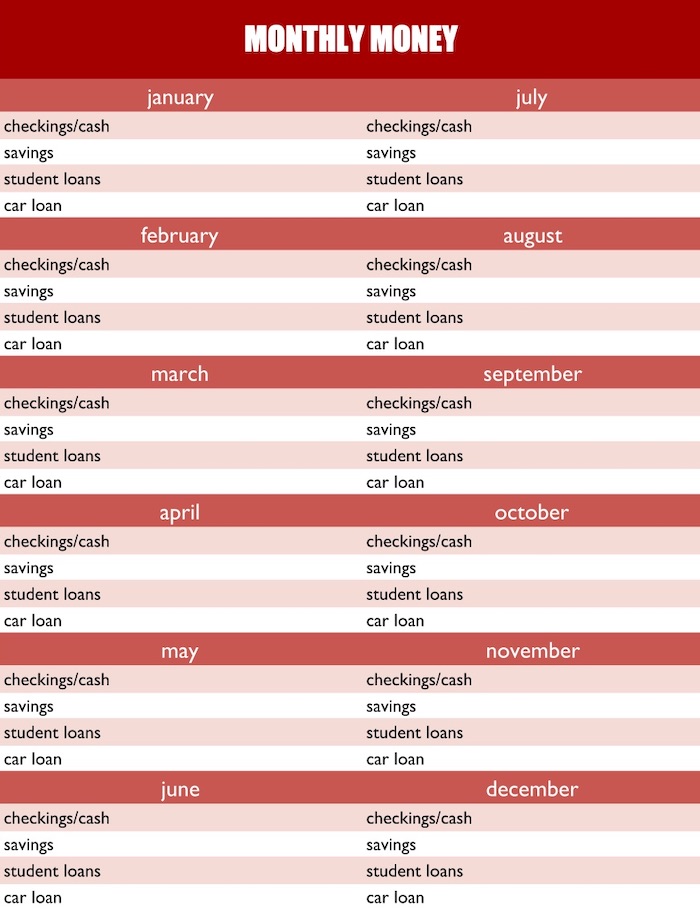 Income Breakdown – Where I account for all the money coming in within a given month, as well as the total. I love a pie chart, so I include one to give a visualization of income.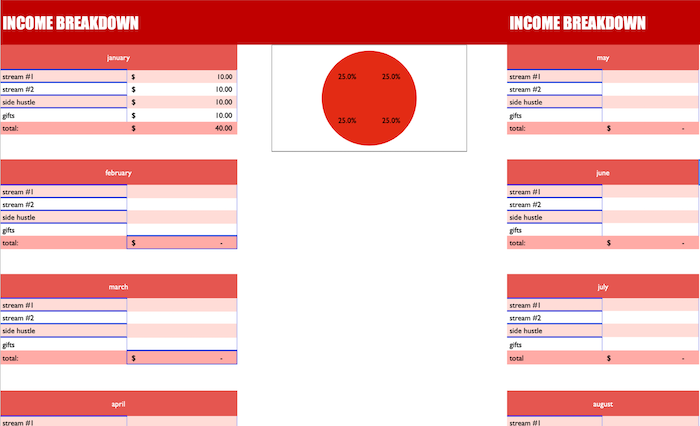 Expense Breakdown – Where I account for all the money I've spent within a given month, as well as the total. Compare with your monthly budget to see if you stayed on track. Pie charts in this one can be very eye-opening, chart at your own risk.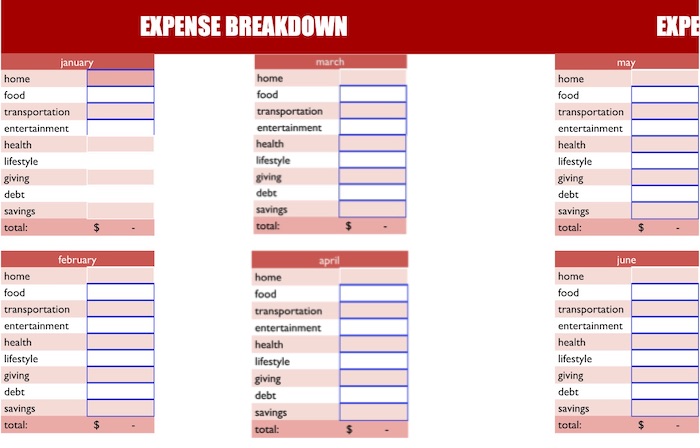 Networth – Where I calculate my net worth every 6 months. This is your assets (what you own monetarily and things like real estate, vehicles, businesses, etc.) minus your liabilities (what you owe, i.e. debt). Remember: net worth does not equal self-worth.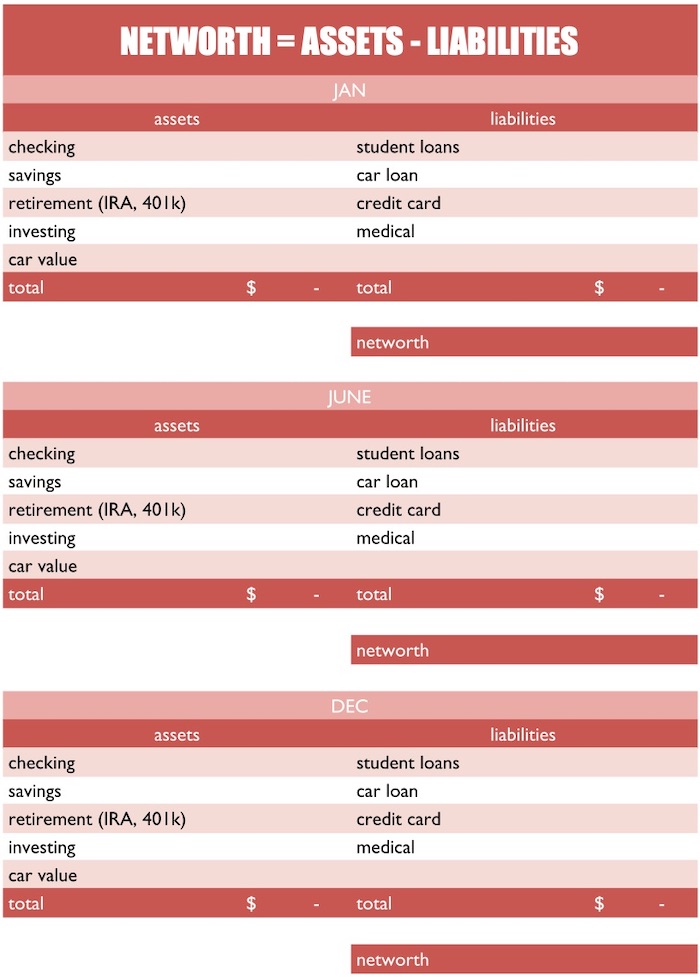 Adriana Vaca is an e-commerce strategist who does her best to live her life sustainably, thoughtfully, and beautifully. She loves scrolling through dog Instagrams, making margaritas, and tending to her plant collection. Find her on Instagram @adri.vaca.
Image via Unsplash