10 Things That Didn't Make The Cut When I Moved Into My 300-Square-Foot Apartment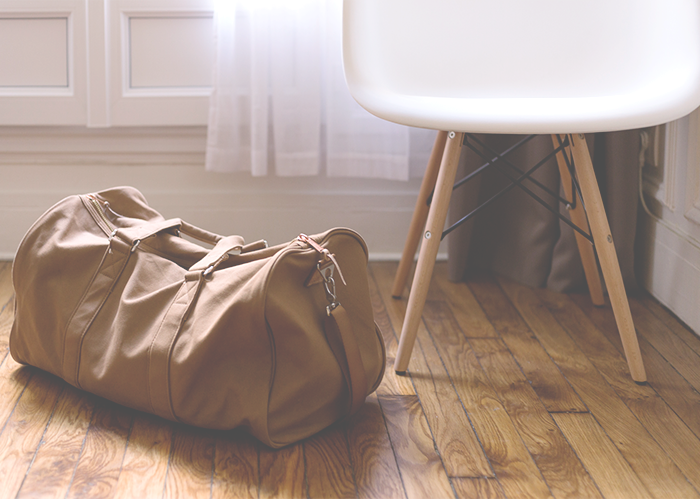 Moving from my parents' house in a spacious suburb of NJ, to a tiny apartment in NYC was a challenge, and I knew it was going to force me to get rid of a ton of stuff. I never realized my tendency to hoard, and moving all of my shit into a 300-square-foot apartment (which I share with my husband, Joe) forced me to significantly pare down my belongings. For example, I used to own multiple winter jackets, different colored rain boots, and boxes of quirky mismatched mugs I picked up from thrift stores. That's the kind of stuff you axe when you move into a tiny space that doesn't even have enough room for a proper dining table (we repurposed a desk to use as a cozy eating nook). Overall, I like living with less, and it was good for me to cut ties with some stuff I was hanging onto just because. However, some things were painful to get rid of. These ten items are just a few of the things I couldn't take with me (and what I actually ended up doing with them). Read on!
1. My Oversized Decorative Jewelry Tree.
You know those insanely intricate decorative metal trees that you hang things like necklaces, rings, and earrings on? They're super functional and display jewelry beautifully, but mine took up a TON of valuable real estate on my bedroom dresser. It had absolutely NO business moving into my apartment with me, and it would have taken up a comical amount of space. We have like, roughy two or three feet of walking space in our current bedroom, and I would have surely knocked that thing over if it was perched on the small and wobbly nightstand we use. It served its purpose long enough, and it now resides in my sister's room where she can give it the TLC I couldn't. Sigh.
Parents' House/Trash/Donate: DONATE.
2. Fluffy Bathrobe.

Guh. Letting this one go killed me, but there was simply not enough room for a fluffy cherry-red bathrobe in my current apartment. Joe and I share two narrow closets that house everything we own: clothes, pants, fancy work clothes, jackets, scarves, shoes, boots, heels, etc. And we also cram  my yoga mat, our linens, AND extra towels into that closet. There was just no way that I could bring such a superfluous item with me when I had to pare down my belongings to fit into the space we have.
Parents' House/Trash/Donate: TRASH.
3. Super-Seasonal Footwear.
I used to have the luxury of being able to buy very specific kinds of footwear that could only be worn a few weeks out of the year (like these white lace TOMS and these oxblood suede high heels). I used to have plenty of room to hang onto shoes I only wore here and there, and pairs that had seen better days (but I couldn't bear to part with). When I moved out, I had to be really judicious about what pairs of shoes I brought with me. Each pair had to be functional, stylish, and versatile enough to pair with an assortment of outfits. I now have a pair of running sneakers, casual ~stylish~ sneakers, black lace-up wedge boots, rain boots, black flats, and two pairs of heels. A far cry from the days when I had 12+ pairs of shoes, most of which never saw the light of day. The ones that got left behind were either tossed because they were so beat up, or donated to someone else.
Parents' House/Trash/Donate: MIXED.
4. My "In-Case-I-Need-It" Makeup Arsenal.
Does every woman also have a graveyard of unused beauty products, makeup samples, nail polish, and old purchases that didn't work out, but you feel too guilty to toss? Well, I did. I had an entire shoebox STUFFED with old products I barely ever used, but wanted to keep on deck (in case I ever decided I was going to channel my bright-green-eyeshadow-high-school-self). This stuff was begging to be tossed, and there were some items that were so old they were most likely expired. I gave away the few salvageable items I could, but the rest went straight into the trash.
Parents' House/Trash/Donate: TRASH.
5. Set Of Roll Curlers.
Despite my lifelong journey to pull off the kind of everyday glamor that Dita Von Teese does, I'm simply not patient enough to use the set of roll curlers I bought for myself. We have one tiny bathroom cabinet in our apartment, which is already stuffed to the breaking point. So, trying to find room to fit a large set of roll curlers would have been impossible. If I had no shame, I suppose I could have fit them in a basket on top of the fridge, but like, I gotta keep my cereal reserve somewhere, right? I couldn't find anyone who wanted them, and the set was nearly seven years old, so I just tossed 'em. Deep sigh.
Parents' House/Trash/Donate: TRASH.
6. Eiffel Tower Wine Holder. (Lel)
I got this as a Christmas gift from my parents a few years back, and while the thought was sweet, an oversized Eiffel Tower wine holder would have felt way immature in my aDuLt aParTmEnt. I gave it to my younger sister who uses it, and we upgraded to a bar cart that holds our sizable whiskey collection. Seriously, that cart is currently groaning under the weight of like, seven different types of whiskey, and literally nothing else. Okay, maybe striped paper straws, too.
Parents' House/Trash/Donate: DONATE.
7. Painting Supplies And Easel.
*Cries softly to self* This was a hard one. I've always been interested in painting for fun, and I used to have a huge box filled with brushes, paints, brush cleaners, palettes, canvas, and painting knives, in addition to a four-foot tall easel. Not only is there zero floor space in my apartment to accommodate such an easel, I would have for sure asphyxiated myself if I painted (and proceeded to clean my brushes with turpentine) in an apartment this small.
Parents' House/Trash/Donate: DO-sobs-NATE.
8. Old Dance Paraphernalia (Costumes, Trophies, Ribbons, Shoes, Etc.)
When I moved out, I was forced to go through all of my belongings to decide whether or not I outgrew some of the items I was hanging on to. I danced all my life, beginning ballet and tap classes when I was just three, and continuing on to dance at a studio, competitively, in high school, and in college. It was a huge part of my life for so long, and I naturally accumulated a ton of dance-related paraphernalia. Dance costumes were a big portion of the stuff, but there were also things like plaques, trophies, and ribbons packed into a giant cardboard box. While these items were very special to me, I can honestly say I'll never need to look at them again. I'll have to rely on my memories alone instead of looking at old trophies like some 50-year-old football star who just couldn't let his star power go. I decided to chuck the items, and donate all my dance costumes and shoes to my friend's daughter. I rest assured knowing that she'll breathe some life into the stuff that I just let sit there, collecting dust, for the last six years.
Parents' House/Trash/Donate: MIXED.
9. Collection Of Baking Cookbooks.
I used to bake A LOT, and rarely cook for myself. This was partly due to the fact that I lived with my parents, so most of the cooking was done by them. My contributions to the household were often of the baked good variety, and I whipped up cookies, cheesecakes, brownies, and coffee cakes on a weekly basis. I still really enjoy baking, but I had to pare down my collection of cookbooks to just a few favorites (which are sitting on top of my limited counter space, so they still take up room). As I've gotten older, I've learned to diversify my cookbook collection, and have swapped out cookie cookbooks for actual cookbooks. Not only is it important to be able to whip up a batch of brown butter chocolate chip cookies on the fly, it's important to be able to cook real adult food for myself, too.
Parents' House/Trash/Donate: DONATE.
10. My Wedding Dress.
While it's sad that I can't open up my closet to look at the dress I wore on my wedding day, the truth is, it had NO place taking up space in my NYC-sized apartment. Besides, it feels special that my mom is hanging on to it, and I'm lucky she has enough space to store it. The dress isn't huge, but the number of layers in the bag that protect it are obscene, and it pads the bag by an extra three inches on each side. Maybe I'll have room for it one day, but for now, it's going to be tucked into my mom and dad's closet, and live out its days in their care. #Bless.
Parents' House/Trash/Donate: PARENTS' HOUSE.
Image via Unsplash