10 Unconventional Ways To Make Broke Date Nights Less Boring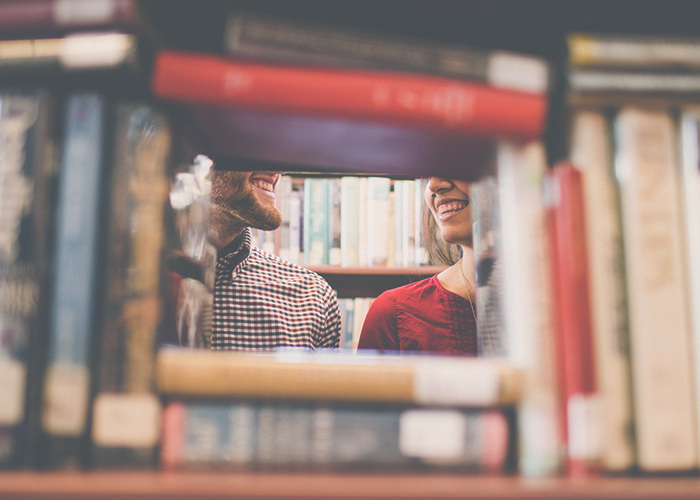 In the interest of full disclosure, I'll say that nine times out of 10 "Date Night" looks a little something like this: Yoga pants, our softest oversized t-shirt, a bottle of wine, takeout, and a side of DVR. While we wouldn't trade our cozy nights spent in, variety is the spice of life and it suits us to switch it up every so often. 
Here's the catch-22 with the proverbial Date Night: On the one hand, if you live together, every night is Date Night. (Right, ladies?) On the other hand, Date Night needs to be a designated thing that is somehow special and separate from "other" nights, in order to differentiate between watching reruns of New Girl in our sweatpants with our S.O. and an actual Date Night. The discrepancy can get a little fuzzy, so allow me to break it down for you:
For me, Date Night should involve an activity (but that activity can be eating).
If that activity is eating, you must not be wearing sweat pants.
A good golden rule: No phones on Date Night! Unless, of course, you're taking a selfie to document said Date Night.
Date Night, despite contrary belief, does not require you to spend a ton of cash.
With that said, here are 10 ideas to bring some flair into your Date Night, without totally breaking the bank, because Date Night On A Budget doesn't have to be a boring night in.
1. GET OUTDOORS.
The warmer months are the perfect time to cover new ground on foot, which can mean hitting up trails, hiking in the woods, or walking on the beach. Not a fan of walking a ton? Try getting around by water: Rent pedal boats, a canoe, or kayaks for a couple of hours, and you have a creative date for two for roughly the same cost as an inexpensive meal.
2. MAKE YOUR FAVORITE COMFORT FOOD AT HOME.
Forget about whatever eating plan you may or may not be on for the night and make your childhood favorite. And if it happens to be something involving bread and cheese, so much the better. (We're looking at you, homemade pizza and mac-n-cheese.) Sharing your favorite childhood recipes with your S.O. means telling each other childhood stories, and might even prompt you to create new food traditions.
3. HIT UP HAPPY HOUR.
Check out appetizer and drink specials at local restaurants. If you're sick of staying in on a budget, set a budget for going out, and it might encourage you to find drink or app deals for under a specific price. Important rule: Convince your S.O. to dress in snazzy outfits with you.
4. CALL IT A GAME NIGHT.
On my personal blog, we recently shared our favorite game night ideas. It's the perfect inexpensive way to mix things up, and as a bonus, you don't have to change out of your yoga pants and oversized t-shirt. (Unless you're also eating, in which case, as we said earlier, it sets a nice precedent if you ditch the sweats.)
5. RECREATE YOUR FAVORITE COOKING REALITY SHOW.
Head to the grocery store and purchase ingredients for one another. Once home, give your S.O. their cooking or baking assignment, à la Master Chef. Time their progress in the kitchen, and if you truly feel like getting into character, break out your best British accent and call your partner a donkey. (Hey, it's what Gordon Ramsay would do!)
6. GO BOWLING — IN PROM ATTIRE.
Bowling is ridiculously fun, and if you go with a group, it can be pretty economical. It's even more fun when you're wearing ridiculous clothes. Hit up your local thrift store or Goodwill and find some inexpensive prom dresses and/or suits. The tackier, the better. If you look like an extra from the Grease dance-off scene, you've won.
7. TAKE A DANCE CLASS.
Many cities will offer dance classes on Fridays and Saturdays for couples and singles alike. In Boston, for example, there are several clubs that have a "lesson" hour before the dance floor is open to the public. You can learn all types of dance, like swing, salsa, or even ballroom! Going to lessons at a club before they open to the public can cut costs, and you can also look for donation-based community dance classes in your area.
8. LOL (AT AN IMPROV SHOW).
Pretty much every city offers comedy nights and improv shows. You might not be able to go see Second City or your all-time favorite comedians, but you will probably discover some new talent, and at the very least, laugh a lot. Bonus: Improv shows are often way cheaper than any other type of theatrical event (UCB shows are typically $5 and sometimes free, for example), so if being a theatergoer is your style, this is a perfect date for you!
9. DRINK COFFEE AND PET A CAT.
A few years ago, if you said the phrase "cat café," most people wouldn't know what you were talking about. However, the feline-friendly trend has taken major cities by storm. What started as a fad overseas has now spread to the U.S. and several cat cafés have opened up all over the country. Grab your S.O. and head out for an afternoon coffee — and a snuggle.
10. VISIT THE ZOO.
Speaking of animals, if you're the kind of person who loves all creatures of this earth, then a trip to the zoo would make a fabulous date. Most zoos offer discounts throughout the year for various cardholders (like AAA members), and if you still happen to have your college or grad student I.D. (as many of us do), you can probably finagle your way into a student discount. Say hi to the monkeys!
Image via Unsplash